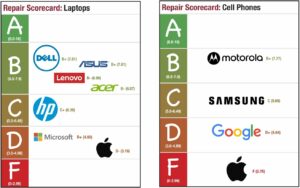 Apple Inc.'s products, mainly their iPhone and MacBook have come across as unrepairable to a great extent. In fact, there one of the most repair-unfriendly electronic devices in the market presently. A report from the US PIRG claimed for why these producers got the lowest marks on their repair scorecards from the organisation.
Apple's hardware has noticeably grown harder to repair over the past few years. Right-to-repair campaigns have targeted Apple's hardware due to the problems it poses. The US PIRG, or the Public Research Interest Group, published a report comprising the scores indicating repairability of products. Apple Inc evidently came at the bottom end of the groups of major producers who make similar devices, such as notebooks and smartphones.
The concerned report integrates data from various sources to come up with the scored grades. This includes scores which were self-reported and mandated by the French Government. Along with aid from iFixit, the manufacturer-derived data is formed by integrating how simple it is to get hold of spare parts or documentations. Along with it, how the manufacturers react to the attempts by right-to-repair legislation. Apple Inc. was reportedly penalised for active lobbying against these measures.
The U.S. PIRG wrote: 

"Because repairing products is dependent on your ability to get access to necessary repair materials, our grade also reflects companies' record of lobbying against Right to Repair, or membership in associations which are prominent Right to Repair opponents,"

In the category of smartphones' repairability, Apple scored the lowest possible score of 'F' grade. The numerical score was of 2.75, along with its French score of 5.64. Apple's average score came down to a low rating of 2.86 out of 10. The manufacturing giant had apparently lost all the points for its involvement in opposing repair-friendly legislation. Among others, Google scored an average 4.64 with a D+, Samsung scored 5.69 with a C. Motorola climbed to the top of list with 7.77 average and a B+ grade.

For notebooks, Apple scored an average of 3.16 with a D- grade, followed by Microsoft scoring a 4.6 with a D+ grade. Dell and Asus topped the list with B+ grades and scores of 7.81 and 7.61 respectively. Apple has clearly made it difficult for users and repair shops to perform fixes on their devices, whether by third-party shops or their own service providers.

However, Apple had taken a step to render some of the users' grievances in November 2021. They had announced a programme attributing a "Self Service Repair" for consumers who can buy the spare parts and tools themselves for repairs from early 2022. This could contribute a better score for Apple in repairability from the following assessment.