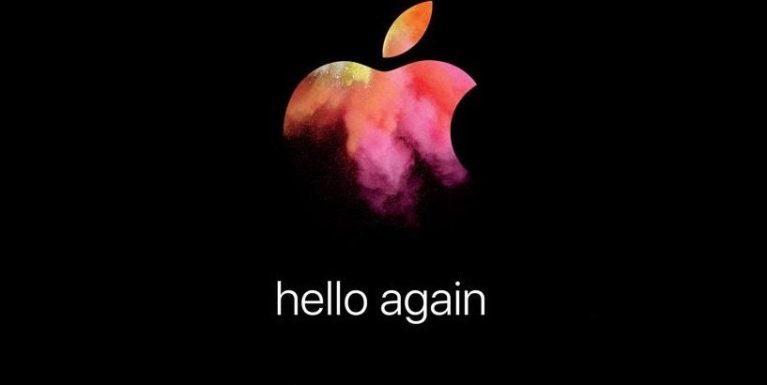 October, the time of the year where tech giants try to keep the people excited before the festive season with their cool tech product releases. Apple joins the likes of Google, Microsoft, and Tesla who had their product launches very recently.
Didn't Apple have something similar last month? Oh wait, it was for their iPhone 7, now it is time to launch the all new MacBook Pro with never before seen DESIGN (a keyword, the company is so 'hell bent' on projecting every time) features – a keyboard, touchpad, and a monitor. Ain't that specification for Apple's Powerbook? Hold on, for a change Apple instead of removing a peripheral, added the all new Touch Bar to the device and combined 3 separate ports to give us the Thunderbolt 3 port (more on this later).
As Tim started the event, this week happens to be a huge week in the history of Mac and history of Apple. It is the 25th anniversary of Apple's first laptop Powerbook. For those of you who don't remember the Powerbook, a quick look at Wikipedia would give you this early history.
"In October 1991 Apple released the first three PowerBooks: the low-end PowerBook 100, the more powerful PowerBook 140, and the high end PowerBook 170, the only one with an active matrix display. These machines caused a stir in the industry with their compact dark grey cases, built-in trackball, and the innovative positioning of the keyboard which left room for palmrests on either side of the pointing device. Portable PC computers at the time were still oriented toward DOS, and tended to have the keyboard forward towards the user, with empty space behind it that was often used for function key reference cards."
Flash forward to present day, the Powerbook as expected comes in two variance 13 inches and 15 inches both with decrease in thickness for around 17% and reduction in weight as well. The display promises to be one of the brightest and most colorful MacBook ever.
Coming back to the latest design feature other than the butterfly keys and larger trackpad, Apple's latest brainstorming in the design team meeting came up with removing Function keys and replacing it with the touch bar, which seems to be really good.
Touch bar projects the usual set of buttons which you would normally see, but inside specific apps it would automatically change to functions specific to the app.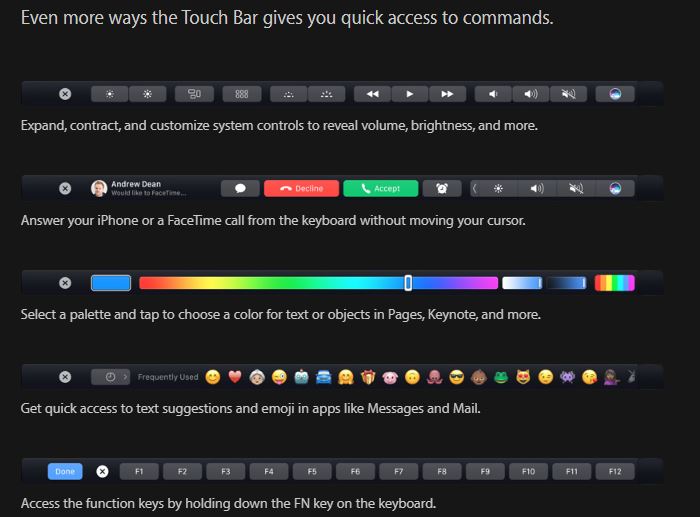 The other feature that is added to the MacBook Pro is Apple's Touch ID feature integrated with the hardware power button. The sensor is set to enable you to access Apple Pay with MacBook Pro from now and like its iPhone, Apple promises to keep your fingerprint secure with its new proprietary T1 chip.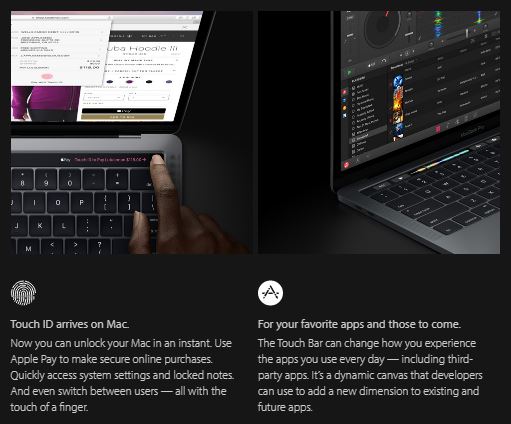 Looks like Apple is truly trying to touch the hearts of their customers with all their design features. Moving on to the output, the display as mentioned is more brighter and more colorful, and as Apple likes to put it all by numbers (except for its number of Apple watches sold), the latest display is 67% brighter, 67% higher contrast ratio and 25% more colors.
The speakers have been totally redesigned to provide as much as twice the dynamic range and up to 58 percent more volume, with two and a half times louder bass for a maximum boom. And they're connected directly to system power, enabling up to three times more peak power. Most important of all, unlike the iPhone 7, MacBook Pro still has its headphone jack.
Jumping into the geeky part (nerd alert), the high-end model has a 2.7GHz quad-core Intel Core i7, Turbo Boost up to 3.6GHz, with 8MB shared L3 cache (configurable to 2.9GHz quad-core Intel Core i7, Turbo Boost up to 3.8GHz, with 8MB shared L3 cache). The standard storage capacity is at 512 GB PCIe-based onboard SSD GB PCIe-based onboard SSD with Radeon Pro 455 with 2GB of GDDR5 memory and automatic graphics switching and Intel HD Graphics 530. It also has a new Thunderbolt 3 port, that combines ultra-high bandwidth with the ultra-versatility of the USB-C industry standard to create one revved-up universal port. Check here for full specs.
Apple also introduced TV app to its iPhone, iPad and Apple TV which is essentially an aggregator app for all your existing TV apps. All you need to select a channel, and you can directly watch the video directly from the particular TV app, except for shows like House of Cards, Daredevil, etc (you know why !).
And the final quantitative figure for the latest MacBook Pro, which literally was present to make all existing MacBook Air customers jealous is the battery power and Apple promises it to be around 10 hours. Is that it? What about the price? Its $ 1499 without the Touchpad and $2799 for the high end model.
Experience design !
Feature Image: BusinessInsider
Also Read: Updates From The iPhone 7 Launch !