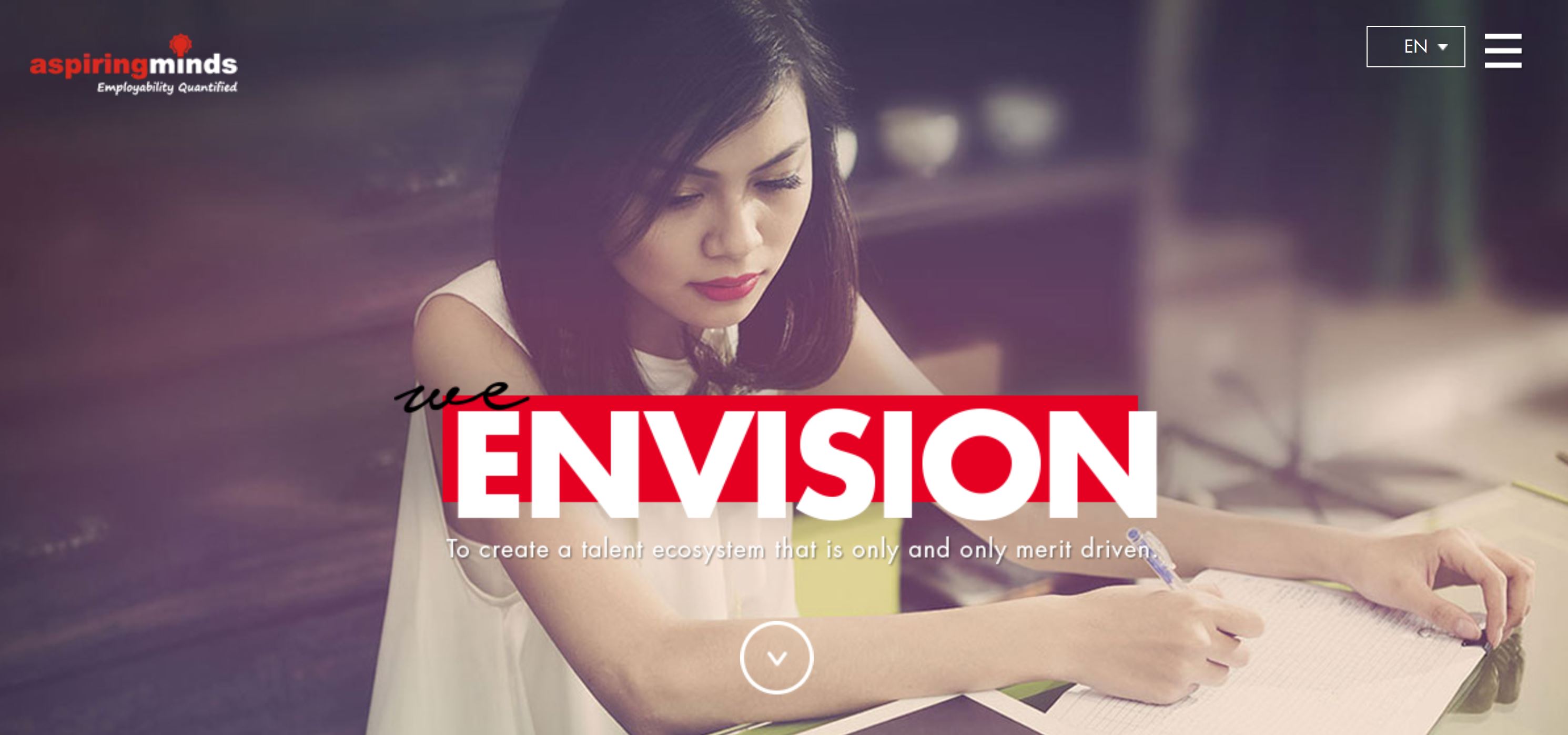 The more you represent human beings as data, the more fair you can be to a larger human base. I had heard this sentence at one of the tech seminars and it remained in my mind for a long time. This statement cannot be more true when it comes to recruitment and hiring. A number of innovations have been happening in the recruitment space due to which a lot of technology products have been introduced in the market. The space however still deals with the same problems of talented individuals not getting good jobs and companies not being able to hire good talent. Aspiring Minds, a company working in this space, aims to utilize technology to bridge this gap between demand and supply.
About Aspiring Minds
Aspiring Minds is an assessments solutions company which combines technology with the entire hiring process to make it hassle and error free. Automata Pro, AMCAT, SVAR and TESLA are some of the key products of the company. "Typically students do not know how they fair with respect to the job market. Do they have the skills that the market requires ? How do they highlight their skills to the company ? are some of the questions we are trying to address for the students through our software. For the companies getting a good hire is still a problem and we are providing the best possible solution for them to address this issue," says Varun Aggarwal, Co-Founder, Aspiring Minds.
Himanshu started the company along with Himanshu Aggarwal in 2007. The company is headquartered in Gurgaon and focuses on India, China, USA, Middle East and Philippines as primary markets for their products. Himanshu is a BTech from IIT and Varun has his masters from MIT.
A number of companies across the world, including Amazon USA, Accenture, Deloitte, Bank of America, Wipro, Cognizant are using the company's database to get the right kind of hires for their organization.
Aspiring Minds Products
Automata solution helps in finding the most appropriate software engineer for a position by asking the programmers to solve a programming problem. The software grades a program depending on how close the programming logic is to a possible solution, thus placing more importance on logic. The solution also place importance on factors such as time and space complexity before grading a program.
Automata has shown to be a strong selection criteria in the recruitment process of various companies. It can not only increase recruitment efficiency by up to 65%, but when used as a selection criteria, helps eliminate bad hires thus driving up organizational efficiency.
Companies want to reduce hiring time, cost and effort. More importantly, they want to reduce bad hires, standardize the quality of their workforce and also, identify those who will be highly successful for a given role. There is a strong need of automated assessment which is accurate, scalable and predictive of candidate success in a wide variety of roles.
AMCAT is a multi-dimensional adaptive instrument that measures the knowledge, skills and personality required for multiple job roles. It not only provides an accurate measurement of candidate's ability, but builds on multiple years of data to identify what AMCAT scores predict performance in different jobs.
AMCAT has been used over a million times over the last few years, helping recruit tens of thousands of candidates. AMCAT has been validated to predict efficiency and performance of talent for multiple roles across sectors. These include roles across technology, sales, servicing, support, operations and management. This makes AMCAT the only standardized test of employability which is backed by data in its predictive ability.
Today, millions of students are taking AMCAT each year. AMCAT has 1600 companies including Aceenture, Deloitte, Wipro, Cognizant, Bank Of America and many more using the AMCAT database for recruiting.
SVAR enables automated evaluation of fluency, pronunciation, listening and comprehension of English language with consistency and accuracy.SVAR uses advanced speech recognition and machine learning algorithms to accurately gauge the quality of speech in various accents against a neutral accent.SVAR has been used in the recruitment funnel for customer service and sales roles. It has help companies improve recruitment efficiency by over 35% and reduce voice evaluation costs by 55%.
TESLA is an endeavour to bring automation, credibility & scalability to vocational certifications. Developed based on the occupational standards defined by leading skill bodies, TESLA certifications are available for over 60 roles across sectors such as Electronics, Telecom, Media, IT, Healthcare, Agriculture, Plumbing & more.
Technology As a Differentiator
Team Aspiring Minds believes that technology is the main factor that differentiates the company from others. The company makes heavy use of data analytics and science, machine learning and rational learning in creating their products.The heavy use of technology in assessment of candidates and analysis of results is what helps the company come up with accurate skills- job match.The company also believes that heavy use of technology is what enables the company to create a 360 degree view of the candidate, something that is difficult for the company's competitors to come up with.
The company also provides a multi platform support with various tests being made available on desktops, mobiles as well as tablets.
Advice To Entrepreneurs
Having created global products that have been successful in different markets, Varun has some advice for entrepreneurs about how they can go about creating a valuable organization. " Concentrate on building strong products. When you start the company, there is always this battle between spending time on product and spending time on sales. A lot of people spend a lot of time on sales early on. But I think you should first focus on creating a strong product as bad products almost always fail. Always always keep an edge above your competitors when it comes  to your product," says Varun.
"To keep a startup going is not an easy task. You have to keep running fast just to be at the same place. To scale, you need to work really really hard. Getting a breakthrough to get your first few customers is the most difficult. We went through a series of giving out our product for free early on to build a market." he adds.