'Future of e-commerce: Uncovering Innovation': an ASSOCHAM- Deloitte joint study reveals that "E-commerce industry has emerged as India's new sun-rise industry and is set to cross business worth $16 billion by the end of 2015".
The released survey tells that "digital commerce market in India has grown steadily from $4.4 billion in 2010 to $13.6 billion in 2014 and is likely to touch $16 billion by the end of 2015 on the back of growing internet population and increased online shoppers". An increase in range of economic activities such as retail, travel, tourism, food and beverages etc. over internet has run interference for this growth in E-commerce industry.
Ranadheer Desireddy, a Cross-Border Business Expert and Serial Entrepreneur, himself is a big toaster for E-com. In fact, he buys most of his stuff over online. Interestingly, during his personal dealings with present e-com companies in India, he noticed that there exists a big gap between demand and supply for practical need of personalized and customized approach and services.
He realized that there is a huge untapped market though unorganized with many unaddressed problems. This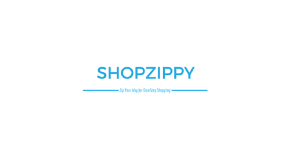 realization by Rana led him to found ShopZippy– First of Its kind in Indian startups in Online shopping segment. ShopZippy is first of its kind concierge style free personalized shopping service via Missed Call/SMS or WhatsApp along with Personalized Shopping and Flexible Package Delivery on-demand.
Rana believes that E-com has a huge opportunity and Still 80 percent is untapped. "More and more people are getting used with E-commerce and benefits associated with it. I observed that even small towns/villages people know brands such as Flipkart, Snapdeal and Amazon which is just surprising." True! Unlike other startups there is no much hassle for ShopZippy as E-com doesn't need any more introductions to Indian Citizens. It already has become a household thing.
Through its innovative cutting-edge technology, ShopZippy is turning out to be personal shopping assistant for all your needs. You can get anything you want via Missed Call/SMS or WhatsApp for Free! Basic services by ShopZippy are completely free of charge – there are no service costs, markups or hidden fees. Also, all payment processing is handled by its payment-partner InstaMojo. These Free services are for anyone from any part of India and one can simply avail it within few minutes.
As of now, The Company is self-funded but moving towards closing its deal for first round of funding. The aim is to invest these funds reach out and serve more people by giving customized and personalized services to E-com lovers and new E-com babies. Moreover, The Company is targeting major cities first and then expand to small towns for premium exclusive services where lies demand for such services.
"We want to become household name for alternative/practical e-commerce in India as a personal shopping assistant taking care of all the hassle of shopping to shipping to home" says Rana. The Company's plan to expand its footprint to Pan India within 4-5 months is already in the pipeline.
With already existing E-commerce giants fighting for dominance over market, ShopZippy is aiming to penetrate deep with its unique peculiar approach to the segment. "Simple, we are going to be real local unlike other giants of e-commerce which brings us the biggest advantage. We employ local guys who speak local language and understand local culture and segmentation; and that's what makes the key difference to us than any other player in the market. No one actually offers personalized services like we do till now in Indian Market" Rana explains. Supposedly, ss the first entrant, ShopZippy has a huge edge over other players before someone actually swings in to compete on ground. Currently, talks are in place with various PE Firms for funding and expected to close the deal soon!

Rana is passionate about technology and innovation with an ample experience in representing and advising Small and Medium Enterprises in International Trade ,Marketing ,Investment and Outsourcing from across the globe. Rana's key focused domain includes Education/Tourism/E-Commerce/Mobile Tech/Agriculture/Healthcare/IT. He has been actively involved with start-ups in various roles like Founder, Business Development & Marketing. He is a serial entrepreneur and is founder of HelloShoppy as well.
You can read more about HelloShoppy here! 
Comments
comments