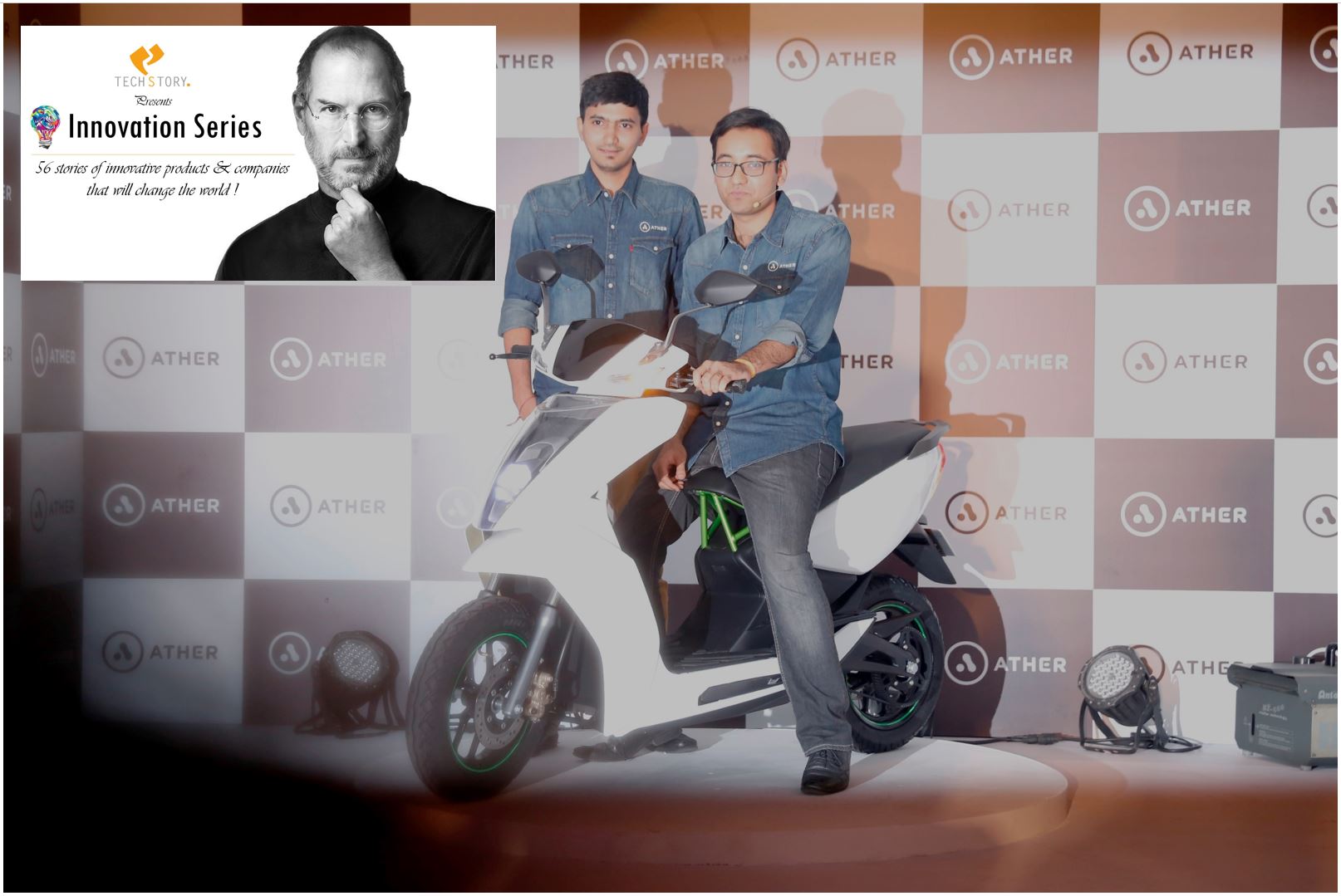 Swapnil Jain and Tarun Mehta, The Co-founders of Ather Energy unveil S340
Innovation is the key to the future and Ather today proved that innovation can Make (In) India the benchmark for futuristic technology. Less than a year ago, Techstory covered the dream of two young IIT Madras students to disrupt the electric vehicle market in India and the end note did create a sense of huge expectations from them. (Know more about Steve Jobs Innovation Series Here !)
[box type="shadow" align="aligncenter" class="" width=""]Ather Energy seem to be doing everything right at the moment.The founders have their heart at the right place, the company seems to have build a path breaking product, is committed to building an ecosystem for electric vehicles in India, is backed by powerful personalities and is creating a lot of consumer interest in the almost dying electric scooters market in India. All eyes are now set on the launch of the vehicle in 2016.
Check out the full story here!
[/box]
Today, amidst the huge expectation Ather Energy unveiled the first of their series S340 at Surge ! S340 is India's first truly smart, electric scooter, structurally robust and intelligently designed, packed with a powerful Lithium Ion battery pack, its IP67-rated battery pack offers an uncompromised ride for 50,000 kms, this connected scooter is designed for urban tech lovers, who are curious about futuristic products.
"The future will be connected and inevitably electric and the Ather S340 has been built as a manifestation of this philosophy," said Tarun Mehta, CEO & Co-Founder.
The vehicle achieves an 80% charge in 50 minutes in fast charging mode and can be charged from any 5A normal socket in normal mode. It has a distinct sporty look with zero lateral weight offset, a low centre of gravity and intuitive LED lights that respond to ambient light conditions.
"It is an unapologetically electric vehicle, it has been designed and built mostly in-house with engineering precision."
The S340 is not just redefining electric vehicles, it is one of the pioneers of smart scooters. The touchscreen dashboard integrates cloud based data to help personalise the consumer ride experience. Features like user profile based sign in, on board navigation, pre-configured drive modes like sport and economy allow a personalised experience. Its integration with the S340 Mobile App keeps the rider connected with the vehicle, to configure ride and profile preferences and sync navigation routes remotely. Predictive analytics and aggregation of ride statistics enable customised recommendations. As more vehicles go in-field, aggregate rider and vehicle data will help in customised vehicle updates that will be delivered automatically over the air.
[box type="shadow" align="aligncenter" class="" width=""]
Key features include:
Touchscreen dashboard with 24*7 connectivity.
On-board navigation.
Range of 60 km in single charge.
Top speed of 72 kmph.
15 patent applications filed.
Doorstep delivery and service
[/box]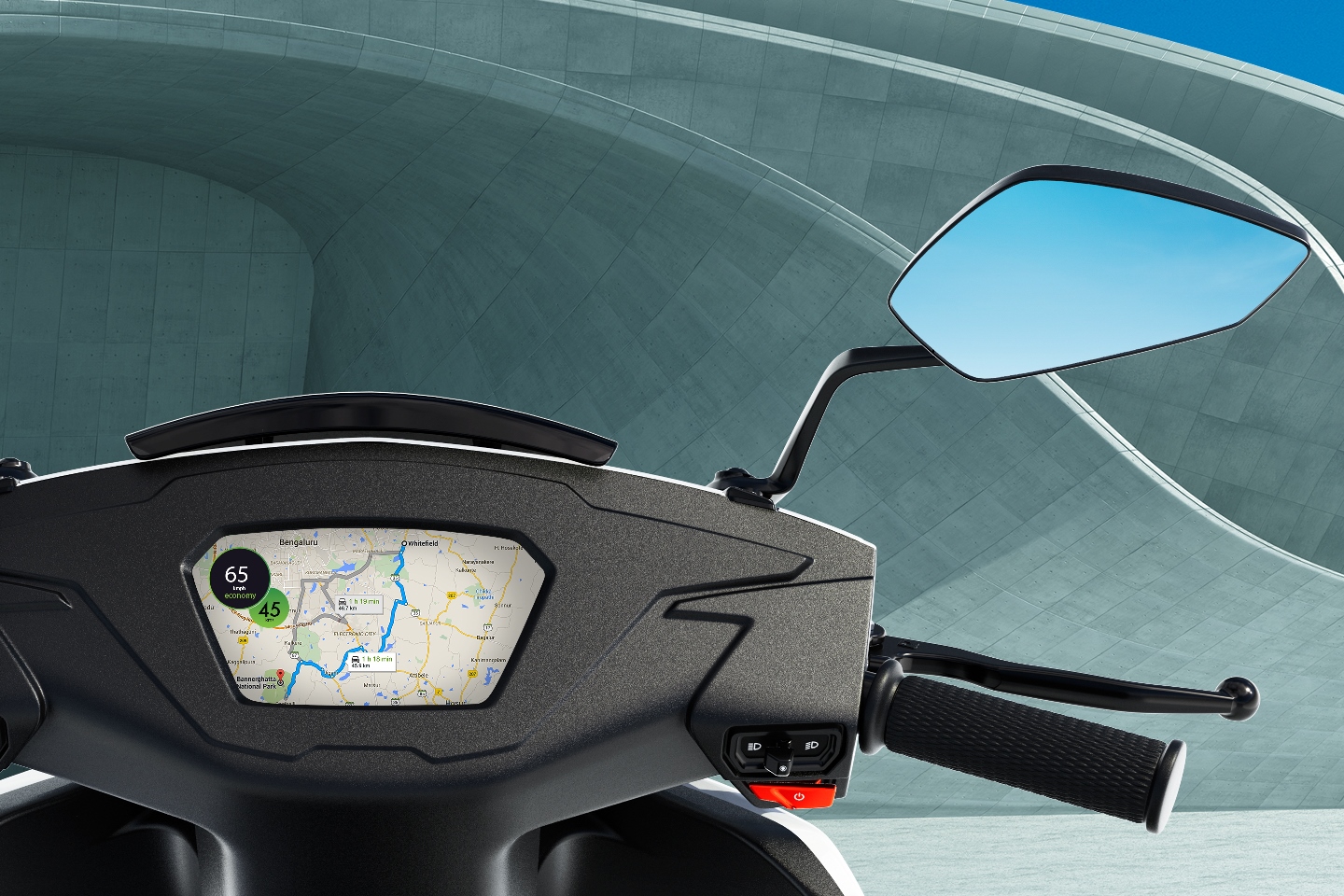 Ather S340 Dashboard
Sharing his vision on the industry, he said, "The automobile industry is in the midst of a huge technological disruption. The technology of electric vehicle has advanced in leaps and bounds. It is the preferred choice because of its inherent efficiency that will shape urban commute and the smart cities of tomorrow. The other aspect is the connectedness of the world around us, enabling integration of devices and making our life experiences seamless. Intelligent vehicles will revolutionise our commute experience in the future and the S340 stands at the cusp of this exciting reality."
With a manufacturing unit set up in Bangalore, the S340 will be a great showcase of a product truly made in India and will roll out production by end of this year. Experience centres will bring the product to life and facilitate test rides in the next few months. In an industry first, Ather Energy will build an online-only purchase model with doorstep delivery and service.
Pre-ordering will be open in the cities of Bangalore, Chennai and Pune in the next quarter. The company also aims at setting up an ambitious public charging infrastructure in every city it will operate in, partnering with government and private enterprises.
"Intelligent vehicles will revolutionize our commute experience in future and we have just begun that journey."