We accept that traveling is a tiresome business, some may love it and some may not. But, what's more tedious than traveling is the ticketing and the lodging formalities. According to a report India's travel and tourism market is poised to grow at rate of 7.5 percent in 2015 and the travel sector would contribute Rs.8.22 trillion to India's GDP. So everyone tries to capture some portion of this booming industry and there is severe competition in this industry.
Thankfully in the internet era we have surpassed the huge queues outside the train and airways ticketing counters. The advent of traveling agencies has eased out the eleventh hour booking pressure away from us. Frequently traveling customers would even like to alleviate the visit to the nearest agent's office. As it has become a well-established fact, the only solution to sustain in the market is to go the online way.
So, how do you manage the development of both online portal and business contacts from your office desk? Axis Softech is the solution; in fact they have a package of solutions for your issues.
The economical initiative for efficient traveling agencies since 2002
Axis softech is not new to the market; the company has a presence in the market since 2002, although it was formally registered on 20th October 2005. They have been providing Portal and Integration services to different travel companies in the past too. Looking at the customer's situation they presumed a serious problem that the Travel Agencies could not afford to build a travel portal for the enormous costs the IT companies used to ask them. There were also serious issues of finding a right kind of inventory supplier, who does not charge exorbitantly to provide the live supply.
Looking at all such problems, and with the growing travel industry, they decided to provide an indigenous product to their customers and solve their problem at one go. Therefore, they have built their own product which can facilitate different kinds of consumers on the basis of their requirement and budget. Developing travel portals with comprehensive integration of APIs at competitive price has been a unique proposition of the company. The company also guarantees cheapest ticket fares to travel agents and agencies for flight, hotels, buses and cars as well as the best commissions and discounts on industry wide fares.
They have evolved from being just another IT company to IT Product Selling Company. Now their customers do not face the same problem anymore and they can freely buy an all integrated product and happily use it thereafter to conduct business and generate profit.
The Pilots of Axis Softech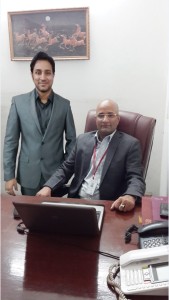 The co-directors of Axis Softech Mr. Gyanesh Kumar and Mr. Devesh Kr. Thakur; both with around a decade experience as entrepreneurs share a common destination for their journey, which is to become the largest player in travel technology segment of India with substantial presence in markets such as Middle East, Europe and America.
Mr. Gyanesh Kumar is a Computer Science engineering graduate and an IIM Lucknow Alumni. He is regarded as an excellent team manager with doer attitude, a believer in high performance and strength optimization and a visionary with go-get attitude. Developing the company brick by brick, Mr. Gyanesh shaped up its products to transform the company to the stature it is today. He regards employees as the integral part of a company.
Mr. Devesh Kr. Thakur, a seasoned entrepreneur and an MBA graduate has a visionary approach and extensive experience in team management, business and market with over 15 years of industry experience. He offers credit of product development and client management of the company's core team.
"A company is totally based upon quality human resources it has"
Mr. Devesh Kr. Thakur firmly believes in this thought and this is one of the primary reasons for the success of Axis Softech. They are immensely supported by their customers and their employees, who had and shall always remain most important stakeholder of their business. Without both of them the company would never had been able to travel this far. Their employees have contributed immensely to the growth and development of the organization. They have played vivid roles at different times to cater to the different kinds of requirements both by customer and by company itself. They presently sail with approximately 40 key resources, who remain the main drivers of the organization. They also have temporary and ad hock positions in the company who are mainly deployed to different customer locations.
The Exclusive Package

They have six B2C and one B2B product rolled out under the name of "Safari" for tickets booking. Every product has different features where clients can choose according to their requisites. The primary market of the company are Travel Agents, Agencies, B2B Travel Agencies, Hotel Booking Agencies, Bus Booking Agencies, Car Booking Agencies, companies dealing into travel and tour business as well as corporate with internal travel desk.
The competitive advantage they have in a market is that they provide vast range of products which fits to the budget and requirement of their customers; also they guarantee cheapest fare for tickets to travel agents and agencies of flight, hotels, buses and cars. They also provide best of the commissions and discounts on their fares industry wide.
The travel and the turbulence so far
The journey so far had been immensely well. Right since their venture into the industry as IT Company they have served several large and small clients with their varying needs for software developments and portal developments. They have worked upon several Central government projects including but not limited to Ministry of Power, Ministry of Textiles, and Ministry of HRD and Ministry of Defense. We have also worked with companies like CISCO, IFFCO, RADICO Khaitan, DS Group, GREENPLY, M2K Group etcetera for their varying requirements of online portals and web based services.
Bringing different suppliers under a single umbrella and providing a low cost solution were the key objectives while developing an indigenous online travel product for the clients. Axis has leaped out of its problems by being a quick learner and a quick implementer. Their every best product was always beaten by their next best product, so the zest of improving has always remained in their DNA. They believe learning is a consistent exercise and they can keep learning till the last day of our life. They have worked really hard to achieve some of the world's best supplies for Flights and Hotels which have elevated them far above our other counter parts.
The Forthcoming Itinerary
They are launching new products that have enriched features where customer can easily book Flight+Hotel, Hotel+Car, Flight+Car and some more innovative products that will be helpful for travel agents, agencies and consumers also, which in itself shall add value and act as a marketing tool to them.
They look forward to acquire more than 80% of the Travel Technology market within India and quickly expand towards other growing Global markets. They are expanding a target revenue multiplication 200 times from the past financial year. For expansion, they are looking for investors who can be benefitted from the company's growth, as this is industry has already taken off really well and there would be high return on investment.
Comments
comments