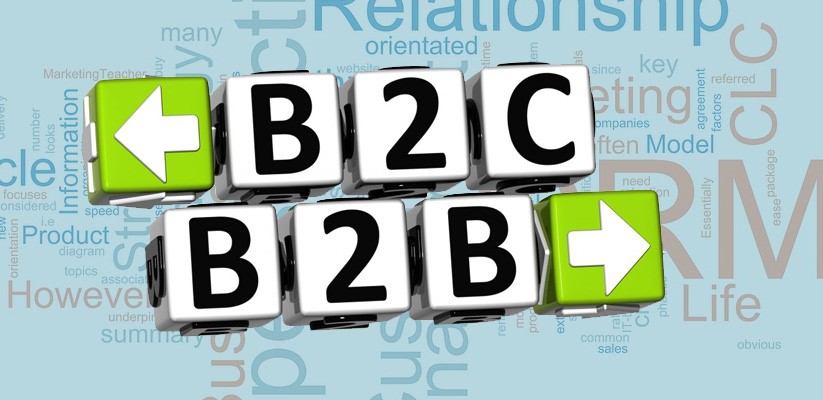 While we are seeing a lot of emerging concepts and technologies around us, we can still say that all major businesses today is classified under two heads – B2B and B2C. There are many grounds, on which the businesses differ, straight from product to sales, revenue structure, and infrastructure, so why should your CRM Solution not be different from the other?
A lot of product companies do tailor make their CRM software according to their domain and industry but when the lines between services and products is blurring today, we need to understand the difference between B2B CRM Software and a B2C CRM Software.
B2B CRM Features
IN a B2B approach, the sales cycle tends to be longer and tailor-made to the consumer, which does not end with sales. Hence, there is often a long-term relationship with the customer that the company needs to maintain.  This simple differentiating fact proves that the B2B Company needs a CRM system that will not only store all communication of the data, but also detail the multi-interaction and decision levels that take place.
1. Supports multiple decision-makers
In a B2B CRM solution, we have something called as Contact Management where you can store and associate multiple decision makers within a particular company. By this, you can understand the person and customize your product / case according to him. E.g. if he is a CFO, you will want to show more of the financial capabilities of the product. If the person is a CTO, you will focus more on the technology and store the data of the communication in a central location within the CRM software for future reference.
2. Complex sales process
As mentioned earlier, it takes a lot of time and approvals before finalizing a product in a B2B approach. With a CRM solution, you can track at which stage, the case is stuck and what approach can you adopt to move the lead from warm stage to opportunity. Since all communication is already found in one place, you can focus more on your strategy rather than trying to first get all the details in place.
3. One-on-one account management
In a B2B approach, once you close a deal you need to manage your relationship with the customer. An account manager can be identified and mapped to the account and you can track the progress of the said account. This can also be helpful to identify grievances of the customer of any, close any loopholes and even have a easier handover if the account manager leaves the job. Most importantly, you can track the re-purchase data and how much ROI has been generated through the years from the client and the region.
B2C CRM Features
A B2C business is where companies target a wide base of consumers in a spread out region for their products or services. Here, the sales cycle may take just a click of a button or less to finalize the deal. Hence, the CRM system has to be dynamic to identify where the sales is happening along with an efficient supply and chain to deliver the product to the consumer.
1. Integrated customer service
Here, the need to maintain lifelong relationship with the buyer is often lesser than compared to a B2B business, hence, you would majorly require the details of the consumer, what product is he buying and is he among your loyal consumers. A B2C CRM solution helps in providing good services by giving you a 360° view of the customer with their recent purchase history.
2. Social media feeds
By integrating with Social CRM, You can know what the consumer is talking about you and the brand on Social Media and how can you use that to your advantage. It can also help you track the effect of any recent campaign launched.
3. Campaign follow-ups
In B2C businesses, the competition level is quite high. Consumers have plenty of option to choose from; this makes the need for the follow-up process to be top-notch. With an automated system, you can manage campaign, communications, surveys and feedback with your customers. The Campaign Management feature in a B2C CRM is the core of a healthy customer relationship. You can segregate your consumers product wise, region wise or even spend wise to send out regular, automated and customized communication.
4. Calculating ROI
Calculating ROI forms the core of sales and forecasting. You can have a single portal to manage all sites, branches and offices to know the amount of sales that is happening and what the ROI is. Based on the reports, the management can take informed decisions towards investing or divesting in a particular product or region. From appraisal POV, the performance of sales personnel can be known based on the ROI calculation.
(Disclaimer: This is a guest post submitted on Techstory by the mentioned authors. All the contents and images in the article have been provided to Techstory by the authors of the article. Techstory is not responsible or liable for any content in this article.) 
About The Author
Neetu Singh is a creative and a technical writer focusing on cloud trends, business intelligence/analytics, SMAC, Industry 4.0, CRM Software Solutions, ERP and HCM technologies. A self-made influencer, she wants to be an Industry 4.0 and cloud evangelist with a penchant for digital marketing. She writes for Sage Software Solutions Pvt Ltd, a provider of robust and scalable enterprise management solutions to mid-sized businesses in India.