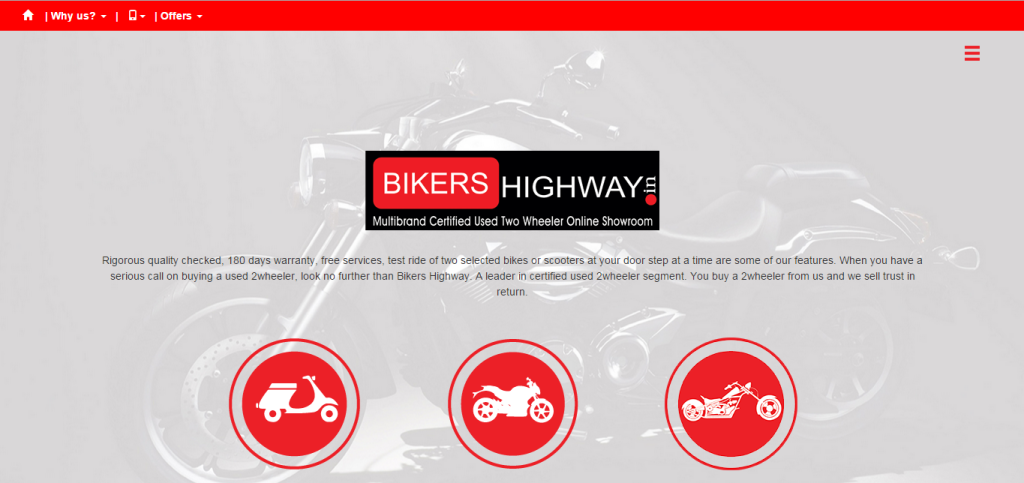 "Our mission is to offer the finest used bikes & scooters available with competitive price tag in the industry. The mission of Bikers Highway is to become the primary resource for certified 'used two-wheeler'. Our Vision is to capture the untapped market in used two-wheeler space with every possible up-to-date technology" says Vikash Kumar Banerjee, Co-Founder and CEO of BikersHighway.in.
India has one of the biggest two-wheeler markets in the world. Indian two-wheeler segment consists primarily of motorcycles, scooters, and mopeds with motorcycles accounting for close to 75% of total sales. However, lately the market is seeing trend reversal with share of scooters rising at the expense of motorcycles. Read more. Anyhow, Indian Two-Wheeler Market is noticing a continuous upsurge in demand. Indian two-wheeler market segment also incorporates business of used vehicles. According to the estimates, the used two-wheeler space is estimated at $7-$10 billion in last fiscal. But currently, there is no one focusing entirely on used two-wheeler space. Olx ,quikr, bikewale are into classified space but there is an absence of dedicated platform. The used two-wheeler market segment is largely dispersed and unorganized.
How is BikersHighway.in bringing used two wheeler market at one platform?
"The pain point involved in purchase and sell of used vehicles inspired us to come up with BikersHighway concept" Vikash explains. He adds that some of the pain points of purchasing a two-wheeler from a private/individual seller can include:
Dealing with an unknown person
Difficult to verify and cross check authenticity of vehicle as well as owner.
No warranties on the vehicle. Private parties are more likely to sell the two-wheeler "as is basis". That also implies that you would need to spend probably enormous amount in case major vehicle problem arise.
Need of completion and submission of most of the paperwork by buyer. This may include title transfers, registration documents, etc.
Limited to seller's time schedule for inspecting the vehicle.
A might need to travel a long distance just to see a single vehicle.
Most of us, who ever have made a deal on used vehicles, would have faced problems buying a used two-wheeler. BikersHighway aims to solve the real problem by using technology effectively to reach at the solution. BikersHighway.in is a multi-brand certified used two-wheeler online showroom. It is dedicated to resolve the real problem of buyers to buy a used two-wheeler by creating an ecosystem involving buyer, seller and BikersHighway to facilitate the process. "Our business model is 'eating your own dog food' model. The idea is that if the company expects customers to buy its products, it should also be willing to use those products." says Vikash.
The Need/Value Proposition and Opportunities making differentiation for product/service offered by BikersHighway
Adheres to stringent operating/selling procedures. This means buyer is less likely to be cheated.
Offers certified used two wheelers.
Provides warranties and free services on selected model to ensure post sales trust.
Accepts credit card which gives a financing option in used two-wheeler.
Can be easily contacted if a problem arises after sales service.
Helps the buyer with titling and registration process i.e. RTO formality.
Gives choice between varieties of two-wheeler in one location.
Comes to buyers place for the test rides and doing the other formalities.
Gives the buyer buy back and exchange features.
For Online Customers:
Facility to search inventory online.
Ability to select the two-wheeler you like.
Functionality to add to test ride cart.
Convenience to fill up the details to schedule a test ride at your place. Get a confirmation SMS & call.
Power to buyer in terms of ability to take decision to buy or not after the test ride, if you like it, followed by payment options including COD/Credit/Debit Card /Online Banking.
For Offline Customers:
Visit the nearest branch and check the entire inventory available at the branch.
Take test rides.
Power to buyer in terms of ability to take decision to buy or not after the test ride, if you like it, followed by payment options including COD/Credit/Debit Card /Online Banking.
Pilots of BikersHighway
The name list of key people in the company includes: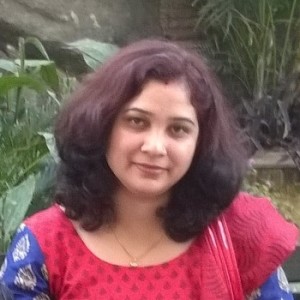 Chitra Banerjee: Co-founder & Mentor. An economics graduate from North Orissa University. BikersHighway is brainchild of Chitra. Her own need of a used two-wheeler couple of years back gave strength to Bikers Highway.
Vikash Kumar Banerjee: Co-founder & CEO. An alumnus of University of Wales, UK. Vikash has experience of 11+ years in strategic business development. (Photo on right)
Anutosh Chatterjee: Co-founder & Marketing Head. An alumnus of ICFAI Business School, Hyderabad. Anutosh is an online expert having 11+ years of experience in online vertical.
Critical Challenges and Learning Moments
The most critical challenge for BikersHighway is always to meet the standard it has set for itself, in respect to procurement, quality of the vehicle, building a good team etc. "BikersHighway is going forward to add many features which a used two-wheeler will experience for the first time soon in India. To deliver and meet our own standard is a huge challenge in itself. Somehow, we are simplifying our processes and are not compromising on our standard of vehicle to be sold through BikersHighway" Vikash explains.
Vikash adds "We initially thought that we are going to sell certified used two-wheeler with warranty, free services, 24*7 road side assistance (beta stage) etc". But now, the company is happy to introduce few more features which will enable a prospective buyer to select the two-wheeler and add to test ride cart as if they are buying it online. The two-wheeler is then sent to their door step for the test ride, to get a feel of it, followed by buy or book it then and there with cash/card/online payment options. In short, BikersHighway is an e-commerce and mobile commerce in automobile space to introduce such feature for the first time in India and it plans to roll out many more such features sooner or later.
The Future Prospect!
For BikersHighway, the journey so far has been a learning curve and is making it stronger to understand and deliver more effectively from each day experience.
Currently, team size of BikersHighway is ten. As of now, it offers its services only in Pune. It plans to expand in Bangalore, Hyderabad, Ahmadabad, and Delhi by end of 2016. The company is in its bootstrapped phase and has plans of raising funds in future.
"Buying will become a lot easier with BikersHighway.in. More options to choose from, more cities to select from in coming months or year" concludes Anutosh Chatterjee, Marketing Head & Co-founder at BikersHighway.