The Bitcoin Fear and Greed Index reached neutral, the highest point in the last nine months. This index is simply a matrix used to determine the community's general sentiment on the primary cryptocurrencies, which spiked to a state of "Neutral" for the first time in nearly nine months. Many experts believe that the increase resulted from the BTC's positive start in 2023.
Lastly out of the "Fear" Zone
The Bitcoin Fear and Greed Index tracks a lot of segments, including price volatility, social media comments, surveys and many others, to display the momentary investor sentiment towards the leading digital asset. It also provides a result between 0(Extreme Fear) to 100(Extreme Greed).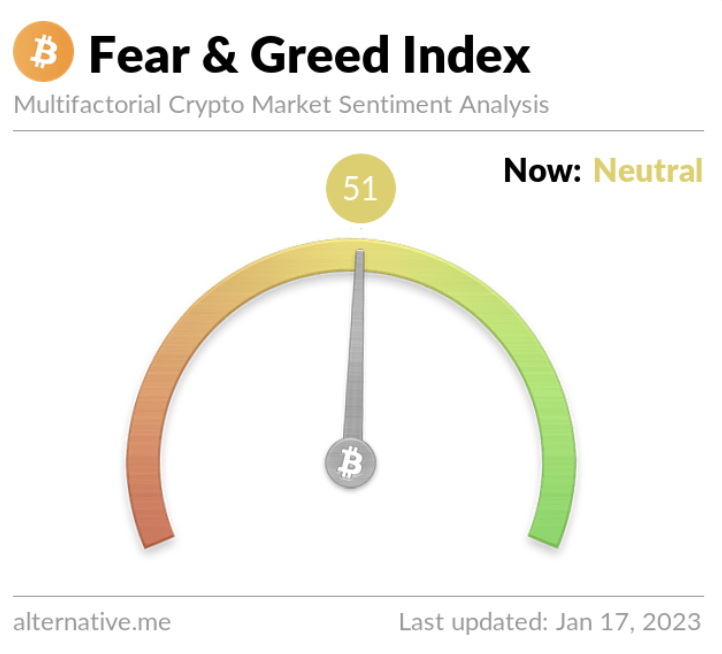 Yesterday, the Index stopped at 52, meaning it was in neutral territory for the first time since April 2022. It was either in the Fear or Extreme Fear zone during the last nine months, affected by the prolonged bear market and the adverse events surrounding the crypto industry, such as Terra collapse, FTX's massive scandal and many more.
Many experts believe that the main reason for the recent surge could be the increase in the bitcoin price with the start of 2023. The asset has added approx 25 per cent to its USD value since the start of the year, currently trading at around 21,185 dollars. It almost hit 21,500 USD yesterday, a-10 week's high.
However, despite the promising results, the Bitcoin Fear and Greed Index was in the state of fear. The digital asset sector has seen moments of revival over the last several days, with the global crypto market capitalisation touching the 1 trillion USD market during the weekends, as per CoinGecko.
A bull run might be coming soon
The last time BTC started the year well was at the beginning of 2021, which prompted some analysts, such as Glassnode's James Check to envision the end of the prolonged bear market. He also noted that the two leading crypto by market cap – bitcoin and ether had seen little volatility in the past few weeks. Such periods historically lead to explosive market moves.
Bitcoin's price fluctuated between December 2018 and March 2019, hovering around 3,500 USD. In April, though, it started a rally until July( when BTC was worth nearly 12,000 USD).
---
What are your thoughts as Bitcoin Fear and Greed Index reached neutral after the price breached $20k? Will this year end the prolonged bear market? Let us know in the comments below. And, if you found our content informative, share it with your family and friends.
Also Read: Japan is asking other countries to regulate crypto exchanges like banks.