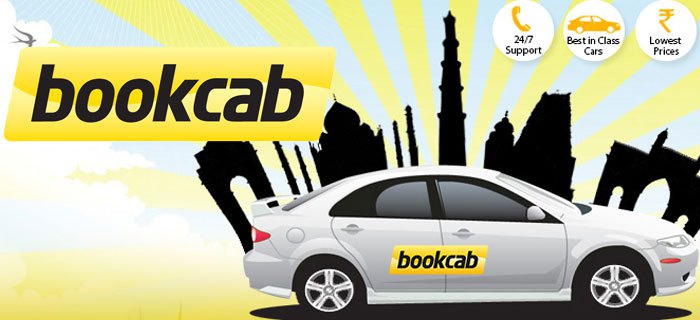 The cab booking and the car rental industry in India is crowded with a number of Indian as well as international players. The industry is also the apple of the investors eyes. With Uber valued at  more than $ 41 Billion, we can only imagine how much this industry is about to grow. However, only a few years ago this was not the case in India.
Way back in 2011 there were hardly any car rental companies that provided quality and reliable outstation travel service. We noticed that the online market was picking up significantly. More and more customers were booking trains, flights and buses online. This was the right time and right place to bring a platform to book taxis across India.There were similar platforms in the west but not in India.
says Ashish Kumar, the founder of Bookcab.in.  Ashish, along with his friends founded BookCab in 2011.
[box type="shadow" align="aligncenter" class="" width=""]Bookcab.in is a leading Car Rental Aggregator that specializes in Outstation Car Rental across India. Established in the year 2011 in Bangalore, Bookcab.in focuses entirely on outstation travel. The company is currently operational in 100 cities with a reach in all major markets like Bangalore, Delhi, Mumbai, Pune and Chennai.[/box]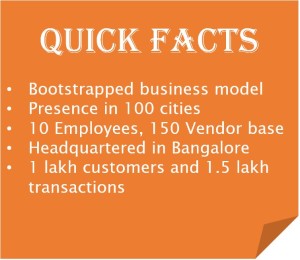 Although India has seen a huge surge in the number of intra city cab services available in metros, the outstation travel segment specially between Tier 2 and Tier 3 cities remains largely untapped and this is where Bookcab.in differentiates itself from others.
The company has established a well connected car rental network between 100 cities across India. BookCab also makes sure that every cab and every driver is closely profiled to guarantee a pleasant experience for their customers. It is their network and their quality of service that differentiates them from the rest.It was lack of quality of service that had led Ashish to start BookCab.
 A not so pleasant experience while traveling from Delhi to my hometown Vijaywada triggered my decision to start Bookcab.in. While returning from Delhi after a family get together, my mother and I were stranded at Vijaywada railway station for more than two hours. The taxi that I had booked from Vijaywada to Guntur , which is 30 kms, never turned up and the taxi service right outside the station was shut.   At 1 o clock in the night, I was making frantic calls to book a private cab. This horrid experience inspired me to start a cab service company which provides quality service.
says Ashish.  Ashish was working with Wipro at that time. Along with his colleges Rajesh Bopanna and Shankar Rao and their friend, Prithviraj, who was working with HP at that point , Ashish founded BookCab.in.However, a few years after BookCab.in started, the three partners decided to quit due to pressure from family and Ashish was left alone to steer the course of the company.
I started Bookcab.in along with three of my college mates in the year 2011. We quit our jobs and started the company with an initial investment of 1 Lakh from each partner.

Two years into the business, we were scaling up considerably well. However, in the year 2013 when our business saw a downside, my partners were forced to quit due to pressure from the families. I decided to single handedly revive the business. From planning to strategy to implementation- I was responsible for every decision in the company.
The company today is a ten members team that caters to 700 customers every month and has a presence in more than 100 cities. They currently have 150 vendors who work with them and have served more than 1 lakh customers till date.
Growing the company to where is it today was not an easy task for Ashish. But life as an entrepreneur has its own rewards he says.
As an entrepreneur, every day comes with an interesting experience. The small instances that we come across every day can have a big impact on our personality. Being an entrepreneur is a fulfilling experience. For instance, a few days ago one of our drivers who joined Bookcab.in three years ago gave a surprise visit to our office. When he first joined Bookcab.in, he bought a car worth Rs 16 lakhs for which he had been paying EMI since then. He completed all his EMIs and dropped by at our office to share this news with us. He took us all out for a small party at a close by restaurant.

Instances like these will help you reflect on the journey that you have taken so far. It definitely is a rewarding experience.
In the coming few months, the company will focus on working as a technology enabler for car operators to help them to drive more business and for improving quality of service for their customers. In their bid to do so, the company is planning to open up their inventory to all the travel agents across the world and open up their technology  to all the car rental operators across India.
The company is currently angel funded by Shravan Gupta of Travel tours and Anil Sivadas of Enventure technologies. BookCab is  looking to raise a Series A round for 1 Million USD. The funds will be used for Technology development, Standardization of supply and Marketing.
In times when security is a major concern in the cab / car rental industry Bookcab.in makes a promise.
We try our best to ensure that our passengers are given the best services possible. We take extra care to closely profile our drivers by doing a background check on their past experiences. We also encourage our drivers to provide us with reference certificates from their past employers. We have tracking mechanisms for the vehicles.We also make sure that we have a strong local partner connect who give us the necessary support to pick the right drivers.
Ashish ends the interview with some entrepreneurial wisdom !
It's easy to get inspired by great startup stories and young entrepreneurs. But the journey for a successful startup is far from easy. Not all good startups see the light of day. Not all start ups manage to scale up within years. Patience is extremely important for any entrepreneur. Success does not come in a day. It comes through hard work. Be result oriented but be patient until your hard work sees the light of the day. Every day is a new challenge for an entrepreneur. Never lose hope. Always work hard and be patient.
Comments
comments