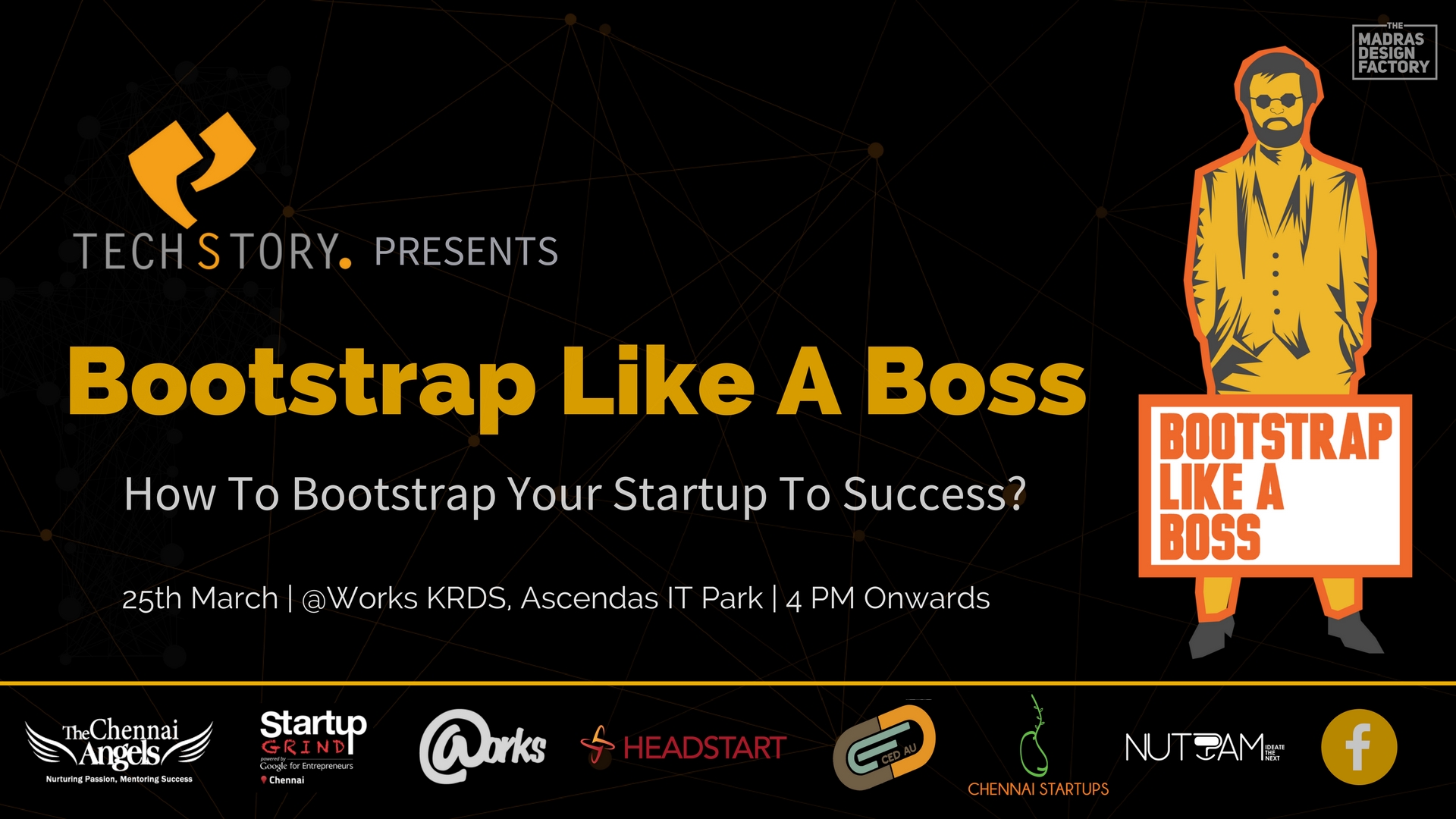 Bootstrapping your startup is one of the most misunderstood and underestimated aspects of an entrepreneur's journey. Entrepreneurs with great ideas are getting influenced by funding news that they keep getting bombarded with and start losing their focus.
We decided to focus on this issue as the focus of our next event "Bootstrap Like A Boss"
Here's what we have on cards for you.
Speaker Session: Unit Metrics To Monitor For Bootstrapping Successfully
Sriram Sekhar, S.M.A.R.T Advisors, CEO.
Sriram's S.M.A.R.T Advisors is an advisory firm focused on helping startups scale and raise capital. They have consistently been ranked as one of the top advisory firms in the country in various league tables.
He is a CFA charter holder with nearly a decade of experience in the financial markets. He brings to the table a global perspective on finance and the equity markets, along with his knowledge of diverse industries.
Panel Discussion: Defining Success For A Bootstrapped Startup
Hari Ganapathy, Co-Founder, PickYourTrail
Hari
is your quintessential jack-of-all-trades. He has dabbled roles across Strategy, Sales, Marketing and Investment banking. His love for travel combined with the urge to leave a dent in the universe drew him to PickYourTrail, a DIY platform for hassle-free, value for money international vacations.
Onthe platform independent travelers can build itineraries mixing their preferences and our travel insights. PickYourTrail is one of the 3 indian startups to be part of the Amadues Next Incubation program run out of Singapore and was also awarded as one of the top 10 travel tech innovators in South Asia by Phocuswright magazine.
​Karthik Kamalakannan, Skcript, CEO
Karthik drives innovation at Skcript which is popularly known as Pied Piper of India after the HBO show "Silicon Valley".
Apart from an impressive 96% file compression rate, the team also builds market-ready MVP catering to the uniqueness for every startups' DNA. His responsibility as a CEO is to improve the culture of the company and the revenue.
Vikas Chawla, Co-Founder, SocialBeat & Influencer.in
Vikas is the co-founder of Social Beat and Influencer. In a span of 4 years, Social Beat has turned a Premier Google Partner and one of the leading digital agencies with a 65 member team of digital experts across Bangalore, Chennai & Mumbai.
Influencer has also become India's largest social media influencer network which enables brands to connect to over 10,000 influencers.  Vikas is a member of the Facebook India SME Council, an Industry Council member of Digital Academy of India and also an Academic Mentor for Marketing at the Kumaraguru Business School in Coimbatore.​
Ashwin Shankar, Co-founder, @Works (Moderator)
Ashwin has been a serial entrepreneur for over 15 years, with stints as a product owner, CxO, growth hacker, systems architect, and variety of other roles over this period. He's passionate about entrepreneurship and startups and firmly believes in the potential impact these can have on the world around us.
Ashwin currently works on the @Works project that he co-founded. @Works is an ecosystem platform that's committed to providing a better way for entrepreneurs and professionals to achieve the success and outcomes they're passionate about. Ashwin is deeply committed to developing and mentoring new entrepreneurs and happens to be big believer in the power of bootstrapping, embracing its values in his own projects.
Hold on! We still have one more panelist from the investors' community to share his insights on the definition of success for a bootstrapped startup from an investors' perspective.
Grab Your Tickets Here!