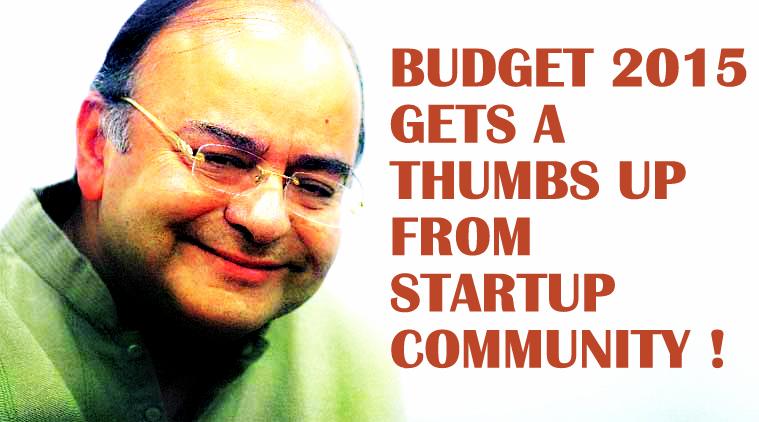 Budget 2015 has been in discussion in the startup world for the doors that it will open for the startup community. There are some expectations that have been met and some that have not been met (comprehensive analysis of budget for startups here). In this article, we get you a few reactions from the startup community about this budget !
Mr. Srinivasan, CFO- Ventureast said about the budget 2015.
As the general consensus goes, this year's Union Budget is indeed a growth- oriented budget, particularly for the PE/VC investor community and start-up ecosystem in India.

The Permanent Establishment Safe Harbour provides a sense of comfort to fund managers for choosing India as the base for investment managers. It means that fund management activity undertaken in India by an eligible fund manager on behalf of an eligible offshore fund will not trigger business income taxation for the offshore fund in India. However, there is a qualifying provision that the overseas fund should have a minimum of 25 members, which would be challenging for a fund which have limited institutional investors.

Two encouraging points are that Minimum Alternative Tax (MAT) will not apply to foreign investors and the General Anti-Avoidance Rules (GAAR) applicability has been deferred by two years. Further, the reduction in corporate tax by 5% over 4 years, will be welcomed by startups. But on the flip side, service tax has been increased from 12.36% to 14% which will put additional pressure on services providers.
The Finance Minister's boost for startups will be a thrust for the #Startup ecosystem in #Bengaluru. http://t.co/0BuwSDttwr #Budget2015

— Kiran Mazumdar Shaw (@kiranshaw) March 2, 2015
Entrepreneurs rejoice! #UnionBudget2015 has something for the #StartUp enthusiasts #Budget2015 #Entreprenuership pic.twitter.com/LapuJZc1uA

— Sandeep Soni (@SandeepSoniSays) March 1, 2015
Gopal Srinivasan, Member of Chennai Angels  said that the budget was a Break-through budget for PE industry!
This has truly been a break-through budget for the PE / VC industry.  Tax pass-through for all Category I and Category II funds, and the ability to blend foreign capital in AIFs, will provide significantly greater access to funds for Indian PE / VC industry.  This could propel the Indian PE / VC industry from making annual deployment of USD 8-9 Bn to a trajectory of making 3x the current annual deployment (USD 25 – 30 Bn) in the next 3 years. Unlisted companies, who face the most scarcity of Capital, are the primary recipients of VC/PE equity.

Two budget measures that will greatly accelerate the availability of debt capital to unlisted mid-sized companies are: (1) enabling NBFCs (mid-sized) with SARFAESI Act and (2) MSME refinancing mechanism through the Mudra Bank. The first measure gives greater protection to the lending NBFCS, and hence enhances their ability to lend particularly at the growth stages of companies.

These changes come at a time, when India is superbly poised for sustained, high GDP growth.  These measure will create a very enabling environment for entrepreneurship and growth, providing ubiquitous equity and debt capital for all capable entrepreneurs – from a push-cart  to Flipkart!

The clarifications on permanent establishment regarding India-focused offshore fund managers in India is a good initial platform to enable offshore fund managers to operate from India.  While it is a good beginning, it appears to need some work from the government to iron out the execution details before becoming a widely adopted platform.

The PE / VC industry has worked with the government for these changes, for 3 years.  It has paid off, thanks to a government that listens and thinks big!

Kudos to the government for hyper-charging capital supply for entrepreneurship in India.
Electronics signatures and soft copy of invoices to help #startup businesses #goodstuff #budget2015 #arunjaitley

— Shaili Chopra (@shailichopra) February 28, 2015
EBiz portal and expert committee to make starting a business easy in India #Budget2015 #startup pic.twitter.com/DN0AGy5PhJ

— IndiaFilings (@IndiaFilings) February 28, 2015
Mr. Shashank ND, Founder & CEO, Practo said

 Prevention is better than cure and we applaud the finance minister's efforts to focus on preventive healthcare for our citizens by targeting 6 crore toilets under the Swacch Bharat campaign. This will have a huge impact on making our nation healthier.

We're also happy with  government's increased focus and recognition towards the Indian Start up industry. Over the last few years, the Indian Start up industry has witnessed tremendous success in providing innovative services to the nation, along with generating substantial employment opportunities . The financial allocation of Rs 1000 cr under the SETU – Self Employment & Talent Utilization program will drastically help boost the start-up ecosystem in India. The additional focus towards the strengthening of the IT infrastructure, the backbone of the Indian start up industry will accelerate the industry growth.

As a young company at the intersection of health and technology we're very pleased with the government's focus on both these sectors and look forward to working with various stakeholders to improve healthcare access for a Digital India
Mr. Sudhakar Gande, Vice-Chairman, AXISCADES Engineering Technologies and Chairman-FICCI Task Force on Aerospace and Defence said

The Budget is practical, balanced and growth oriented. The decrease in taxation on royalty payments will propel Make in India program to be successful. The introduction of Bankruptcy laws are welcome and will build balance between entrepreneurship and lenders. Specifically for Defence sector, Budget allocation has been increased by 12% to Rs.2.46L Crores. With focus on FDI in defence, Make in India, ensuring there is inclusive focus on skill development, Technical entrepreneurship, and Institutional mechanism to finance the MSME sector is encouraging for the Defence sector
"Govt to allocate 1,000 crores towards IT startups" – @arunjaitley. As a young #startup, we're excited for the time to come! #Budget2015

— PropheSee (@_PropheSee) February 28, 2015
Comments
comments