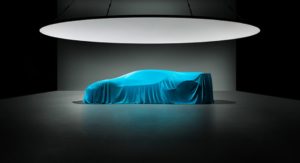 Bugatti has released a series of teaser images and videos of the new 'Divo' which is set to be launch on 24 Aug at the Quail. The new Divo is said to be built for corners. It suggests that it will be agile, more aerodynamic, and lighter than their latest hypercar Chiron.
Bugatti had earlier released an image of Divo under the wraps to show off its curves and now, they have released a video of the car's curvy road to indicate that the Divo loves corners. The company president, Stephan Winkelmann said sometimes back that, "Happiness is not around the corner, It is the corner. The Divo is made for corners."
It seems obvious that the Divo will be based on the Chiron. However, to make it good around the corners, the Divo must have shaved off some weight and added some aerodynamic design upgrades.
There is no word on the engine of the Divo yet. It may use the Chiron's familiar quad-turbo 8.0-liter W16 engine that makes 1479 horsepower and massive 1600Nm of torque. With the Divo being lighter than the Chiron, it can provide better performance numbers even with the same engine.
https://www.facebook.com/bugatti/videos/1061456994022329/
The car with all the official details will be revealed on 24th August. The price of the Divo will be limited to 40 units to be produced ever. And the price of this rare hypercar is believed to be somewhere around $6 million. And we won't be surprised if Bugatti says all of them have been sold already!
Picture/video courtesy: Bugatti
Comments
comments