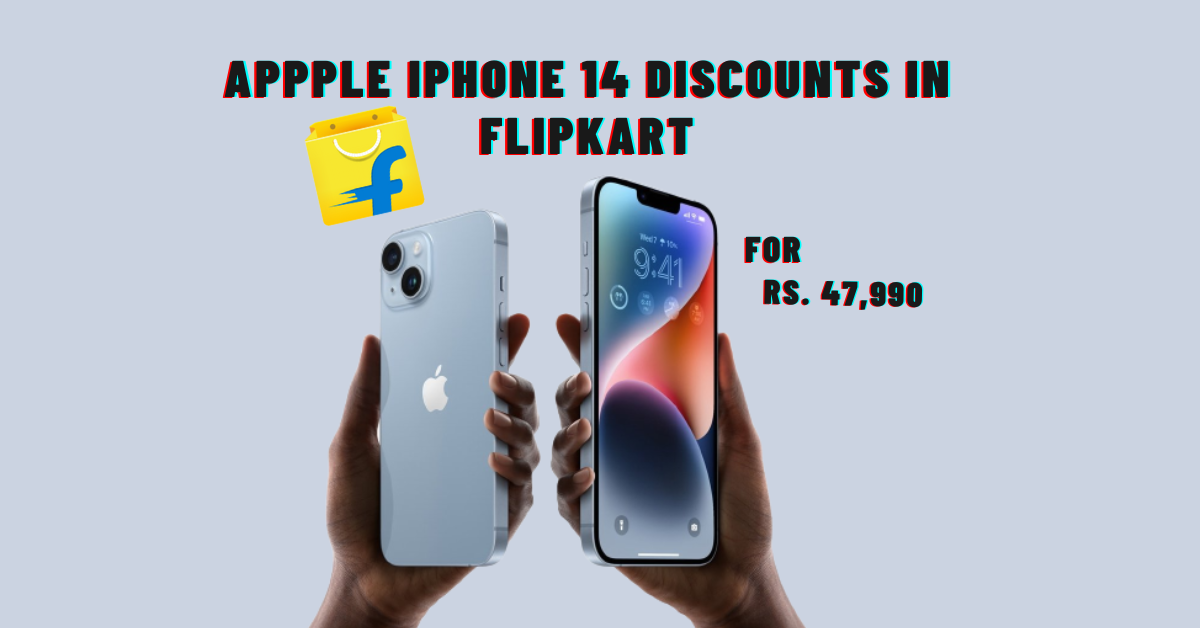 The year 2023 appears to be an excellent starting point for purchasing a new iPhone! Flipkart India, India's e-commerce behemoth, offers something quite eye-catching for this season's sale.
You must be aware of what we have covered for you today if you have read the title! So, doesn't it sound nearly impossible to obtain an iPhone, much alone a new iPhone, for less than Rs. 26,000? As previously stated, Flipkart has made it possible with its 2023 year sale.
If you're here, you may have been looking forward to getting a new iPhone for this year, so why not settle for the latest iPhone 14?
True, you may acquire the smartphone for such a cheap price, but there is a catch to taking advantage of such a large discount. So, if you've been wanting to get your hands on one of these new creatures, let's have a look at how you may do so.
Apple iPhone 14 for heavy discounts on Flipkart 
These offers have been appearing since Apple is already focusing on the Apple iPhone 15 series, as well as producing or at least assembling its iPhones in India, which can assist to reduce overall costs.
If you go to the Flipkart website, you will notice that the iPhone 14 series is presently advertised at a 7% reduction, bringing the price down to Rs. 73,990.
But there's more to it than that! You may now apply extra offers to this final pricing if you go with exchange alternatives, where you will be able to obtain a price reduction based on the condition and model of the smartphone.
What condition should my smartphone be in to achieve the best exchange value? According to Flipkart standards, the exchange value of your older smartphone will be determined by the production date, model, and brand, as well as its condition, which includes whether or not the smartphone can switch on and off and whether or not the smartphone's buttons operate properly.
When swapping your smartphone, the highest value offered is Rs. 23,000. Aside from swapping your phone, you will also be entitled to an additional Rs. 3,000 discount, which Flipkart offers to its consumers on chosen devices exclusively. So, with this, you may ultimately obtain a total price cut of Rs. 26,000, bringing the price down from Rs. 73,990 to Rs. 47,990.
Apple iPhone 14 Flipkart Discount FAQs
What is the Apple iPhone 14 Flipkart Sale Price?
If you not adding any exchange price of your older phone, then you can buy the new iPhone 14 with a 7% discount which brings the final pricing to Rs. 73,990 if you are exchanging your phone which is in good condition and eligible as per Flipkart's terms and conditions, then you can get a price slash worth Rs 26,000, bringing the price down from Rs. 73,990 to Rs. 47,990.
How to get a discount on Apple iPhone 14 
You can get the best discounts on iPhones currently via the Flipkart India platform, where already there is a discount of around 7% which brings the price to Rs. 73,990 additionally you can claim exchange offers as well.
Comments
comments