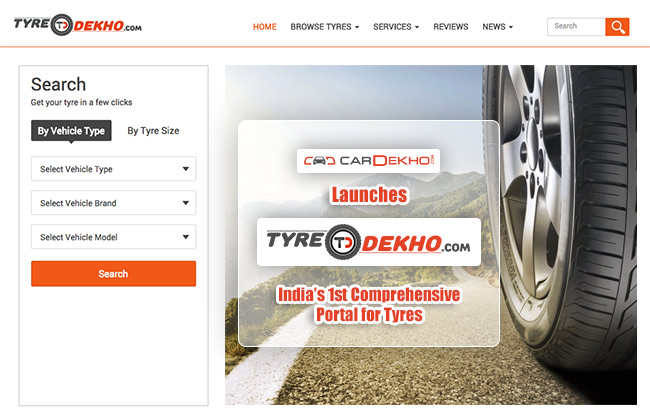 New portal for search & information about two & four wheeler tyres
New Delhi, 25.05.2015: CarDekho.com, India's Number One Auto portal, announced the launch of its platform TyreDekho.com. This new portal will provide content, reviews and research tools to guide consumers to make the best choice for a tyre purchase. The site hosts tyre listings for all passenger cars and bikes sold in India, Information on tyre brands, products, pricing, features and dealers.
Commenting on this launch, Amit Jain, CEO CarDekho.com said "We see the tyre replacement market for two & four wheelers as a huge area of consumer value creation. We always had customers on CarDekho.com enquiring about the 'What, How & Where' about tyres. TyreDekho.com is the answer to that need. We want to enable consumers to purchase tyres online"
TyreDekho is designed to help a visitor search for tyres online, Compare features across tyres, Locate tyre dealers around him and identify the best prices, Register for tyre change reminders, special offers and tyre news. The company plans to make delivery & fitting of tyres a one click purchase.
Ankur Agarwal, AVP-New Cars, CarDekho.com adds " We did not have a credible online destination for the tyres industry until today, even though consumer preferences have shifted online. TyreDekho.com is an effort to fill that gap. Through TyreDekho.com, we aim to solve customer issues such as basic information about tyres and its use, education on replacing their vehicles' tyres and providing customers simple tools to simplify their tyre selection and buying process."
CarDekho.com is a flagship portal of Girnar Software Pvt. Ltd. founded in March 2008. CarDekho.com is today India's most popular and leading auto portal catering to the aspiring buyers, the proud owners, the auto enthusiasts and die-hard fans and dealers of cars across the country. CarDekho is currently drawing close to 17 million visits per month with 10 million unique visitors per month. The company recently acquired Gaadi.com, another top automotive portal & Buying IQ, a comparative shopping portal to add to its portfolio. Recent winner of the prestigious 'Website of the Year 2014' award, CarDekho.com has been presented with various tokens of appreciation by a number of esteemed institutions, including the awards for the 'Best Car Website 2014', 'Most Popular Website 2012' and 'Website of the Year India' given twice in a row – in 2011 and 2012. The portal won its first 'Best Automotive Website of 2009' award at the beginning of the journey.
Girnar Software is an IT company working on offshore products and outsourced software development. It picked up USD 50 Million in a second round of funding and is valued at USD 300 Million. The group company has recently partnered with the iconic Mr. Ratan Tata and will be taking advice for further business enhancement to take the auto classified segment in India to a global level. The group runs other successful portals such as BikeDekho.com and PriceDekho.com. The group's vision is to be a multi-billion dollar company by 2020 with global footprint by creating innovative products and services.
Comments
comments