Cathie Wood's Ark Invest has recently dumped $13.5 million worth of Coinbase stock as the popular cryptocurrency exchange notches seven-month highs. The move has raised questions among investors, particularly those who have been closely following Wood's investment strategies.
According to a filing with the Securities and Exchange Commission (SEC), Ark Invest sold over 22,000 shares of Coinbase stock on March 19, reducing its stake in the company by 0.3%. The filing revealed that the shares were sold at an average price of $611 per share.
The move comes as Coinbase's stock price has surged in recent weeks, reaching levels not seen since September 2020. The company has benefited from the ongoing bull run in the cryptocurrency market, with Bitcoin, Ethereum, and other digital currencies seeing significant price increases in the past few months.
Wood's decision to sell Coinbase shares has sparked speculation that she may be losing faith in the cryptocurrency market, which has been one of her primary areas of focus in recent years. Ark Invest has been a major investor in several high-profile crypto companies, including Coinbase, Grayscale Bitcoin Trust, and Square.
However, some experts believe that Wood's move may be more of a rebalancing of her portfolio than a sign of waning confidence in the crypto market. Ark Invest has a reputation for making bold and unconventional investment decisions, and it's possible that the recent sale of Coinbase shares is simply part of a broader strategy.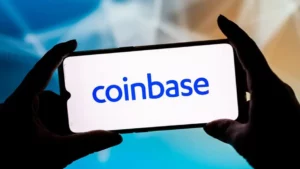 In fact, Ark Invest has recently added several new positions to its portfolio, including investments in DraftKings, Teladoc Health, and Sea Limited. These companies represent a diverse range of industries, suggesting that Wood may be looking to spread her investments across multiple sectors.
It's worth noting that Wood remains a staunch advocate for Bitcoin and other cryptocurrencies, and has repeatedly stated her belief that digital assets are the future of finance. In a recent interview with Bloomberg, she predicted that the price of Bitcoin could reach as high as $500,000 within the next five years.
Overall, the sale of Coinbase shares by Ark Invest is unlikely to have a major impact on the cryptocurrency market, which continues to show strong growth and increasing mainstream adoption. However, it does highlight the ongoing volatility and unpredictability of the digital asset space, and the importance of closely monitoring investment strategies in this emerging and rapidly-evolving market.
Comments
comments