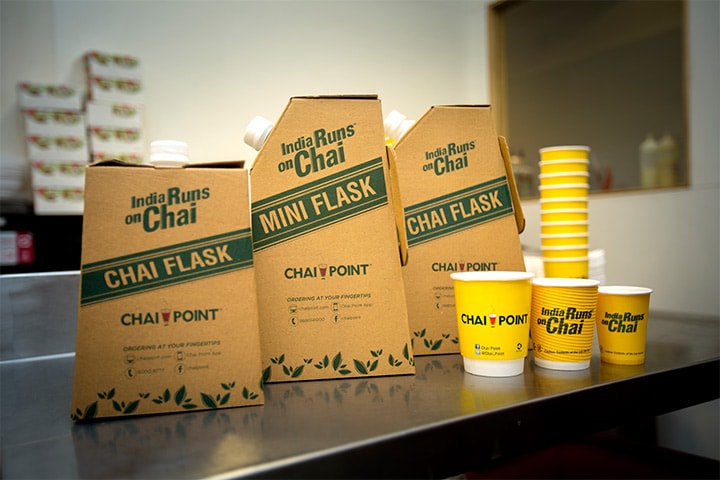 19 November 2018, India:
Chai Point has launched an integrated contractual and on-demand payment capability in its BoxC range of beverage dispensers by integrating with Paytm payment platform.
This move will allow Chai Point to sell freshly brewed beverages from every office pantry while enabling a bigger market footprint for ChaiPoint's boxC business. The company has a unique payment method as the office can define free number of beverages and post that consumers can pay.
"boxC is one of the fastest growing business channel for Chai Point. We have been recieving demands to install boxC from many small as well as Large businesses where their employees can, partially or fully, for a quality beverage to keep going at work. This is the first time that contractual and on-demand billing is integrated and is a testament to the strength of our SHARK platform. Bringing on board the largest payment solutions provider Paytm will ensure that each customer will be able to pay in a simple way and get access to healthy and quality beverages at work. We also plan to extend this kind of integration to other wallet," said Amuleek Singh Bijral, Founder and CEO, Chai Point.
Currently users have option to pay using Paytm, soon the payment options will be extended to other major third-party payment solutions. In case of failed payments the amount dedcuted from Paytm wallet will be reversed within 1-2 hours. Presently, Chai Point has over 2000 boxC installations across 8 cities and contributes to more than 38% of its overall revenue. The Company plans to expand its presence to 5 new cities before the end of fiscal through the boxC channel.
Chai Point was founded by Harvard Graduate Amuleek Singh Bijral. The company raised $20 million in Series C Funding from Paragon Partners in April this year. The company has raised about $33 million till now.
Comments
comments