People have been using OpenAI's ChatGPT artificial intelligence system for a wide range of problems since the day it was released to the general population. Every unlikely circumstance has been attempted to verify the AI, from inputting exam responses to creating pick-up lines.
Greg Isenberg, a Twitter user and the CEO of a design firm, thought of using the chatbot instead of a pricey lawyer to help him with a legal problem he was experiencing with a brand that was not paying him for his efforts.
Using the microblogging service, he described how he succeeded in recovering almost USD 109K in costs even without the aid of an attorney.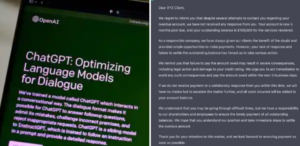 He wrote in a tweet, "Imagine a multi-billion dollar client who refused to pay you for good work rendered. Most people would turn to lawyers. I turned to ChatGPT. Here's the story of how I recovered $109,500 without spending a dime on legal fees."
In 2022, Greg and his team worked for a company and offered them some designs. The company was pretty impressed with their work and continued asking them for more designs until one day they lost complete contact with the brand.
"We kept on under promising and over delivering, and life was good… until the communication stopped," wrote Isenberg.
He noted, "Our design agency has completed hundreds of projects with millions in revenue in design and engineering and has never ONCE had someone completely ghost us on payments." The CEO mentioned how the situation was also affecting his team's morale.
The CEO of the company used ChatGPT as opposed to a pricey lawyer when the operations and finance staff was unable to interact with the brand. "What if ChatGPT could draft a bit more of a scary email to draw attention?" he thought.
He went to ask ChatGPT to draft "a scary collection email" so that they could recover their hundreds of thousands of dollars. They typed in the prompt, "Pretend you work in the finance department and your job is to collect payments from clients. Draft a scary mail that gets XYZ client to pay for $109,500 of services rendered that hasn't responded to 5 emails. Their invoices are 5 months overdue."
The chatbot then produced a long email which Greg sent after making a few minor adjustments. "Let's get you guys paid," said a firm executive precisely two minutes later.
Isenberg is the CEO of Late Checkout, according to his LinkedIn profile. It is a design agency and studio. Earlier, he served as Advisor at Reddit Inc. and TikTok, plus he was the head of Product Strategy at WeWork.