Hey,
Did successful tech companies become the centre of media attention overnight? Not really ! Public relations have been an integral part of their growth trajectory right from day one.
A small leap for an entrepreneur and a giant leap for the startup !
As promised in our Fireup event announcement, we are hosting the event on December 3rd, 10:30 am at @Works KRDS, 4th Floor, Pinnacle Building, Ascendas IT Park, CSIR Road, Taramani, Chennai – 600113 to enable you the PR experience much bigger !
The event now jointly organized by The Chennai Angels, TechStory and @Works is aimed at educating entrepreneurs the basics of Public Relations as a tool to growth hack your startup's marketing.
As part of the event format, we have veterans from the industry sharing their expertise on PR 101 – What You Should Really Know About PR and hacking your PR and Digital Strategy on a Budget.
Session 1: PR 101 – What You Should Really Know About PR
The session is presented by Senthamil Selvan, Associate Vice President & Branch Head, MSL Group – Chennai.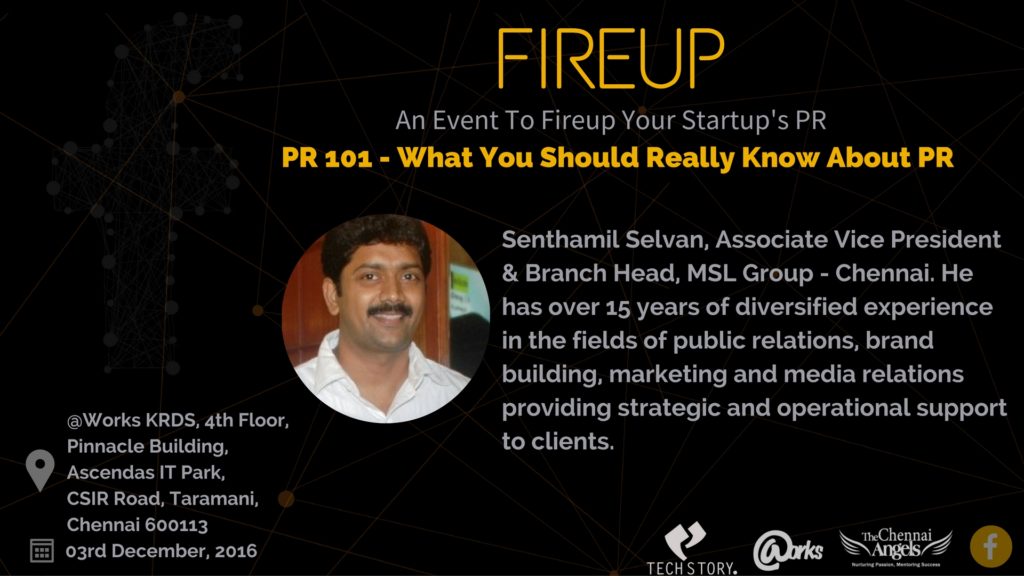 Senthamil is a science graduate from Madras University and is an MBA – IT & Marketing from the Institute of Technology Management, Chennai
He has over 15 years of diversified experience in the fields of public relations, brand building, marketing and media relations providing strategic and operational support to clients with a demonstrated track record in strategizing, branding, issue management, operation and media relations in client servicing. Proven ability to identify issues, analyze optimum solutions and determine best course of action to meet objectives. A passionate believer in arriving at 'Win-Win' solution. He had serviced clients from sectors such as: IT/ Telecom/ Hospitality / Automobile/ Lifestyle & Entertainment / Healthcare/ Retail/ Manufacturing
He has been with MSLGROUP close to nine years and has been servicing accounts like Daimler India, Saint-Gobain, Ramco Systems, Grundfos among others.
Session 2: Hacking your PR and Digital Strategy on a Budget
Rob Peck is the Director of Client Services at O3M Directional Marketing. In this role, Rob leverage his 10+ years of digital marketing experience to get India online and keep them productive.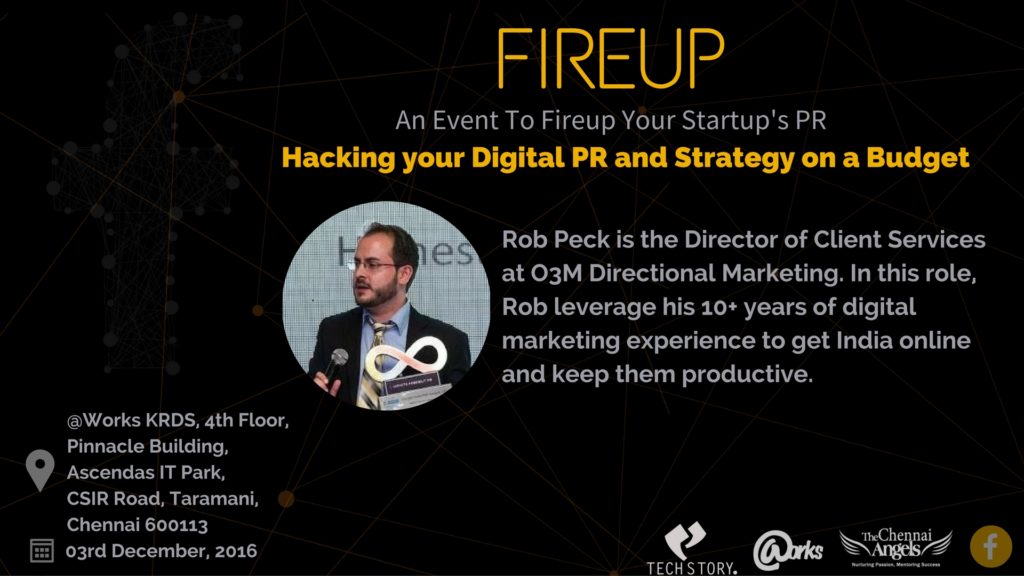 With O3M, Rob is proud to:
Have been crowned the "Customer Satisfaction" award winner by Google India three years in a row.
Fulfill outsourced advertising packages for over 150,000 campaigns globally.
Support 500+ direct clients in the Indian market.
Deliver a mix of expertise, creativity, and ingenuity; enabling clients to achieve their online goals.
Rob is Google Certified in Search, Display, Mobile, Video, Shopping, Analytics, and Digital Sales.
Inspired by the growth of the company, Rob is a digital marketing evangelist in India, eager to spread the word to whomever will listen.
What good is knowledge without application?
The event will be concluded with a power networking session with members of the media community and we definitely have some big names packed for you !
Tickets selling out fast ! Grab them now and #Fireup !