A report revealed that Chinese investors possess land around twice the size of New York City in the United States. This has created concerns among officials of the States as rumors spread that now China is trying to purchase land near the Air Force bases.
The US Department of Agriculture (USDA) reported that around 146 Chinese investors hold 383,935 acres of American land, double the 193,700 acres that make up New York City worth $2.1 billion.
Land ownership by the Chinese has recently become a major issue in the United States. Therefore, the assistant secretary of the Department of the Air force, Andrew Hunter sent a letter to John Hoeven, the North Dakota Senator on 27 January.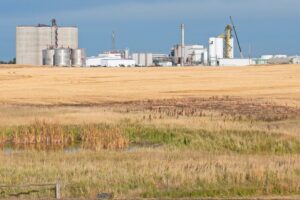 He stood against a proposal from the Fufeng Group which is a Chinese bio manufacturer to build a milling plant in the land of the state, 12 miles away from the Grand Forks Air Force base.
In the letter, Hunter wrote: "The Department's view is unambiguous: the proposed project presents a significant threat to national security with both near- and long-term risks of significant impacts to our operations in the area."
He added that the Air Force base "is the center of military activities related to both air and space operations."
"We believe the city should discontinue the Fufeng project and instead we should work together to find an American company to develop the agriculture project," senators Hoeven and Kevin Cramer, both Republicans, wrote in a January 31 statement.
The letter has received ample limelight that prompted calls for new legislation that needs to be passed to prevent Chinese investors from purchasing land near military basements.
"There needs to be a law passed by both houses, signed by the president, monitoring this or saying it cannot be done so many miles away from an air force base, but there's no action by Congress," Michael Pillsbury, director of the Center on Chinese Strategy at the Hudson Institute, told Fox News on Monday
"There has to be legal action taken," he added. "It has to be a crime, for example, to do some of the things that are being done to help China in our country. There's no sign that's happening at all; that's what concerns me the most."
"There should be national legislation," Kathleen McFarland, former deputy national security adviser in the Trump administration, told the news channel. "They should not be allowed to scoop up American farmland, especially near critical military facilities."
Meanwhile, Randy Feenstra, a Republican congressman representing Iowa, tweeted on Tuesday: "China must be banned from buying farmland ANYWHERE in our country, especially near our military bases."
Many bills have been presented in the House over the years to limit or prohibit foreign investment to buy land in the States but none of them has passed.
Arizona Tom Cotton, Republican Senator presented a bill that was supported by Tommy Tuberville of Alabama and Roger Marshall of Kansas in August 2022 to "direct the President to take such actions as may be necessary to prohibit the purchase of public or private real estate located in the United States by the Chinese Communist Party."
"Chinese investments in American farmland put our food security at risk and provide opportunities for Chinese espionage against our military bases and critical infrastructure," Cotton stated at the time.
"There are two things that make Chinese ownership in our farmland particularly concerning," Ralph Norman, a Republican congressman representing South Carolina, wrote in a blog following the introduction of the bill.
"First, foreign investors from China are under the total and absolute control of the communist Chinese government. And second, that government has become increasingly hostile towards America."
There has been fear among Americans as once a Chinese spy balloon was shot in South Carolina but China exclaimed that it was just a wayward weather balloon that passed over the United States.