National Selfie Day saw a shower of clicks and snaps finding their way to the trending list on Twitter. For the uninformed, June 21 is apparently National Selfie Day, and if you forgot to click what you click on a normal basis, you still have time. The buzz of the day is still alive and Twitter is bearing witness to all sorts of extravagance that comes with a day devoted to selfies.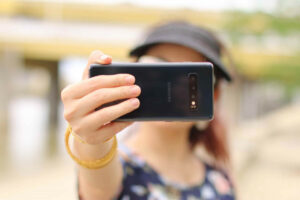 Selfies now are as normal a part of life as food or water, if it's not a bit of an overstatement. Every situation whether it be happy or sad demands a selfie. And many people condemn the selfie culture as a rather extravagant shade of a self-obsessed culture, people could not care less. Because despite everything, selfies have not gone out of trend, and everyday people discover new ways to perfect the perfect selfie.
The Very First Selfie!
History lessons aren't always very intriguing. However, when mingled with curiosity, a small snippet of history is tolerable. Who took the first-ever selfie? Was it just an arbitrary click or a planned innovation? Well, brace yourselves for a small surprise because the selfie is not so modern as you think it is. The first-ever selfie dates back to 1839!
And the one who clicked the first selfie was Robert Cornelius. Cornelius was a chemist with considerable interest in photography. Perhaps that's why he ran back into the frame of his camera thus giving the world its very first selfie. Indeed, he didn't know back then that he was opening a window for a massive trend. So, if somebody takes a jibe on the self-obsession of the present generation, be quick to counter them with the story that dates back to 1839.
Although 1839 witnessed the very first selfie, the term 'selfie' came about in the year 2002. After all, the millennials are always good with coining words that are worth a dime. And once again looking back, you have a drunk Nathan Hope, who accidentally brought about the term on his birthday while apologizing for the picture with a caption, "sorry about the focus, it was a selfie." The rest is history.
Twitter Celebrates National Selfie Day
No celebration misses touching the walls of Twitter, for it has become the platform reflecting everything whether it be good, bad, or, ugly. And National Selfie Day is no exception. People were enthusiastically posting selfies while some took a walk down memory lane, and that includes celebrities like Paris Hilton and Britney Spears. Here is a snippet of the National Selfie Day celebration on Twitter.
It's the BTS. It is only normal if you sense the beginning of a frenzy.
Happy #NationalSelfieDay 🤳

📸 @BTS_twt pic.twitter.com/6auoYHhJtP

— DawBell (@DawBell) June 21, 2021
On another note of surprise, mirror selfies aren't that modern either. The past indeed has a vast number of surprises.
This adorable 1920s couple clearly perfected the art of the mirror selfie long before any of us gave it a shot.#NationalSelfieDay pic.twitter.com/BE3TRS7X3Z

— Ephemeral Elegance (@drapedinhistory) June 21, 2021
Robert Cornelius might object to the claim below.
15 years ago 📸💓📸 #NationalSelfieDay✨ pic.twitter.com/N2pcFO0McZ

— Paris Hilton (@ParisHilton) June 21, 2021
But first…

📱 @ArianaGrande
📱 @official__wonho
📱 @troyesivan
📱 @LilNasX

…happy #NationalSelfieDay ✨ pic.twitter.com/TBX2mbZNSS

— MTV (@MTV) June 21, 2021
Even math answer sheets might not have seen such perfect angles.
Happy #NationalSelfieDay 🤳 pic.twitter.com/Vb0yjR2baG

— Warner Music Group (@warnermusic) June 21, 2021
Happy #NationalSelfieDay! Looking forward to another great day serving the constituents of Congressional District 10! pic.twitter.com/HfXRE7lgiQ

— Rep. Val Demings (@RepValDemings) June 21, 2021
HOWDY! Just celebrating #NationalSelfieDay! 📸 pic.twitter.com/kqSMFSaoOo

— Reveille X (@reveille) June 21, 2021
It is not fair to have so much perfection in a single frame!
Best. Selfie. Ever. 📸 #NationalSelfieDay pic.twitter.com/TiM8gFEdZz

— boohoo (@boohoo) June 21, 2021
The pandemic cannot stop us from celebrating whatever is to be celebrated
Selfie game strong 🤳 #NationalSelfieDay (📷 @JakeBorelli) pic.twitter.com/rmZHsLPYo6

— Grey's Anatomy (@GreysABC) June 21, 2021
Here's to a most sensational and Muppetational #NationalSelfieDay! 🤳 pic.twitter.com/933NhKbBzO

— The Muppets (@TheMuppets) June 21, 2021
Let's conclude with an incredible selfie.
Say "super!" It's #NationalSelfieDay! 📸 pic.twitter.com/RIIo426oyk

— Pixar (@Pixar) June 21, 2021
Comments
comments