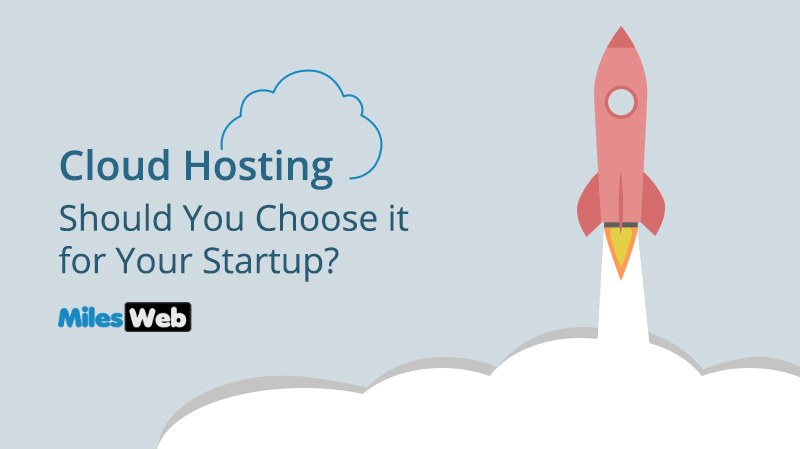 So, you are an entrepreneur of a startup, that's great! You might have already set your goals for upgrading your company in future. Also, you have been searching for the safest, highly secure storage options for your business data, website content, and more. How should you do this?
Today, almost all of us are great fans of cloud hosting for startups and small businesses. Let's find out why?
It's a fact that startups don't even take a glimpse of cloud hosting believing that it isn't made for them. For your information, cloud hosting is instead an affordable and flexible solution that offers benefits to all businesses – specifically startups and small businesses.
Having large or complex business projects and goals don't at all matter if you choose cloud server hosting as it is the best hosting for many growing companies. The only thing expected from the cloud provider is services with minimal or no downtime.
Cloud features accessibility, flexibility, and security which ultimately increases production and offers additional confidence in automatic software and hardware updates.  Be it a web design firm, an e-commerce business or an application development company, cloud hosting is always better than those expensive personal clouds or the massive hard drives. Want to know why?
Pay for What You Use
Savings are always the key point which small businesses and startups looking for. When you compare the hosting methods which larger companies opt for, you will surely find that cloud hosting is cost-effective and offers comprehensive services including the auto-scalability option for resources.
For example, if you are a startup, you can start with minimal bandwidth and disk space and later upgrade your resources when required. Additionally, you won't be facing the issue of overusing resources or being charged extra for the power you didn't use.
Stronger Collaboration
Collaboration plays a big role in any business success – offline as well as online. Cloud server hosting offers you collaboration by streamlining the interaction between employees and administrators.
Cloud hosting today isn't restricted to only one computer. Rather, it allows you and your employees to connect any devices to the Internet for managing websites as well as business-related projects.
Being a business owner, it is possible to restrict permissions for employees helping you to organize important projects from a single control panel located centrally.
Quick Disaster Recovery
Since it is an internet-based solution, cloud hosting helps in decreasing the overall risk for businesses. As the resources are offered using multiple physical and virtual servers, it is ensured that no data is lost during natural disasters or outages.
Data stored off-site help in reducing the threat of hackers, malware, identity theft, etc. to a great extent. Moreover, the cloud hosting providers like MilesWeb performs routine checkups of the cloud infrastructure for installation of updates and patches for security programs. You don't have to bear the costs and other issues related to security system update.
Automation
Cloud allows short Mean Time Between Failure (MTBF). Once the best possible configuration is finalized, a snapshot of the complete deployment comprising the databases, servers and other resources can be taken. If there's a failure, this snapshot can be helpful to restore to the previous configuration only within few minutes.
When applications are deployed in the cloud they can run faster and stay secure from disasters.  They can detect faults and automatically launch healthy instances via the supported APIs. This is hardly achievable within a physical infrastructure or hosted environment.
Minimal Investment
Being a startup, you are always low on budget. Since the capital resources are limited, investing wisely is noteworthy for you.  So as per you, what would be a better investment – investing in human resources like the developers, marketing, HR, etc. or investing in core hardware?
Actually, both are important as without component hardware, it's not possible to use your developer's potential and without a developer, you can't do anything with your hardware.
With cloud computing, this becomes very easy as you need to invest only in expert human resources while the cloud takes care of your hardware. Ultimately, you get a scalable platform that can be used as per your needs.
How to Choose the Right Cloud Platform?
Let's check the steps to choose the right cloud platform:
Verify your cloud needs
Determine what type of cloud your business should rely on – public or private or hybrid cloud? Below are some questions which will help you to find the ideal services for your business.
What type of data will you store?
You can determine the type of cloud service you require based on the information your business collects. If it's critical information, private clouds are a must but if the data is transactional, public cloud will be enough.  Also, if you collect valuable as well as non-valuable data then the hybrid cloud would be the best.
What Software Will be in the Cloud?
It all depends on your business niche or industry, whether your software needs to be stored in the public, private or a hybrid cloud.
How Many People and Devices Will be Connected
This is similar to the game of "Telephone" that we have played during our schooling – the more people involved, the less secure your "phone conversation" would be. Select the option depending on your business size and the ability to scale as the business grows.
What's Your Budget?
You will find options for free public cloud services but it's important that you determine the data you will be storing there. Though private clouds are a bit costly as compared to public clouds you get the required security and so, are worth to invest.
Verify Your Cloud Options
After verifying your cloud requirements, take a closer look at your options along with some pros and cons of each.
Public Clouds
Public cloud is the standard form of cloud that offers storage for computer resources such as applications, accessible via the internet. You will find some free, as well as pay-per-use cloud service options in the market.
Since public clouds need to provide services to multiple clients, they use a shared infrastructure. They work for storing transactional data or collaboration or emails. Examples of public clouds are IaaS (infrastructure as a service), PaaS (platform as a service), SaaS (software as a service), MBaaS (Mobile Backend as a Service) and more.
Pros:
Public clouds offer flexibility and scalability.
The cost depends on its usage and location isn't an issue.
High levels of resource pools are offered by public clouds, meaning you get the benefits from larger economies.
The plus point for those who aren't cloud-tech savvy is that your business doesn't have to manage it.
Cons:
Compliance and security are important in some industries like healthcare and it becomes an issue with public clouds.
They are highly vulnerable to cyber attacks.
Not always reliable for users.
Private Clouds
Private clouds function similar to public clouds, except they use private architecture for offering services to users. In simple terms, they only serve a single company or individual instead of serving many.
Private clouds are best suited for unpredictable needs or changing business models. Also, they are an ideal solution for uptime needs, tight security demands, and mission-critical workloads. Industries such as medical and finance are in need of such a secure and proprietary cloud.
Pros:
Similar to public clouds, private cloud are scalable too.
They offer self-service and multi-capacity uses.
They are a vital solution for companies that collect a huge amount of data.
One plus point is they offer more security as the firewall protects the services by limiting the audience.
Cons:
One is the management of private clouds and for this businesses need to have their own IT experts.
This means you need to spend on staffing, maintenance, and capital. Also, virtualization, management tool, and cloud software need to be included. So, the cost is another issue.
Hybrid Cloud
As per the name, the hybrid cloud offers the benefits of both the public as well as private clouds. It is possible for the companies to shift their workloads between their public and private cloud services depending on their changing business demands. For example, a company might use an on-premises private cloud for storing business critical information and a public cloud for transactional material.
It is predicted that hybrid cloud marketplace will grow to $91.74 billion by 2021.
Pros:
Hybrid clouds are an ideal solution for highly variable workloads.
Additionally, they offer the way to flexible and scalable business solutions.
Cons:
There isn't much to be said on the negative side.
Cloud services are required by startups as much as the CIOs do need. This is because cloud helps in improving profitability, productivity, and growth of any business. Consider what is best suitable for your business needs and budget and don't rely only on one resource when you decide on what you need.
Comments
comments