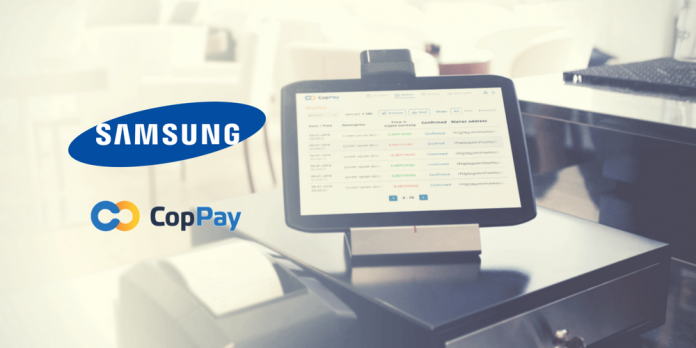 21 July, 2018
The Lithuania-based company made the announcement today. Customers in Tallinn, Riga, Vilnius, and Kaunas in the countries of Estonia, Latvia, and Lithuania will be able to purchase Samsung smartphones, tablets, laptops, TV sets, and more with cryptocurrency.
The South Korean multinational conglomerate will be accepting crypto payments in Bitcoin, Ethereum, XRP, Litecoin, Dash, NEM, and Steem. In Lithuania's capital, Vilnius, there are three Samsung shops which take cryptocurrency payments. In Latvia's Riga and Estonia's Tallinn there is one Samsung store in each country. In addition to the three Baltic States, CopPay also has several merchants using its platform in Portugal. The company also announced via press release that cryptocurrency will also soon bcome an accepted method of payment on Samsung's online stores.
"There is a growing trend toward business digitalisation and allowing customers to pay for goods and services in cryptocurrency, whether at global retailers or local restaurants," CopPay said in light of the news.
In January, the electronics company revealed that it was entering the crypto mining chips industry by making them. It made the announcement in its earnings report where Samsung said growing demand for mining chips would help to boost its earnings. 
In April, the firm revealed a 58 per cent year-on-year growth in its operating profits in Q1 2018, which was partly driven by the demand for cryptocurrency mining chips.
"I think the current rally will top out close to but not greater than $10,000. Then we will fall and test $5,000. If that holds then we can rally to $50,000 by year end."
(Image:- coinjournal.net) 
Comments
comments