Three IITians, bit by the startup bug, put their heads together and came up with the idea of Curofy. They had always been interested in this field since their college days, where they had another decently successful venture in the medical tourism industry. In the final year in 2012 at a midnight coffee break, the idea of starting something was floated and it stuck with them. After graduating from IIT Delhi they worked in MNCs for quite some time, but this thought always lurked at the back of their minds, so finally they quit their jobs last year and Curofy was made.
The Idea
Curofy is another networking platform, but it has its own arena. It is basically a medical networking app that provides a spam-free and secure communication between doctors. You can call it LinkedIn but just for doctors. Doctors use Curofy to read the latest medical news, discuss difficult cases, apply for premium jobs and highlight their achievements. Curofy's online medical directory pre populates profiles of doctors based on the public data. Doctors provide their basic details to enter into the premium network post verification.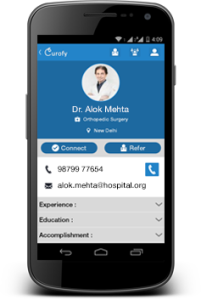 In January 2015, they started their alpha phase of the mobile app to receive user feedback and launched it on Play Store in early Feb 2015. Currently, they have about 10,000 doctors on their App. The app is also changing the way the medical industry reaches out to doctors. Curofy delivers an extremely high level of engagement with doctors. Through Curofy, these businesses are able to digitally engage this community with targeted content based on indicated areas of interest.
Meet the Makers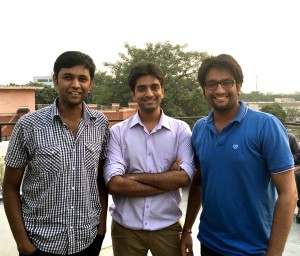 Curofy has three co-founders, all three from IIT- Delhi. These three had always planned to start something of their own, and finally came up with Curofy.
Nipun Goyal : He is an Electrical Engineer from 2012 batch. He worked with Rothschild in Mumbai for 2 years before starting with Curofy full time.
Mudit Vijayvergiya : He a dual degree student, studied Chemical Engineering and graduated in 2013. He worked in a pharmaceutical consulting firm, Axtria for a year.
Pawan Gupta : He is also an Electrical Engineer from 2012 batch. He worked with Deutsche Bank in Mumbai for 2 years.
USP
Curofy is a great place for doctors to be. It provides them with a platform where they can read up on the latest stories in their field and also interact with many others just like them. And the good part is that the platform is targeted and spam free.
Also they have a strong verification process, which helps in maintaining the authenticity of the doctors and also makes it safer and reliable. Being mobile only, it has a very high engagement of doctors on the network. It is creating a huge impact in the digital healthcare industry by increasing supply of "online active" doctors.
Dodging the competition
They current platforms that doctors are using like FB groups and Whatsapp for these purposes are highly unorganized and haphazard. Apart from that the information on these platforms is not streamlined and not specific to the target market. The outlook is not professional and there is significant data loss. More importantly, aspect of networking and reputation management is lost as the entire doctor community will never be active on one FB group or one whatsapp group. That's where relevance of Curofy comes into picture.
On the medical industry side, even in today's digital world, various healthcare stakeholders still rely on inefficient offline channels to create awareness about their innovations and services with the provider community. A highly engaged platform of doctors solves their problem as well.
Doc Plexus, Daily Rounds and Plexus MD are few our competitors to name. Curofy, due to its fundamental focus on being a network than a content platform has had a different effect and has the most number of engaged doctors.
Overcoming the Hurdles
The biggest challenge they faced was to drive traffic from platforms like WhatsApp to Curofy. Doctors tend to have a high inertia in changing their behaviour. Curofy gave them an easy to use product with high utility. Providing them a spam free with very high relevance for each user was the key. The word is spreading now amongst the doctors and the network is growing rapidly.
Funding
Curofy has recently raised Pre Series A funding from Roundglass Partners.
Earlier in TIECON 2014, Curofy, won angel funding of around INR 1 crore via an event on CNBC.Some highly respected angels like Rajul Garg (Sunstone Business School, Global Logic, Pine Labs), Alok Mittal (JobsAhead, Canaan), India Quotient, Spice Labs, Dinesh Agarwal (Indiamart), Dr Shuchin Bajaj (Cygnus Hospitals), and Presha Paragash (Zostel, Sol Primero) have invested in the company.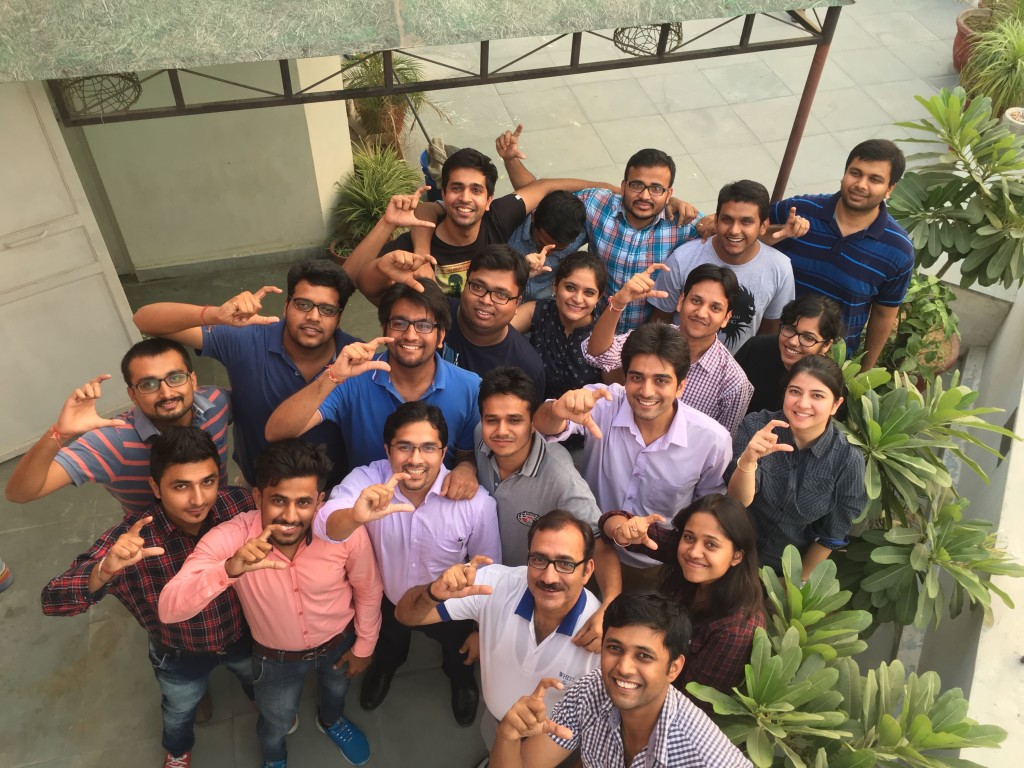 Journey till now and Road Ahead
They are a team of 20 people and are currently expanding at a good pace. They are a bunch of technology enthusiasts from our top colleges and experienced doctors. They are presently focusing on making the product go viral and alongside this are working on online media. Apart from this they are also creating a panel of expert doctors from various specialties, which can be face of Curofy in respective specialties. As of now they have more than 10,000 doctors from over 100 cities across India who are using Curofy.
Over the last few months, they have been monitoring and tracking data patterns from daily activities of their users. In their next phase they will be using this data to improve their app. Based on this data they are planning to make the app more personalized and offer even better experience to their users. Also they have been getting lot of interest from top doctors to associate with them. So we might soon see these top doctors from various specialties, becoming the face of Curofy in respective specialties.