Image Credits : linkedin.com
For an industry that uses heavy machinery, automation, production lines, shop floors – there are a number of parameters (temperature, fluids, pressure, gas contamination to name a few) that need to be monitored in order to maximize the efficiency and reduce unforced errors in machines.
These details are expected to be monitored diligently to ensure that there is no break in functioning of controlling machines in the middle of a rush-hour client delivery situation. And this is where the DATTUS edge comes into picture.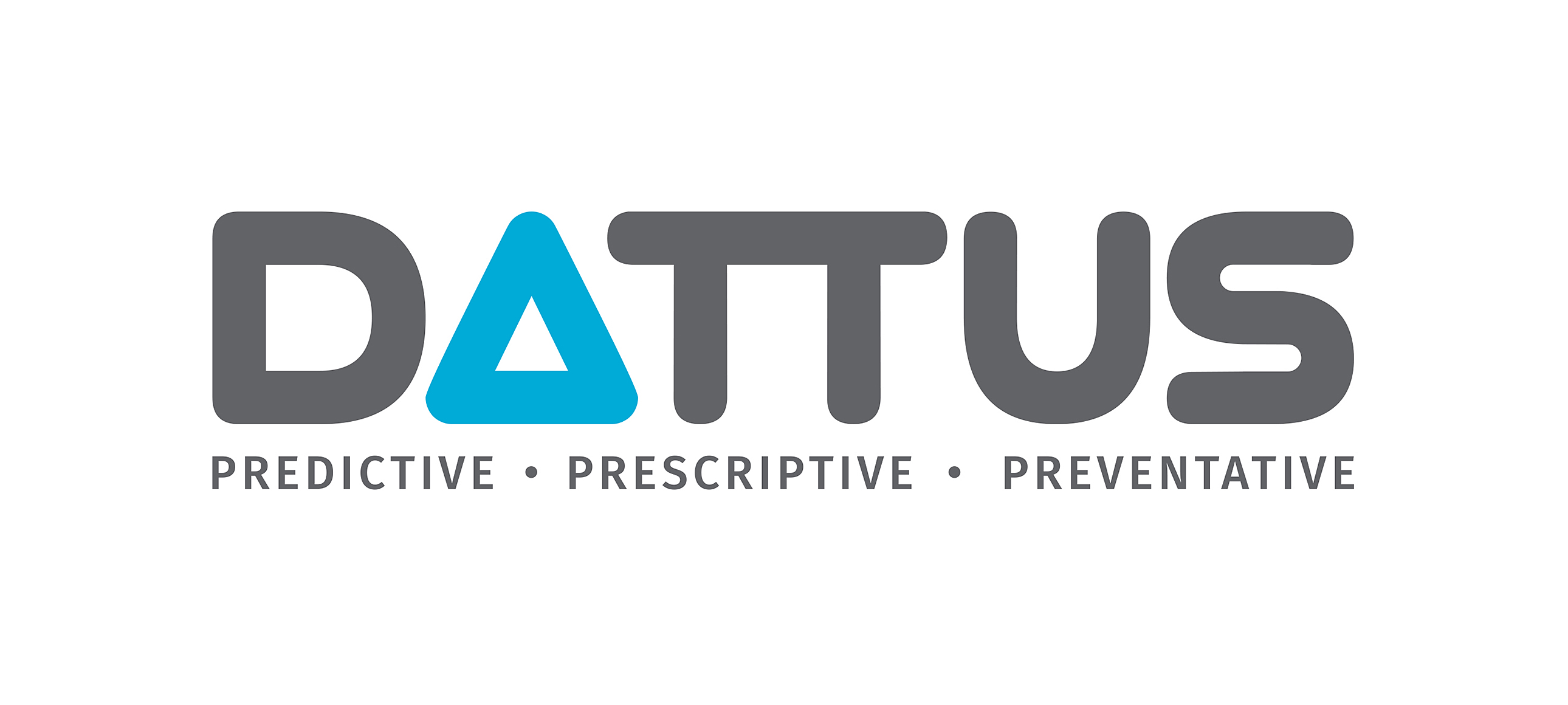 Image Credits : purdue.edu
"Industrial Innovators" in particular, but "Guides" in general, the Dattus team provides solutions for all machine needs which saves millions for the company – by achieving near zero-downtime while simultaneously increasing safety and decreasing overhead.
Dattus was born after many surveys and detailed research of the unmet needs in the marketplace.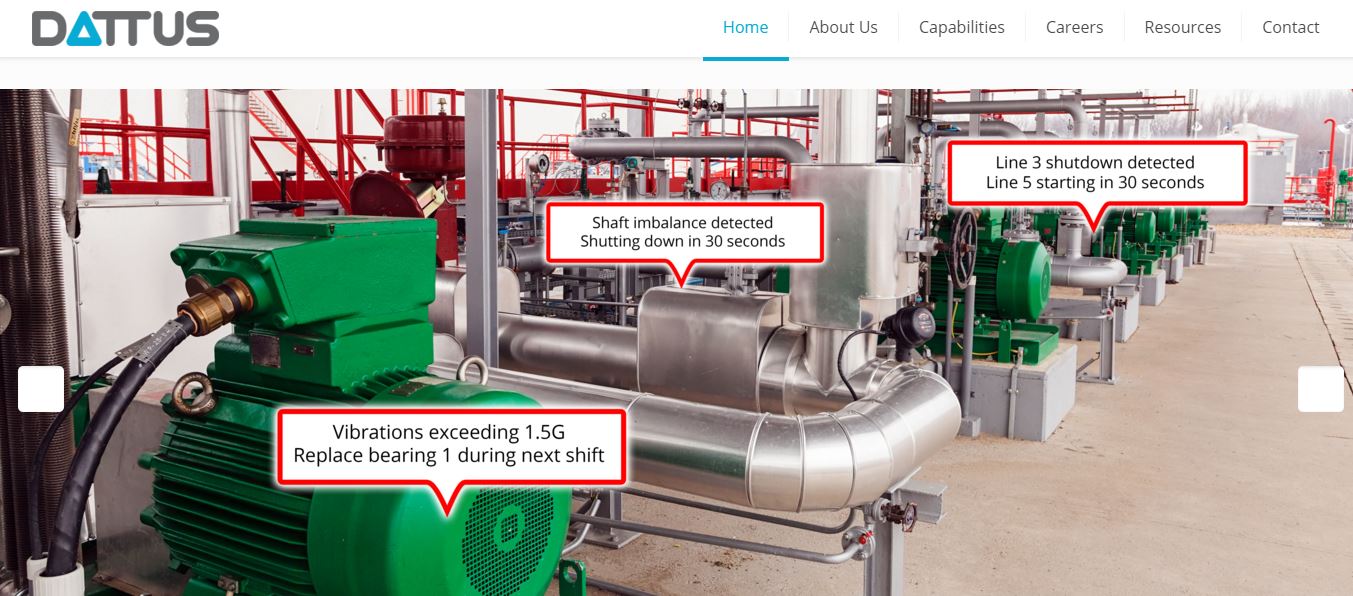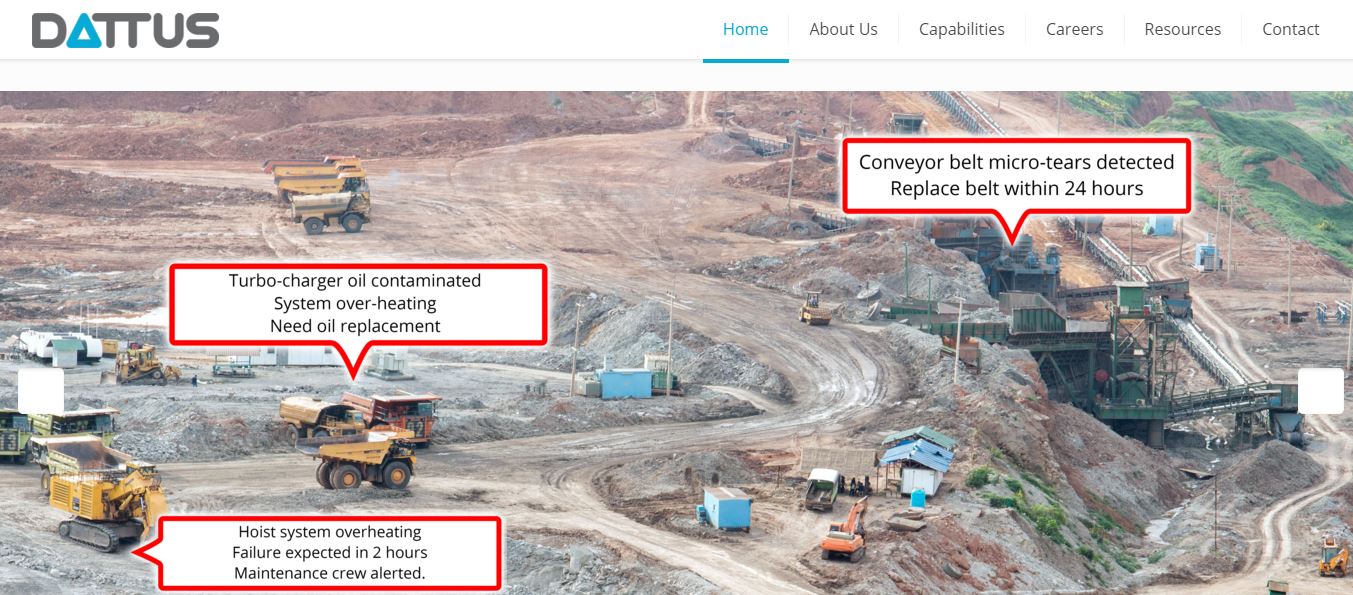 Image Credits : dattus.com
TechStory interviewed the CTO and Co-founder of Dattus, Mr. Lokesh Gupta. Let's have a look at the detailed inputs given by Mr. Lokesh.

TechStory : What gap/ need did you see in the market that made you come up with the idea of DATTUS?
Lokesh : This idea for DATTUS really came about after over 200 customer conversations to understand unmet needs in the marketplace. We had launched a sensor company in early 2013 (originally called Bearing Analytics) and won over $100K USD in seed funding through business plan competitions – the pivot in business model and product focus (to what is today DATTUS) was a result of our commitment to listening to our customers and building technologies that solved real problems!
In two short years, we have developed a market-ready hardware / software platform, completed several pilots, became revenue positive, signed up some of the largest manufacturing energy and manufacturing companies in the world as customers, built a team across two continents, raised nearly $1M USD in funding, and won several national / international awards being recognized as a leading innovator / startup company.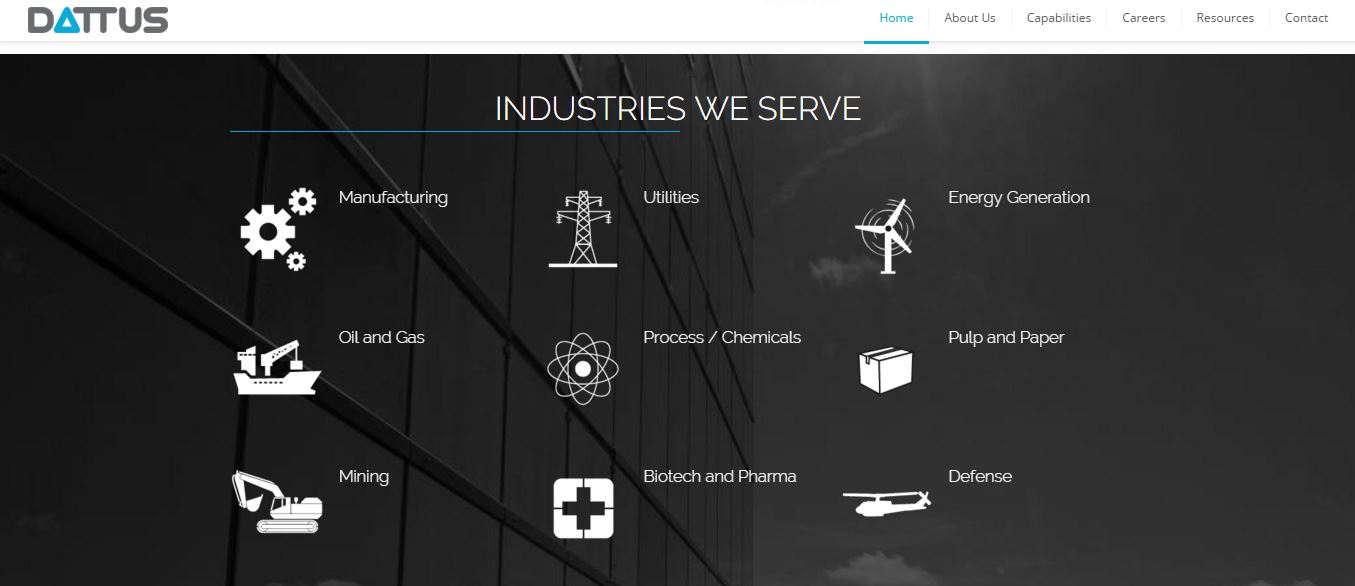 Image Credits : dattus.com
When asked about the product, we got to know that the DATTUS product uses IoT for collecting, predicting, and managing machine specific data. Here is what Lokesh had to say..
TechStory : Tell us about the product in detail.
Lokesh : DATTUS transforms machines (new and retrofit) into smart-machines overnight. DATTUS' IoT platform consists of
Sensors to Sense 60+ parameters for machine maintenance and reliability (temperature, vibration, fluids), industrial process conditions (pressure, flow, loads, strains), equipment productivity metrics (cycle counts, production volume), and environmental impact (waste water and gasses).
Gateway Connect hubs to aggregate, store, analyse, and transmit data from multiple connected sensors.
Software Portal for easy access and visualization of the data via web and mobile devices.
Packaged Intelligence algorithms to translate sensor data into actionable insights.
DATTUS' solution is modular, plug-and-play, expandable, and requires near-zero infrastructure upgrades.
We had a look into their website and we realized the richness of the DATTUS product and that the 4 pillars were, as mentioned by Lokesh, – Sense, Connect, Portal and Intelligence.

Image Credits : dattus.com
The detailed capabilities of the Dattus' 4-part solution are showcased here.
[box type="shadow" align="aligncenter" class="" width="600″]DATTUS provides a Hardware+Software platform to industrial facilities to make machines "smarter".[/box]
TechStory : Who are your target customers and what benefits will DATTUS drive for its customers?
Lokesh : Dattus' Target customers include machine owners/end users as well as Equipment OEMs to make their machines "smarter".
DATTUS, unlike many other Industrial IoT companies is an end-to-end solution provider. We provide everything from the sensors to collect component level information, to the networking / data-gathering capabilities, IoT backend infrastructure, software platforms for data access and visualization, and the analytics to help transform raw sensor data into meaningful and actionable insights.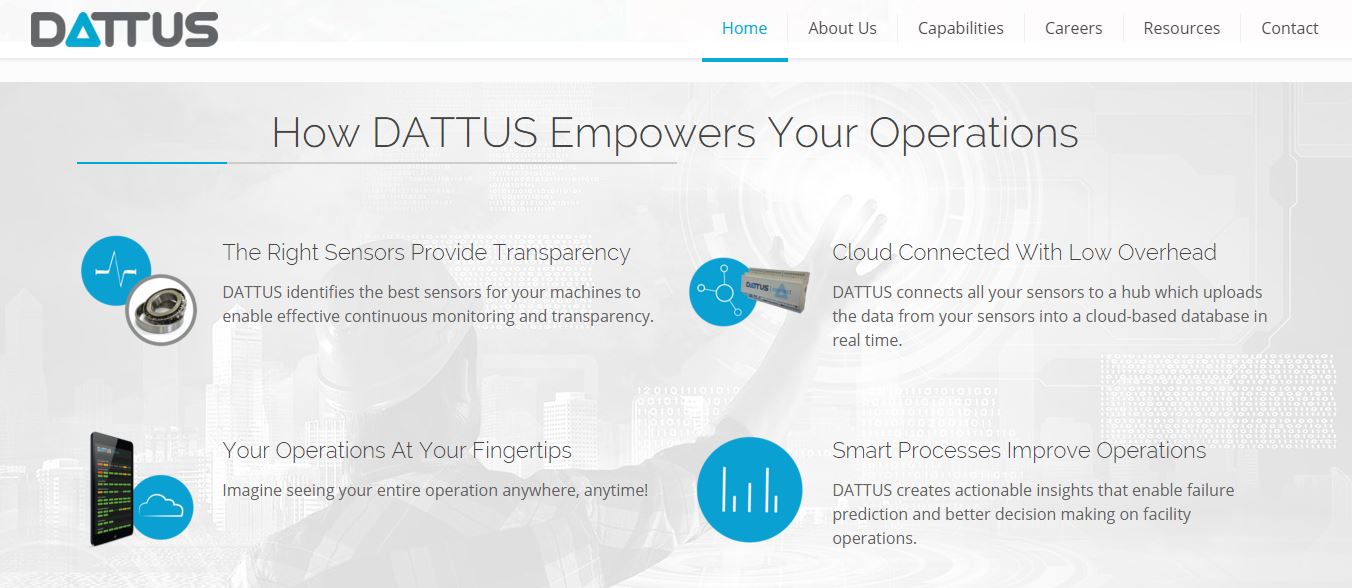 Image Credits : dattus.com
What sets us apart is the ease of use, simplicity, versatility, and cost-effectiveness of our platform in comparison to other solutions. We bring the same degree of simplicity to smart-machines that NEST did for smart-homes; helping transform existing infrastructure into smart-machines within a couple hours (as opposed to weeks / months over capital budgets).
TechStory : Tell us more about the founding team behind DATTUS
Lokesh : Anurag Garg (CEO / Co-Founder) graduated from Purdue University with Bachelors and Masters degrees in Electrical Engineering. Anurag is a published expert and researcher in machine reliability and nanotechnology. Anurag was recently recognized in the Indianapolis Business Journal's "Eight Young and Powerful Execs."
Lokesh Gupta, PhD (CTO / Co-Founder) earned his PhD in Electrical Engineering from Purdue University. Lokesh is an expert in industrial sensor systems, product design, and industrial compliance standards. He previously designed products for Forbes Marshall and Shinkawa. Lokesh is based in Pune, India and heads DATTUS' development.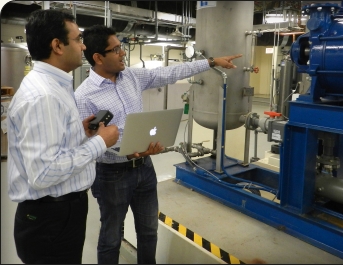 Image Credits : dattus.com
(Left – Lokesh Gupta; Right – Anurag Garg)
Currently, the team size is India – 6 and US – 5. There are two offices; headquarters in Indianapolis and another office in Pune, India.
Over the coming year, Dattus intends to expand its user base across several industry verticals.
In doing so, we also intend to develop several channel and OEM partnerships, expand our team in the US and in India, and develop several new product lines for data gathering as well as analytics.
According to the report published by Purdue University (the place of birth of Dattus), Dattus – formerly known as Bearing Analytics Inc. – has raised approximately $650,000 from private investors. The company could receive an additional $600,000 in tax credits from the state of Indiana over the next year 10 years. Its technology could predict failure in industrial rotating machinery, reduce maintenance expenditures and improve worker safety.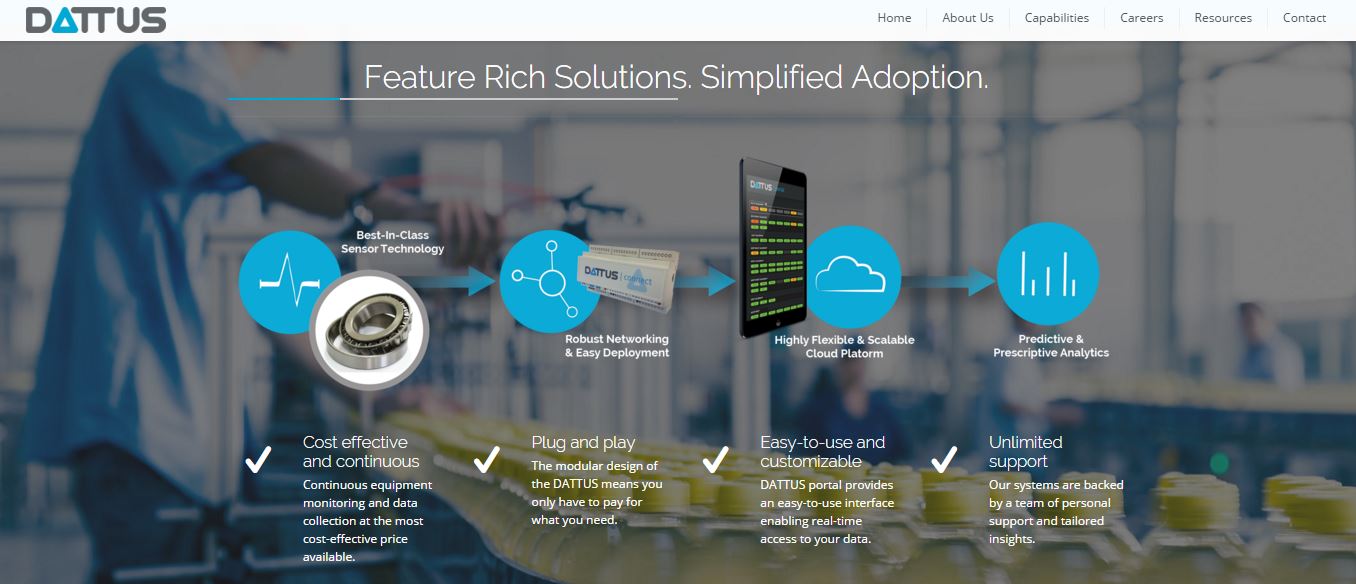 Image Credits : dattus.com
Since the advent of the Internet of Things, it has now become imperative for entrepreneurs to explore and utilize IoT world while creating a disruptive product. "Smart" machines are the future of Industry-Tech space indeed!!
Founded in 2013, DATTUS has won several national and international awards notably including –
2016 CET Chicago early stage track finalist. Competing for $100k Grant.
2016 Gener8tor accelerator. Winner of $90k grant. Only 5 out of 544 applications selected.
2015 Tech Startup of the Year MIRA Award (Indiana) Nominee.
2014 Founder.org Class of 2015 / Top 10 company $100K grant winner.
2014 Burton Morgan Business Plan competition Winner $30K award.
2013 DOE Clean Energy Challenge Midwest winner ($100K award) / National finalist.
2013 Rice Business Plan Competition semi-finalist.
…and several other business plan competition and awards.
Till Date, Dattus has received $230K in grants and $580K in VC funding!!
The following video gives us an insight about Dattus from the co-founders themselves –
This doesn't end here..
The co-founder and CEO Anurag Garg was also featured in the "Hoosier Hometown Heroes Indianapolis" segment in July 2015. Have a look at this video interview which answers all questions related to Dattus in particular and the industry impact in general (this might be a tad long video, but it's totally worth your time) –
Do Read our article on Internet of things here.