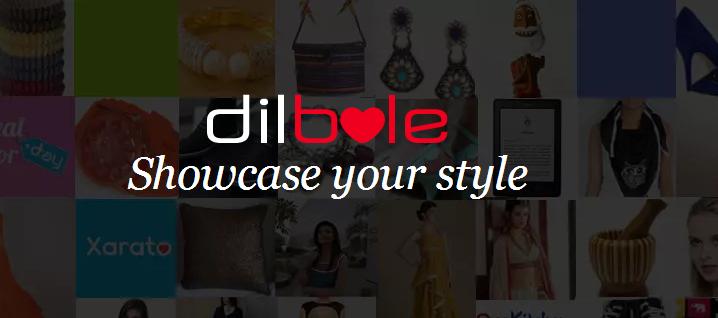 There are a lot of online shopping sites that list a number of products for you to buy from. There are some sites which also have "experts" who tell you what you should buy and what will suit you the best. However, when it come to shopping aren't our friend the ones we trust the most ? Dilbole.com is a social shopping portal where users can discover people, products and brands based on style preferences.
[box type="shadow" align="aligncenter" class="" width=""]Dilbole is the social destination for window shoppers and brand enthusiasts. Users can save products they love from any online store to his personalized Dilbole collection, they can follow people with similar tastes, they can also follow stores and brands they love. The whole process creates a Dilbole shopping network. Users can discover unique products matching their taste through this network.[/box]

Dilbole is based on the thesis that "Self-expression is a basic human need and shopping tastes are an integral part of self-expression". The company looks to drive a social network based on this thesis where users, friends, followers and influencers are deeply engaged around what friends around them buy.
Shopping online is non-social activity as of now. Previous and competing efforts to make it social focus more on the product purchasing and cataloging experience. Dilbole works with the vision that consumers now want to express a version of their online identity through purchase and style preferences. Dilbole wants to drive a social network first where users, friends, followers and influencers are deeply engaged around products they love or want to buy. This then drives deeper social shopping behavior as a result.

Team Dilbole believes that with this new social shopping model, they will be in a better position to drive conversion rate for brands. All Dilbole users are shoppers and their intent while on Dilbole is shopping or window shopping.  Interest based brand promotions and commercial content is an enhancement of user experience in contrast to any other social network. Like images on Instagram, product statements are primary consumption units on Dilbole. This make Dilbole a network built on 100% monetizable content. Dilbole network generates rich shopping behavioral data from user activity on the network.
Team Dilbole believes that their main competitor is not the other online shopping sites but sites such as Pinterest. However, the user intent is the main differentiator between Pinterest and Dilbole. Sites such as Wanelo and Kaboodle who are more USA focused are also competitors is what team Dilbole thinks.

Dilbole was started by Khaleel Pasha and  Sri Hema Kiran. Khaleel is a Masters in Computer Applications from NIT Warangal.
"I worked with Amazon for 5 years. I was very intrigued by the whole concept of online shopping and the access it gives all the shoppers. We were working on our earlier startup Scrapehere.com in 2012, which was universal wishlist for shoppers. We figured out that people need a focused network where they can show off their shopping tastes and discuss around products and brands they love to shop. There are other networks but they are filled with other things which were not completely  relevant to shoppers. Thats how we decided to close Scrapehere and started Dilbole. We launched Dilbole on 1st Nov, 2014."
says Khaleel.Sri Hema Kiran, is a Masters in Information Science from BITS Pilani and has previously been in the founding team of two start-ups.
For a company that is primarily dependent on users giving out their preferences, marketing with zero budget was a critical challenge.
"For us the most critical challenge is to market with absolutely ZERO budget. We know that we have a kick-ass product and there are lots of users out there who would love to express their personality through their shopping tastes. Reaching those people with no marketing budget has been the biggest challenges for us. We have entered into some very interesting partnerships with some of the budding ecommerce platforms to overcome this problem and it has paid of very well until now."
says Khaleel. Dilbole launched their mobile app last month. The company is based out of Bangalore, is a 4 member team today and has more than 14 k registered users. The company also believes that being amongst the first few players in this segment in the Indian market will give them an early movers advantage.
They are currently looking for funding to aid their expansion plans.
Comments
comments