You should put your device aside at Walmart if you regularly use Apple Pay Walmart shoppers.
What is Apple pay?
A digital payment system called Apple Pay was built by the Cupertino-based company.
It enables customers to pay in person, via iOS apps, and digitally.
Numerous Apple products, such as the iPhone, Apple Watch, iPad, and Mac, are accessible through the service.
The checkout procedure is simple whether utilising a gadget such as your Apple Watch or iPhone to make a transaction in person.
Essentially, all you need to do to make a purchase is put your phone close to a card machine.
However, Apple Pay may only be used in places that allow and recognize the technology.
Interestingly, Walmart, the biggest retailer in the United States, doesn't provide this unique and significantly quicker method of checking out.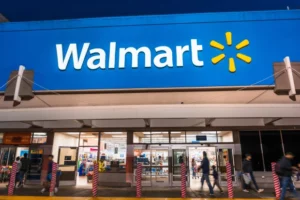 Why can't I use Apple Pay at Walmart?
Although it is clear that Walmart has the funding to implement technology such as Apple Pay, it has chosen not to allow its consumers to utilise it.
This is due to the firm's own alternative payment platform, Walmart Pay.
The payment service was released by Walmart in December 2015, about a year since Apple Pay was released.
Before expanding nationwide in July 2016, it had only been accessible in a limited number of cities in Arkansas.
Since that time, anyone who owns a smartphone—whether it's an iPhone, an Android, or something else entirely—can use Walmart Pay.
How to use Walmart pay?
You must first download the Walmart Pay app to your smartphone to organise this feature.
Enter your payment information after that and connect it to your Walmart account.
Then, you use the card you have on your Walmart app to purchase digitally at the cashier by scanning the QR code displayed on the checkout window.
Walmart Pay provides another benefit over Apple Pay in that it keeps a record of all your transactions and generates digital receipts for each purchase.
About Walmart: 
With its headquarters in Bentonville, Arkansas, Walmart Inc. is an American global retail business that maintains a chain of supermarkets (also known as supercenters), cheap department stores, and grocery shops nationwide. Sam Walton and James "Bud" Walton started the company in the nearby Arkansas town of Rogers in 1962, and on October 31, 1969, it was officially registered under the regulations of Delaware. Furthermore, it owns and runs Sam's Club retail facilities.
Walmart has 10,586 stores and clubs as of October 31, 2022, operating in 24 countries under 46 other identities. In the United States and Canada, the company is referred to as Walmart, whereas in Mexico and Central America, it is branded as Walmart de México y Centroamérica and in India as Flipkart Wholesale.