The innovator of Indian financial technology, Paytm, disclosed in an exchange filing that Non-Executive Member Douglas Feagin has left the company's board of directors.
Feagin is the executive vice president of the Ant Group and was asked by the stakeholder providing the nomination to join the board of One97 Communications (OCL) in July 2021.
In his letter to Paytm, he wrote, "Paytm's journey to achieving profitable financial services of scale in India has been inspiring.
In recognition of the company's growth as a publicly-listed company and the maturity of the business, at the request of the nominating shareholder, I hereby resign from my position as a director on the Board of Directors of Paytm."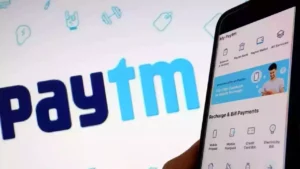 Feagin went on to say that he continues to have faith in the Paytm management group and wishes them ongoing success.
On Friday, Paytm is anticipated to release its third quarter or December quarter (Q3FY23) financial results. According to experts, the firm is predicted to report good revenue growth and a decrease in adjusted income before interest, taxes, depreciation, and amortization (Ebitda) losses.
Paytm's primary purpose of providing totaling Rs 3,665 crore (USD 443 million) on December 22, a 330 percent increase year over year.
According to the information available, the financial technology company stated 1 million payment devices during the quarter, and as of December 2022, there were 5.8 million merchants paying monthly subscriptions for payment devices.
The Paytm Super Application saw the greatest levels of customer interaction for the firm during the quarter that concluded in December 2022, with a monthly average transactional customer base of 85 million, up 32% over the previous year.
As overall merchant GMV (gross merchandise volume) amounted to Rs 3.46 lakh crore (USD 42 billion) for the period ending December 2022, indicating a year-over-year rise of 38%, Paytm additionally reported a steady increase in overall merchant payments capacity.
About Paytm:
Paytm, which means "pay through mobile," is an Indian financial solution and digital payments corporation with headquarters in Noida. Vijay Shekhar Sharma, working for One97 Communications, launched it in 2010. Individuals can use the firm's mobile payment system, and its points of sale, internet payment portal, and QR code solutions make it possible for companies to accept payments.
Paytm provides its users and sellers with financial services like micro-loans and buys now, and pay later in cooperation with banking firms The business offers online games, retail brokerage services, ticketing services, and money transfers in contrast to these services.