This week, Google employees protested on both United States coasts to attract attention to the working environments for subcontracted workers and to express support for their thousands of recently laid-off colleagues.
Rallies were retained after the company reported the largest reduction in employment in its history: 12,000 roles, or 6 percent of its total workforce.
One protest was conducted on Wednesday at Google's head office in Mountain View, California, and another one was held on Thursday close to Google's company headquarters in New York City. Microsoft Corp., Salesforce Inc., and Amazon.com Inc., three more significant IT companies, have all lately declared reductions.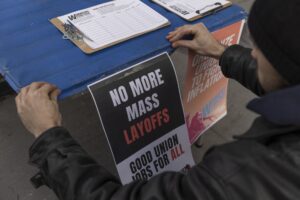 Just moments after parent group Alphabet Company stated fourth-quarter performance, including $13.6 billion in profit, the rally in New York, which drew approximately 50 workers, started outside a Google store on Ninth Avenue.
"Today, Google has debunked its own rationale for laying off 12,000 of our co-workers," said Alberta Devor, a software engineer. "It is clear that the menial savings the company is pocketing from laying off workers is nothing in comparison to the billions spent on stock buybacks or the billions made in profit last quarter."
Both protests were reportedly organized by the labor organization Alphabet Workers Union, a "minority union" that lacks the ability to participate in collective bargaining and whose supporters include both Google workers and subcontractors.
"Today shows that some of the issues we're talking about affect all workers regardless of what their actual job title or job status is," Devor, who has worked at Google for more than three years and is an AWU member, said in an interview.
Hundreds of subcontractors protested against what they claimed as poor working conditions at the protest on Wednesday in California, such as what they termed "poverty wages and no benefits."
Their duties include checking YouTube videos and looking through advertisements for objectionable or sensitive information, in addition to assessing information to assist in training the firm's AI-powered algorithms.
Moreover, the individuals claim that their benefits and salaries are significantly below the basic standards set by Google for its direct contract employees.
"We would like to at least be able to have some chance of survivability with this job," Zai Snell, one of the subcontractors at the protest in California, said in a phone interview.