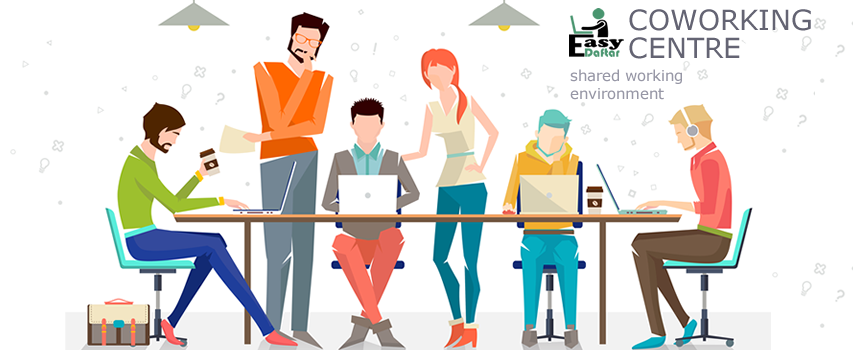 Kolkata forms the IT hub of Eastern India. Contrary to public perception, there is a progressive startup culture in the city. There are many tech and business colleges and universities with functional E-cells which encourage entrepreneurship at the grass-root level.
Student from surrounding states of Jharkhand, Bihar, Sikkim, North-East, Madhya Pradesh as well as West Bengal districts come to Kolkata to study. Several stay behind and take a job or begin a business.
Coming back to the startup culture, there are few notable contributors and catalysts, such as Nasscom which runs an incubation program in association with the Government of West Bengal, angel netwroks such as Calcutta Angels Network, Unitus Seed Fund, incubation centres such as Innokul, Founder Institute etc.
EasyDaftar
The latest addition to Kolkata's startup ecosystem to help entrepreneurs is EasyDaftar, the first Co-working startup of Kolkata which encourages entrepreneurs to dare to follow their ideas without worrying of starting up. They allow entrepreneurs to focus on their core business activities without worrying about excessive costs associated with taking an office. They provide ready-to-use plug & play serviced office spaces- customized optimally to suit the needs of every business.
EasyDaftar already has a complimentary mix of companies co-working at EasyDaftar, most being tech-based or in allied fields which leads to a fabulous intermingling of the community at site. They are keen to make the rest of India aware of the talent in West Bengal and keen to change previous misconceptions.
Parichalaks
Saahil Wadhwa graduated in BBA from J.D. Birla Institute of Management, then completed a M.Sc in Advanced Management from University of Bath, earning a placement to ActivInstinct Ltd. In the process. He handled the B2B ordering for the website business (Activinstinct Ltd.) of J.D. Sports Fashion PLC – U.K.'s 2nd largest sports retailer. The joy of the foreign land was short lived and he left the job at Activinstinct to return to his mother land.
Carrying that valuable exposure at ActivInstinct ahead, Saahil worked in the family business, handling wholesale trading of costume jewellery. While doing that, he worked on few credible ideas, and often had to make do with working out of cafeterias/home/warehouse or restaurants.
He struggled to brainstorm creatively or hold meetings with vendors without disturbances. It occurred to him that several others must be having similar difficulties and that starting a venture should not be such a tedious task. This notion was re-inforced when he began searching for a small office for himself as the high costs of security deposit, furnishing, rentals and maintainance acted to dissuade him from starting up. He wanted to eliminate these barriers and to be able to catalyse entrepreneurship. He wished to make Easy Daftars available to startups so that they can focus on what they do best and leave the rest.

His problems were deeply understood by none other than his father Sanjay Wadhwa. Sanjay completed his schooling from Kolkata and graduated from St. Xavier's College, Kolkata. He has successfully been running wholesale trading and import/export of costume jewellery since 1975. Rich in business exposure and experience, he has been instrumental in devising strategy to build the business as well as the financing it.
The father-son combination helps bring a refreshingly fresh yet cautious approach to building the business by blending the skills and experiences of both. Thus, EasyDaftar was born with the goal of helping the majority of entrepreneurs who do not receive funding and are boot-strapped.
Selling Your Space
Initially, Saahil was clueless about setting up a fully equipped IT office as the demands are very different to product based businesses. However, he was sure of making 'marketing' his new best friend. Offline media was not an option due to its high cost so he narrowed his focus to social media. Being aware of the many benefits of it, he decided to market aggressively to their selected audience on Facebook and through SEO. He was a rank outsider in the startup world and went door to door in order to advertise their services and cause.
They tried cold calling and mailing, SMS blasts as well as reaching out to various startup communities. They received a breakthrough when one common link led them to a startup graduating from Nasscom, who were looking for seats. EasyDaftar acted swiftly in meeting with them and closing out the business.
"We had just sold our first two seats and were elated. Yet, I knew this was just the beginning so we got right back to cold calling and mailing, and along with social media, gained our next customer as well."
They have received a couple more customers through word-of-mouth by now and have new additions every month. Currently growing at 25%, they are expecting to touch 30 % growth in the next quarter.
EasyDaftar's Milestones
The biggest challenge for startups in Kolkata is the accessibility of investors. Due to the misleading information about West Bengal, investors are hesitant to even come here and identify talent. As a direct consequence, startups from the city have lesser exposure to quality pitching concepts as well as services for investor connect.
EasyDaftar is building a community within which, their clients can go to other cities and work out of partner spaces free of cost. They are also offering investor connect in order to give them the opportunity to apply for funding.
In the event of not receiving funding, which is the case with more than 90% startups, they are able to provide them leading infrastructure and facilities to continue without duly being affected by high costs of taking an owned/leased space.
EasyDaftar plans to open more outlets within the year, before expanding to other cities. They are interested in handing out franchisees as well as partnerships to expand the brand and you can contact them at info@easydaftar.in. EasyDaftar is proud to carry the label of being Kolkata's first co-working venture.