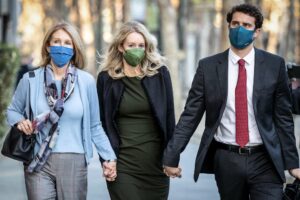 Elizabeth Holmes, the founder and former CEO of Theranos, took the stand again on Tuesday, confirming major portions of the prosecutor's claims in the 11 counts of fraud she faces, but insisting that she did nothing wrong.
The prosecution has repeatedly presented jurors' lab papers with the logos of Pfizer and Schering-Plough pharmaceutical corporations. The usage of the logos was unapproved, according to witnesses from companies that cooperated with Theranos, and they were ignorant of it at the time.
As she pursued an agreement to place her blood-testing startup's diagnostic equipment in the pharmacy's retail outlets, Holmes admitted that she was the one who added the logos to Theranos lab results and sent them to Walgreens. "This work was done in collaboration with those companies, and I was attempting to portray that," she explained. She went on to say, "I wish I had done things differently." When Theranos transitioned from on-site analyzers to a centralized lab approach, Holmes said it used third-party devices rather than its equipment as an "innovation" because there were too many samples to handle. Witnesses stated that Theranos' distinctive blood-testing machine failed quality assurance tests time and time again, resulting in incorrect findings. She refuted the prosecution's assertions concerning some of the alleged misrepresentations she made to investors, the media, and business partners, saying she had received specific favorable reports from workers and outside experts and believed their statements were accurate. Defense counsel Kevin Downey questioned Holmes about specific incidents raised by the prosecution after being shown business emails and PowerPoint slides.
Theranos' fourth-generation device was developed, according to an email forwarded to Holmes by then-chief corporate scientist, biochemist Ian Gibbons. "Our immunoassays function with little blood samples and match the best that can be done in clinical labs." "In general, our assays are three to ten times faster than kits," Gibbons noted. Downey inquired about Holmes' interpretation of the email. She said, "I heard the 4 series could do any blood test."
The emails between Holmes and her lab workers, as well as many other pieces of evidence, should be interpreted as signs of Holmes' "state of mind," rather than facts of what transpired, according to U.S. District Judge Edward Davila. Other witnesses stated that Theranos' proprietary equipment could only perform a few tests and had serious quality flaws, despite the promises made to investors and the public. According to evidence, Walgreens relied on third-party machines that had been modified to handle the company's proprietary smaller "nanotainer" blood vials, but the findings were still incorrect. In a novel line of defense, Holmes testified that the Theranos testing equipment had issues with excessive power consumption and heat output in its labs. She explained that the devices were supposed to be used in retail outlets by patients for a day, but in the Theranos lab, they were all clustered together and processed patient tests at the same time. The defense cited an email from Tim Kemp, the company's hardware project manager, in which he stated that the Theranos building in Palo Alto, California, couldn't handle the power demands of running the devices to process a high volume of patients from the retail rollout while also running the air conditioning to keep them cool. Holmes faces a maximum sentence of 20 years in jail, a $250,000 fine, and full or partial restitution to investors totaling approximately $155 million if convicted.