Shares of Tesla, the electric vehicle company led by Elon Musk, reached their highest price since earlier this year in Friday's trading session.
This surge in stock price comes as Musk's net worth, which had been adversely affected by his controversial involvement with Twitter, is on the verge of reclaiming the title of the world's largest fortune.
On Friday, Tesla shares rose by 3%, marking a 16% increase over the past week. The optimism surrounding the company's future prospects, both domestically and internationally, has contributed to this growth.
Tesla recently partnered with Ford, allowing the legacy American automaker's vehicles to access Tesla's EV chargers.
Additionally, Musk's meeting with Chinese business and political leaders during a visit to China is seen as crucial for Tesla, as China accounts for approximately one-fifth of the company's sales.
Wedbush analyst Dan Ives emphasized the significance of Musk's China visit, given the substantial impact it could have on Tesla's outlook.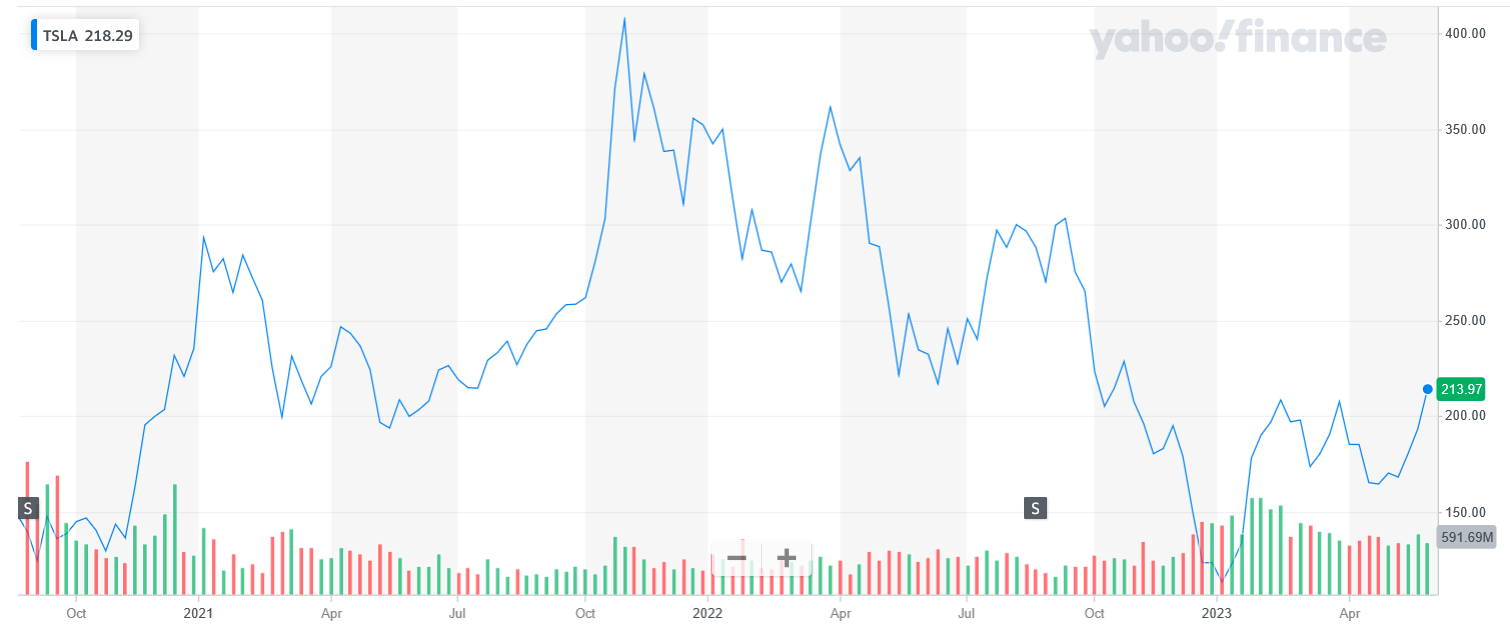 Analyst Mark Delaney from Goldman Sachs also highlighted the Ford partnership as a positive development for Tesla stock, projecting potential new revenue of up to $3 billion. The current share price of Tesla, at $214, represents its highest value since mid-February.
This serves as a significant boon for Elon Musk, increasing his net worth to $207 billion—an increase of 19% in just one month, as calculated by Forbes. Musk had previously lost his position as the world's wealthiest individual to French luxury tycoon Bernard Arnault.
However, Musk has closed the gap significantly, with a difference of only $13 billion separating him from Arnault. This is a substantial decrease from March, when the margin was over $30 billion.
In 2023, Musk's fortune has reached its highest level thus far, experiencing a 50% increase from its lowest point in January, which was just under $140 billion. However, it still falls considerably short of its peak in late 2021, when it surpassed $320 billion.
Tesla's stock experienced a significant decline after reaching a split-adjusted high of $410 in November 2021, dropping as much as 75% to a two-year low of $102 in January. This decline was primarily influenced by distractions associated with Musk's activities on Twitter.
Tesla Stock Surges to Its Highest Point
Nevertheless, the stock has rebounded considerably following two strong quarterly earnings reports. Musk's ownership of approximately 13% of Tesla accounts for 58% of his net worth as of March.
Additionally, his equity in Twitter and SpaceX, the private aerospace and communications company, make up roughly 38% of his fortune.
Musk attained the title of the world's richest person in September 2021, surpassing Amazon founder Jeff Bezos. He held this position for 14 months until Tesla's stock crash in 2022 caused him to fall behind Bernard Arnault in December.
During the period between November 2021 and December 2022, Musk sold over $40 billion worth of Tesla stock, with a significant portion of these sales directed towards funding his $44 billion purchase of Twitter.
When Musk overtook Bezos as the world's wealthiest person in 2021, he expressed his satisfaction in an email to Forbes. Whether Musk plans to taunt Arnault should he regain the top spot in wealth remains unclear.
Elon Musk's increasing net worth and Tesla's surge in stock price can have significant implications in various areas. Firstly, it strengthens Musk's influence and reputation as one of the most prominent billionaires and influential figures in the tech and automotive industries.
With a higher net worth, Musk gains more resources and leverage to pursue ambitious projects, attract top talent, and secure investment.
Furthermore, Tesla's stock rally indicates growing investor confidence in the company's future prospects. This boost can solidify Tesla's market position as a leading player in the electric vehicle industry.
The positive sentiment surrounding Tesla's stock can attract more attention and potentially increase the company's market share.
In addition to the financial implications, the rising net worth and stock rally can also impact Tesla's ability to innovate and expand.
With increased financial resources, Tesla can invest further in research and development, pushing the boundaries of electric vehicle technology and driving advancements in sustainable transportation.