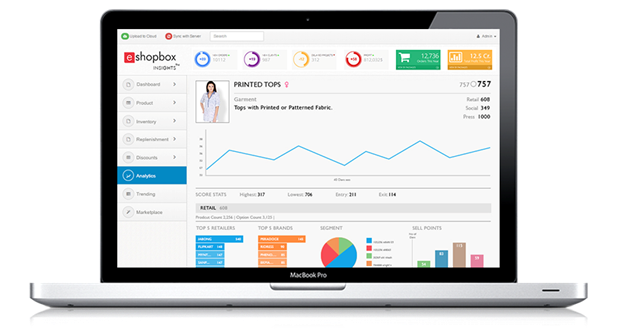 New Delhi, August 17, 2015: Eshopbox launches first-of-its-kind business intelligence platform exclusively for fashion brands. The platform has ability of processing billions of data records per day. With growth of Online Commerce, BIG Data, Analytics continues to become important yet challenging subject for retailers to address. Hence to relieve them from same, 'eShopbox Insights' is being launched as one of the strong and promising  business intelligence product.
'eShopbox Insights' will prove to be advantageous for fashion brands, as it will help to get all the information to monitor product performance, optimize marketing strategies and plan end to end for product assortment and replenishments, basing on the behavioral analysis of the consumers.
"With eShopbox Insights, we aim to automate business intelligence for fashion brands. The platform is a structured implementation of knowledge and insights gathered over the years of our experience in the fashion industry and backed with robust technology made by a team of data engineers."  Says Mayur Karwa, Co-Founder, eShopbox.
eShopbox Insights would be able to track any product's lifecycle and compare with industry benchmarks of similar products. It would be easy to obtain the details of the product information and attributes. The intuitive and concise details could be viewed through this product. It would be easy to track key KPIs to SKU level such as ageing, sell through ratios, profitability, average discounting and sales velocity over a period of time.
It would be easier to optimize offers and promotions by giving quick insights over optimal markdown strategy SKU wise to maximize profits and schedule the promotions based on marketing calendar of retailers. It would also help to manage inventory levels, monitor estimated days of inventory for each SKUs and plan replenishments. Also, they can monitor size specific sell-outs and minimize dead stocks. Fashion brands would be able to benchmark their assortment against the market, with a side by side view of the product volumes by category. They can ensure that pricing is precise against competitors, by comparing price architecture across all ranges or categories and ensure that they are not under or over optioned on colour by comparing offering against major retailers. Currently this product is being used by eShopbox for it's clients, going further this would be made available as a SAAS based solution.
eShopbox is an on-demand e-Commerce technology and services company. They drive end to end e-Commerce functionalities for fashion brands and help them provide a unique, brand-centric experience to their clients. eShopbox is led by experts with a rare combination of skill sets including technology, order fulfilment and marketing. The team brings together these qualities and collaborates with emerging brands to deliver a rich eCommerce action.
Comments
comments