The world's second-largest cryptocurrency, Ether, has reached a significant milestone in terms of market capitalization. It has eclipsed every worldwide bank, including JP Morgan, according to data from limitless market capitalization.
Ethereum now ranks among the top 15 assets in the world based on market cap
It's especially noteworthy because the ethereum blockchain has only been around for a decade, whereas JP Morgan has been a major bank for over 40 years.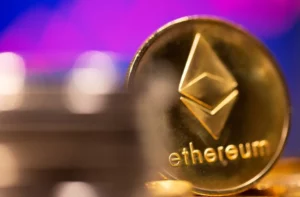 At the time of writing, Ether's market capitalization was close to $523 billion, placing it in the top 15 assets in terms of market capitalization worldwide. It competes with Amazon, Tesla, Meta, Microsoft, and other well-known companies. The market capitalization of Bitcoin was around $970 billion.
The increasing market capitalization of popular cryptocurrencies such as Bitcoin and Ethereum demonstrates the digital asset industry's rapid growth and widespread adoption by both retail and institutional investors
Ethereum is a decentralized open-source blockchain with its own native currency, ether (ETH). The Ethereum blockchain network, which allows smart contracts to be executed, is now more stable. This paves the path for a slew of decentralized financial (DeFi) apps to emerge.
According to figures from coinmarketcap, Ether has had a spectacular year, with a year-to-date (YTD) price increase of moreover 600 percent. The ethereum networks employ the network processes over 1 million transactions per day, thanks to the sheer strength of smart contract technology. As a result, Ethereum is one of the most widely utilized crypto networks on the planet.
According to Mark Cuban, a billionaire businessman, and NBA franchise owner, ethereum has the "highest upside" as an investment. Cuban is an outspoken supporter of Ethereum's smart contract technology.
"I prefer (Ether) more (than Bitcoin) because I can imagine a limitless number of uses that will revolutionize the corporate and consumer world forever," Cuban tweeted in October.
By 2025, according to the research website Finder and the worldwide research team of the UK-based multinational bank Standard Chartered Bank, the average price of Ether will be $19,842.
If you find this article informative then do not forget to share it with your friends and family!
Also read: Bitcoin inventor wins dispute, keeps $50B in crypto