Ferrari SpA, an Italian high-end automobile manufacturer, reported on Monday that a hacker lately requested a ransom in return for access to some client contact information. The company added that the attack had no impact on its business operations.
Ferrari said that it informed its consumers of the incident's specifics and the risk of information leakage.
The company stated that it had contacted the relevant agencies and initiated an inquiry with a different cybersecurity company.
Earlier in March, a very well-known surveillance camera firm, Ring, which is acquired by Amazon, has allegedly been infiltrated by a ransomware gang. If the ransomware group gets its way, Ring's material might be made accessible.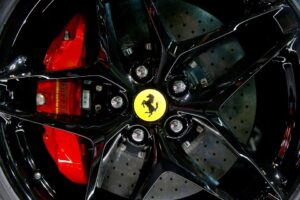 There's always the choice to let us disclose your information, according to a declaration that displays beside the Ring emblem on the ransomware company's website. The hack has been traced to ALPHV, a ransomware group well-known for its BlackCat software.
ALPHV, like some other ransomware organizations, does more than simply lock a victim's files; it also operates an online presence where it openly humiliates as well as names its targets in an attempt to extort money.
If the victims don't compensate, according to ALPHV, their information will be publicly disclosed. The website of ALPHV stands out since it's simpler to get to the "Collections" section, which publishes hacked information, than the sites of those other hacking groups.
Last month, senior government officials of India become the next intended audience for hackers. Hackers are already offering the private emails and passwords of key Rajasthani government leaders on the dark web for just Rs 3,000 or $40.
The hackers originally sought $40 in exchange for providing the password and email address of a top Rajasthani government official.
The email accounts of officers from the mine division were publicly disclosed by the cybercriminals as a reference. Collectors' email addresses, in addition to those of other authorities, were included in the list.
According to a report in the Hindi newspaper Dainik Bhaskar, a hacker using the online alias Truefactor posted private email data for auction.
About Ferrari:
Ferrari S.p.A. is a Maranello, Italy-based manufacturer of high-end sports cars. The Auto Avio Costruzioni firm was established by Enzo Ferrari (1898-1988) in 1939 from the Alfa Romeo racing department. The company manufactured the first ever automobile in 1940 and the initial vehicle with the Ferrari logo in 1947.
In 1969, Fiat S.p.A. purchased 50 percent of Ferrari, and in 1988, it expanded its ownership to 90%. Fiat Chrysler Automobiles (FCA), which at the time of the announcement owned 90 percent of Ferrari, said in October 2014 that it planned to split Ferrari S.p.A. from FCA. The division started in October 2015.
Comments
comments