Disney, an entertainment empire, is considering laying off around 4,000 employees in the month of April after terminating 7,000 employees in February, as reported by Business Insider.
To start the process, Disney has called managers to prepare a budget report and make a list of workers that are going to be laid off in the coming weeks, as per the report.
The firm has not declared whether the layoff will be carried out in groups or individually. The job cuts were announced at Disney's annual meeting on April 3.
In addition, Disney also stated it is going to cut back on general entertainment geared towards adults and is looking at options regarding what to do with the streaming platform Hulu. The streaming platform concentrates on entertainment programming, and Disney and Comcast Corp. each own a third of it.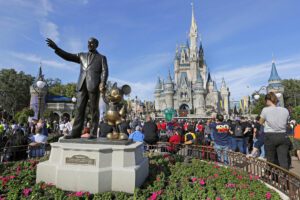 Previously in February, the CEO of Disney Bob Iger declared to lay off 7,000 employees as the firm is looking to save billions by reshaping the platform, reducing content, and cutting the payroll of employees.
Besides sports, the company is anticipating delivering approx $3 billion in savings for the next few years. Iger introduced a new strategic organization plan for the company. The reorganization will be divided into three groups: one focuses on Disney Entertainment – films, television, and streaming series. One on the sports giant ESPN and the third on the Disney Parks, Experiences, and Products.
"This reorganisation will result in a more cost-effective, coordinated, and streamlined approach to our operations, and we are committed to running our businesses more efficiently, especially in a challenging economic environment. In that regard, we are targeting $5.5 billion of cost savings across the company," BI quoted the CEO as saying.
Currently, the firm has more than 200,000 workers across different sectors and divisions of the world.
"I do not make this decision lightly," the Disney boss said at the time.
This layoff and cuts are part of an effort led by Iger after he returned to the platform as the CEO last November. He also ordered Disney workers to come back to the office at least four days a week from March 1.
More than 2,000 workers in Disney signed a petition for Iger to rethink his plan. The petition warned the return to office policy was "likely to have unintended consequences that cause long-term harm to the company" by forcing out "hard-to-replace talent and vulnerable communities."
Comments
comments