Because of worries over inadequate data security measures, France has prohibited the "recreational" use of TikTok, Twitter, Instagram, and other applications on the smartphones of government workers.
According to a Friday post from the Ministry of Public Sector Reform and the Civil Service, the restriction will enter into force right away.
"In order to guarantee the cybersecurity of our administrations and civil servants, the government has decided to ban recreational applications such as TikTok on the professional phones of civil servants," Stanislas Guerini said on Friday.
He continued by stating that a few of France's European and international partners had imposed restrictions on or outright bans on the utilization of the Chinese-owned video-sharing app TikTok by respective governments for a number of weeks.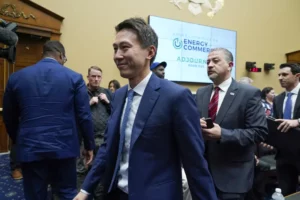 Guerini asserted that recreational programs lack the cybersecurity and data protection measures necessary to be placed on the infrastructure of administrations, but added that exceptions might be made for proper business needs, including institutional communication of an administration.
Widening ban
A number of governments and organizations have blocked TikTok over the last week, such as the White House, the UK parliament, the Dutch and Belgian administrations, the New Zealand parliament, and the governments of Canada, India, Pakistan, Taiwan, and Jordan.
American politicians and national security personnel have been the most prominent in conveying their worries about the potential safety risks posed by TikTok. They believe that the Chinese government may be able to access user-collected data through the application.
After FBI Director Christopher Wray stated in November that TikTok poses risks to national defense, calls to restrict it from government devices gained traction.
The Commission and the Council, the two largest policy-making bodies in the European Union, forbade TikTok from employees' mobiles at the end of February because of safety concerns.
Global worries have grown over the chance that ByteDance, TikTok's Chinese parent company, might give the Chinese government access to users' contact details and location information.
During questioning by US senators on Thursday, the company's CEO, Shou Zi Chew, rejected allegations that TikTok or ByteDance are instruments of the Chinese government. The firm has stated repeatedly that international investment banks own 60 percent of ByteDance.
China passed a policy in 2017 mandating firms to supply the government with any private details essential to the nation's security. There is no confirmation that TikTok has shared such details, but due to the enormous volume of user information it gathers, concerns abound.
Beijing has claimed that America is restricting TikTok and circulating wrong information.
Wang Wenbin, a representative for China's foreign ministry, claimed a few days ago that the United States had not yet presented any evidence that TikTok posed a threat to its national security and was misusing its powers to suppress foreign corporations by using the excuse of data protection.
Comments
comments