Fratmart, the on-campus peer-to-peer marketplace, launched its new comprehensive platform a week ago. With this new platform, its focus has shifted from books to a comprehensive one stop shop for college students. Students can now buy and sell anything at their college marketplace, right from books, novels, stationary products, and electronics to musical instruments. The platform also gives opportunity to students to find flatmates and ride share partners.
Peer-to-peer marketplace provides every college with its own dedicated online market where students can buy/sell/rent/donate a variety of things amongst each other in the comfort of their college premises. Again, the aim is straightforward, by buying and selling used stuff, especially books, college students can save and earn  money, thereby, reducing their general expenditure.
Fratmart was developed and founded by Harsh Gupta which went live on 13 November 2014 with plans to remove the hassles of travelling, logistics and other marketplace uncertainties and variables such as safety, security, counterfeit selling etc. prevalent in existing city-based marketplace models. Originally, it was launched as a portal to buy and sell books. (Full story of the original Fratmart portal here !)
But now, Fratmart has undergone a revolution. From a portal to buy and sell used books in college, they have transformed into your one-stop campus marketplace. Now you can buy and sell used books, novels, entrance exam material, class notes, electronics, accessories, anything and everything you ever wanted to, inside your campus. You can also find flats/flatmates from your own college and arrange daily carpools with college peers. Broadly, they have divided the website into 9 categories:
Textbooks/ Course Material
Entrance Exam Material
Novels
Electronics
Stationery Accessories
Notes
Flat/Flatmates/PG
Carpool/Rideshare
Other Products (musical instruments, furniture, etc)
The company follows a unique model and it works in such a way that individual numbers among categories don't count. Once a student is registered at portal, he can buy and sell anything. In the last one month, registrations have doubled and now platform caters to more than 200 colleges. Interestingly, these colleges have been registered by students themselves.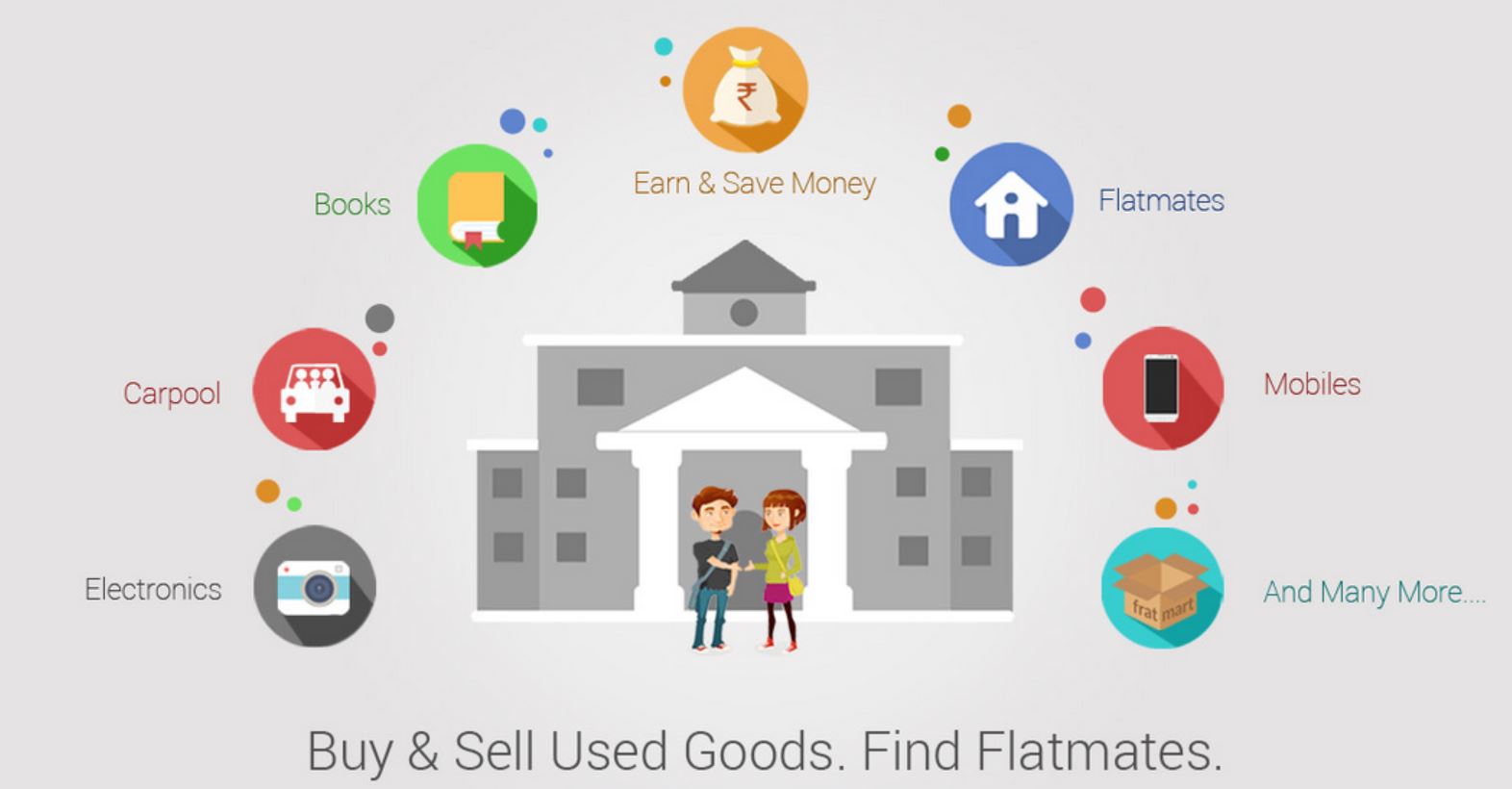 "College students face numerous problems in their day to day college life, from connecting with peers in early college life to saving money during the education phase. Fratmart aims to alleviate some of this pressure. The response which we received from our initial model gave us the confidence to take this next step and come up with an ultimate peer-to-peer marketplace" said Saras Aggarwal, co-founder of Fratmart, while offering explanation to this development.
In the next 2 months Fratmart plans to market the idea using lean marketing initiates. While simultaneously look for funding/investment. Goals are set; the tech team is continuously pouting efforts on the product and aiming to add more features for convenience of students.
In Country like India where the concept of buying/selling stuff on-campus is still in its infancy, the platforms like Fratmart are definitely boosting the culture and are most likely to pick up in most parts of the country soon!
Comments
comments