From jumping in the e-wallet brigade, Freecharge has had a mildly tumultuous, yet an expansive journey. Here we take note of the full account – from its founding to becoming a part of a much larger company.
The Beginning
Freecharge was founded by Sandeep Tandon and Kunal Shah as a venture initially called Paisaback. Paisaback was a company that dealt with promotional offers like cash back, discounts, and coupons, like what Groupon did in the US.
They started this venture in Bombay. The two founders finally moved to the idea of Freecharge, after they found that a mobile phone store was making all its profits from the revenue its prepaid customer base was generating.
Finally, Tandon and Shah moved on from Paisaback and fired up Freecharge in August 2010. The initial offering of this site was prepaid phone recharge. However, they soon increased their payment verticals and included postpaid mobile phone bills, DTH, data packs, and utility bills like water, electricity, gas, and landline bills.
Funding
Freecharge struck gold when Sequoia Capital, one of India's biggest investors in the startup economy, decided to pitch in for its seed funding round in 2010. The amount invested in this round has still remained undisclosed.
The company, over the course of the next few years, has undergone 6 additional rounds of funding from 2011 to 2017, which is a clear marker of confidence in the industry. Over this time period, Freecharge has managed to raise a whopping 177.6 million USD in total, from 2011 to 2017. This made the company one of the frontrunners in the e-transaction arena.
Freecharge, over all of its funding rounds, had 6 investors, which included Sequoia Capital India (as mentioned before), RTP global, Snapdeal, Valiant Capital Partners, and Sofina.
As funds came in, Freecharge also decided to branch out and acquire other companies. As a part of this agenda, the company went on to acquire Preburn.
Preburn was an app store that allowed application publishers to enhance their user base by pre-installing their apps on devices before they are sold. Freecharge bought the company at an undisclosed price in August 2014.
Growth
True to its name and as mentioned before, Freecharge was a service to recharge or pay any pending utility bills. In 2012, they further expanded the range of services offered and made couponing a possibility.
A user could use food coupons worth a certain value at popular supermarkets or food outlets, depending on where the coupon was valid. The company had renowned partners across the country such as Croma, the electronics store, Cafe Coffee Day, Puma, and Dominoes.
The company also partnered up with several e-commerce platforms such as BookMyShow, Jabong, and Myntra, where Freecharge coupons could be redeemed.
In the same year, the company saw around 40,000 transactions each day, which amounted to a total transaction value of Rs. 60,000,00 every day. And because this growth would only increase through new users who would come in through smartphones, the company launched its Android application.
In 2012, as competition grew through other apps such as Rechargeitnow and PayTM, the company founder Kunal Shah decided to step up and differentiate by calling Freecharge as a "marketing company the users recharge as a medium".
In 2013, the founder Kunal Shah stepped down as CEO while still being a part of the top management. The former COO of Redbus, Alok Goel, replaced Shah as the new CEO.
It had been all smooth sailing and smart growth for the company until 2015. In 2015, the competition ramped up and as mobile phones took over as the preferred medium, a lot of e-commerce giants cropped up in the ecosystem. 80% of the Freecharge transactions were taking place on mobiles and so, there had to be a new way forward, otherwise, the company was bound to fizzle out.
The new start for Freecharge came in the form of a Snapdeal acquisition. This cash plus stock deal, which was estimated to be anywhere between 400 million to 450 million USD, was one of the biggest ever mergers in the startup economy in India.
As Snapdeal came to the fore, Alok Goel left Freecharge and Kunal Shah came back as the CEO of the company.
The company also launched an e-wallet service like its competitor PayTM, to allow a user-to-user money exchange. This same e-wallet would also work with all of Freecharge's initial retail and e-commerce partners.
A few months after the launch of the e-wallet, Freecharge also launched a Unified Payments Interface (UPI) on the brink of demonetization, to allow bank-to-bank transfers between users.  
Soon, the numbers for the company started growing up again. In 2016, Freecharge claimed to have a 99% success rate with an estimated payment time of 10  seconds. Also, 7% of Freecharge users were recurring ones at a national average of 5 times a month.
2017 was the year Freecharge's parent company Snapdeal was feeling rocky. As a result of this, there was a cash constraint in the company, even after Snapdeal put in another 60 million USD.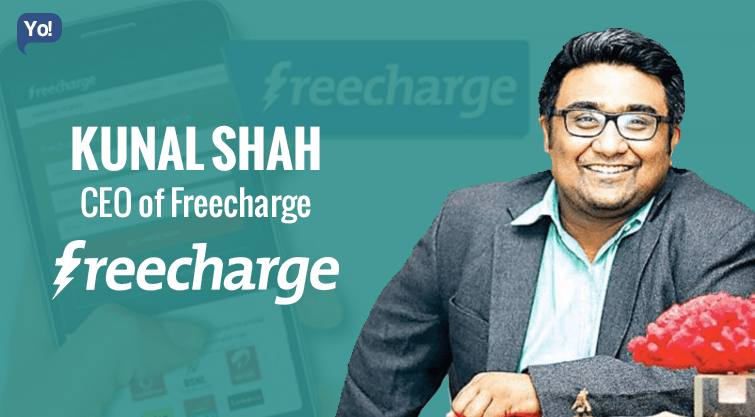 The top brass was also going through turbulent changes. Kunal Shah departed to become the Chairman and was replaced by Govind Rajan as CEO. Soon, Rajan quit too and was then replaced by Jason Kothari, the former CEO of Housing.
All of these changes coupled with cash burn generated rumors of Freecharge being sold out to e-commerce giant Flipkart. All these rumors finally came to rest when it wasn't Flipkart but Axis Bank that bough Freecharge from Snapdeal for 60 million USD. The amount was almost a fourth of what Snapdeal had originally gotten it (Freecharge) for.
Future
The Axis bank's acquisition of Freecharge was declared to be a win-win situation for both. It got Freecharge, a promising company, out of the shackles of a struggling owner like Snapdeal. On the other end, it was also a steal for Axis bank, because the company got hold of the 52 million wallet holders of Freecharge.
In a detailed Facebook post, Kunal Shah dressed the Axis acquisition as a win for Freecharge –
"Most internet exits in India have been due to running out of money or common investors wanting to cut losses and merge their portfolio companies, but we had none of that situation and we chose this path to become bigger. This choice allowed us to create wealth for every team member that no internet company has ever achieved in India."