As the name suggests, FreeKaaMaal.com is one of India's leading freebies, deals, offers and coupon site in the country. With approx 6 million monthly clicks, and over a billion page views in a year it established itself as one of the most sought after deals and bargain hunting site in India with just one agenda i.e. helping people in saving their money while providing them the best shopping experience ever. At FreeKaaMaal you get the most exclusive discounts, offers and coupons which you won't find anywhere else.
What FreeKaaMaal Does?
FreeKaaMaal helps people save their hard earned money and ease their shopping wooes. The team searches for the best offers across all the categories from all the e commerce platform and bring it on the platform for shoppers. Whether you're looking for lowest prices, highest discount %, freebies etc FreeKaaMaal is there for you.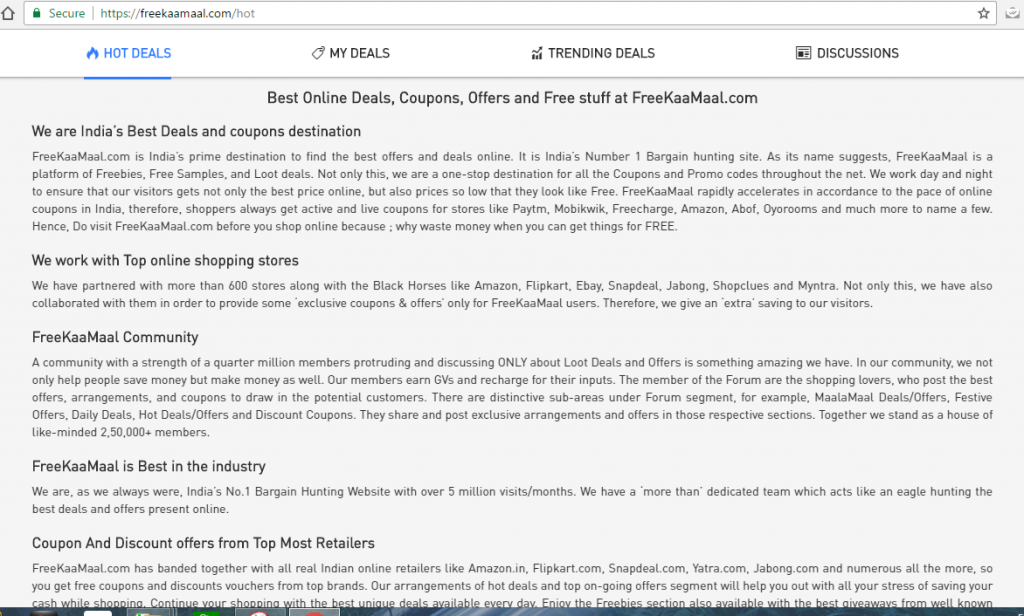 About the Founder
FreeKaaMaal.com is the brain child of Ravi Kumar who did his engineering from JSS Academy of Technical Education in Noida in 2009. He also completed his MBA from NITIE, Mumbai. It was during his NITIE days that the idea listing of the free coupons, deals and offers on a single platform and making it available to the users crossed his mind. It was year 2010 when FreeKaaMaal.com came into being.
What it offers to its Community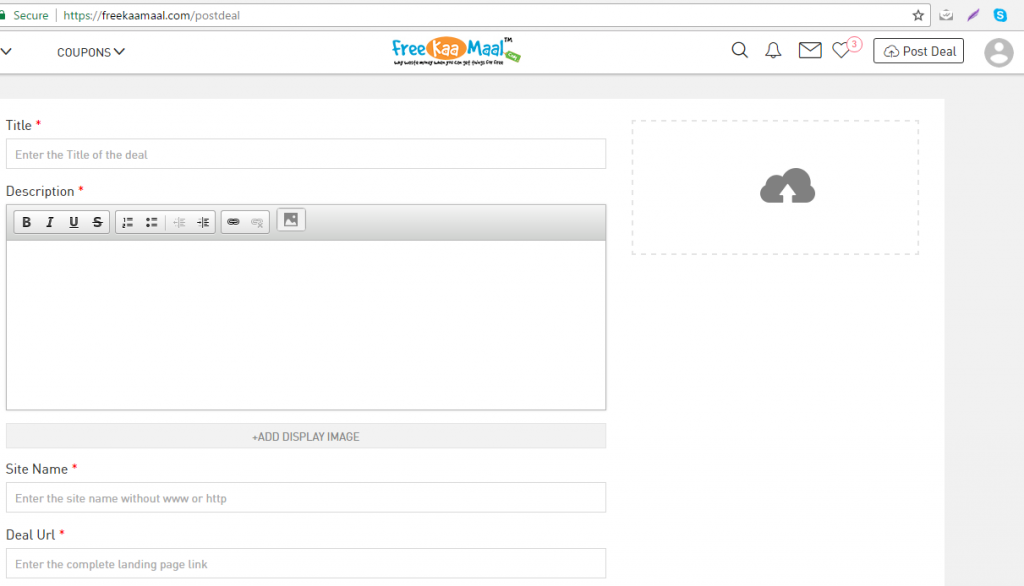 Users can post deals from different sites and earn points for them.
Users can either use those points for shopping, win gift cards etc.
Deals from users get posted directly on the Home Page.
Incentives are distributed within a week to the users.
What it offers to the Shoppers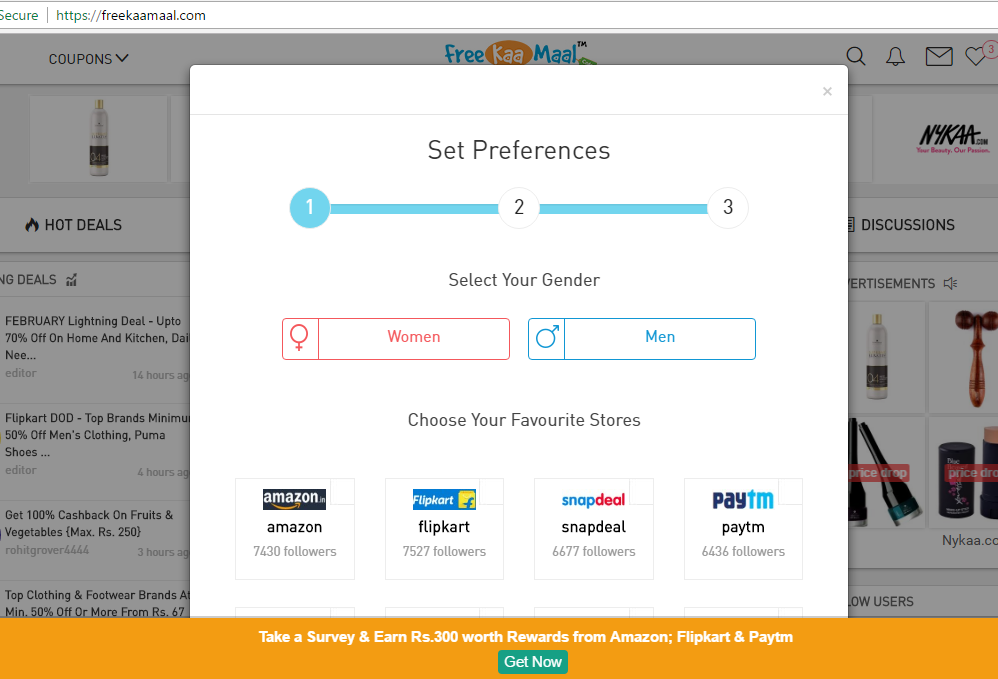 Shoppers can follow their preference stores based on gender, categories etc.
Users can also follow the top deal hunters so that they never miss out on any loot deal.
Best offers appears on My Deal section of the users based on their preferences.
Statistics so Far
As of now FreeKaaMaal recieves traffic of 1.8 lakh per day .
From 5 sales per day to 3000 sales per day.
5 lakh + newsletter subscribers.
Partnered with 600 + brands.
2.6 lakh organic followers on Facebook.
1 billion Page views per year.
Journey since inception
FreeKaaMaal.com has witnessed one hell of a roller coaster ride . In the era of funding , it has managed to grow , rise and continues to remain profitable from day one . FreeKaaMaal.com is one of the rare success stories of a successful Boot Strap start up .  With no financial aid outsourced , no seed funding it managed to set up an example that how you can grow and attain heights in-spite of  having very limited resources.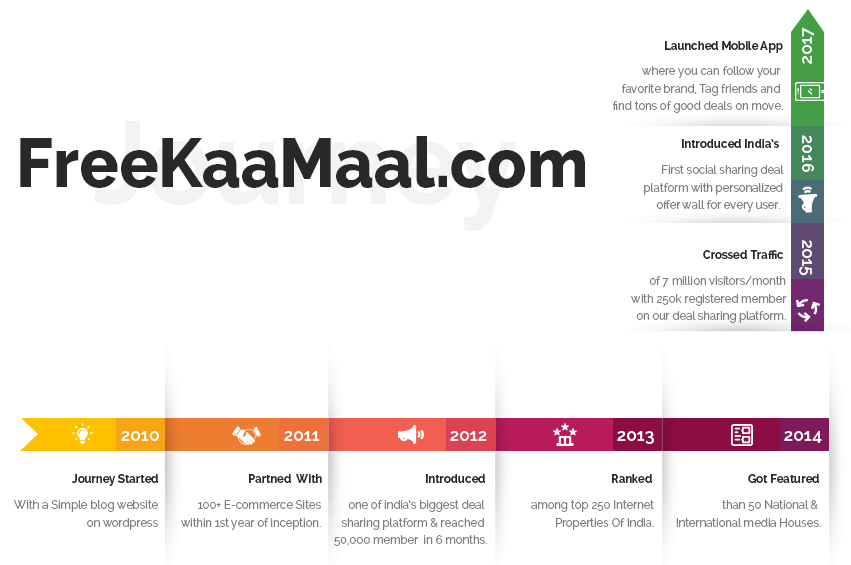 FreeKaaMaal Mobile App Launched to make Shopping and Savings Both Easier for Customers
FreeKaaMaal App in your mobile will never let you miss out on any exciting offer and loot deal , never will you end up paying more . Your savings will be higher with every time you shop using FreeKaaMaal Application.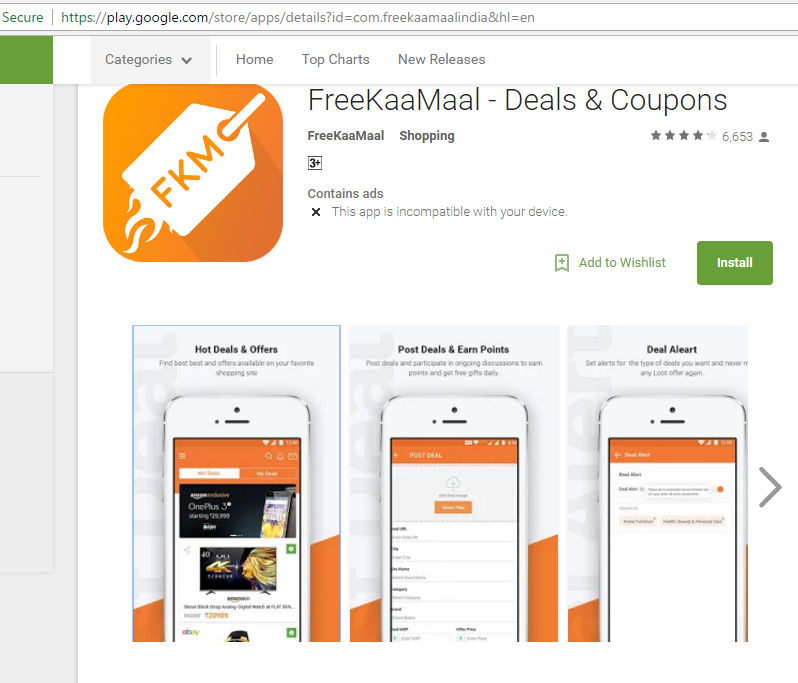 What's New in the App for Users
Hot Trending Offers: Get most up-to-update deals and offers from your favourite e-commerce site .
Advance Notification System: Get Instant push notifications for deals that you like just set keyword alerts for the product you are looking for
FKM Coupon Genie: Get Coupons & Deals when you need them the most. Just open your favourite shopping app and FKM Genie will automatically pop up showing you all the best coupons.
Super Fast Search: Search Deals from more than 20 category and select best offers from a pool of 5000+ coupons
Share & Rate: Find deals which are loved by other members of the forum, Rate deals and share your valuable opinion among other members.
Coupon Store: Find coupons of your favourite retailers in the store section. For ex: Flipkart coupons, amazon offers