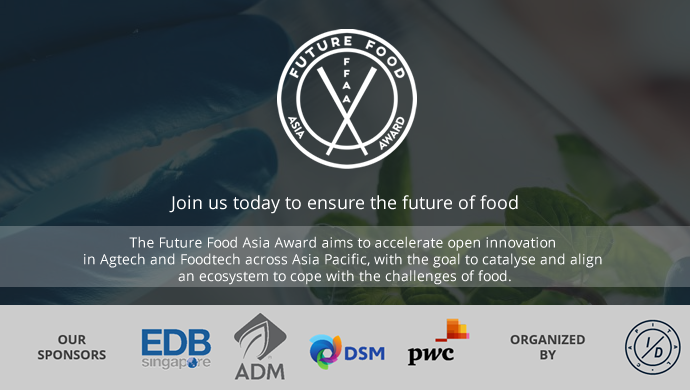 If you are a startup involved in food and agritech, do not miss this opportunity to participate in the first edition of the Future Food Asia Award – an event which aims to showcase the Asia-Pacific's newest and most promising startups.
Feeding a rapidly increasing world population is not a new challenge. The world has battled with the supply and delivery of food for centuries.
This issue will only become more challenging.
Also, with a rising middle class, changing food consumption patterns, and land scarcity, we need new solutions to improve food productivity sustainably.
Organised by ID Capital, and supported by the Economic Development Board of Singapore and leader Archer Daniels Midland Company (NYSE:ADM), one of the world's largest agricultural processors and food ingredient providers, the FFAA is a platform for identifying and promoting innovative new technologies and startups in the food and agritech areas in Asia-Pacific. FFAA is born out of the belief that agriculture challenges are often region-specific, and thus, the best minds to tackle these problems can be found within local teams.
"We work hand-in-hand with our customers every day to find new ways to meet the challenge of successfully feeding the world while minimizing our impact on the planet. We recognize the tremendous potential for growth and investment in unique and cutting edge new innovative technologies in food and agribusiness technologies across Asia-Pacific, and are excited to be a part of the Future Food Asia platform," said Ian Pinner, ADM President for Southeast Asia, Australia & New Zealand, and Global Destination Marketing.
To contribute to that vision, the competition to win the Future Food Asia Award – the first-of-its kind competition dedicated to startups from the wider Asia Pacific region, starts today. Sign up now to win the innovation prize of USD $100K. More importantly, join FFAA network and become more visible to international corporates.
The competition will be open from January 2017 until April 2017. Applicants can apply online at Future Food Asia. They will be evaluated by an international panel of judges, and finalists will be invited to present to an audience comprising investors, corporations, and technology teams amongst others. The award event, held in May 2017 in Singapore, will also feature distinguished keynote speakers on the topic of food and agriculture technology and sustainability.
Isabelle Decitre, CEO and founder of ID Capital said: "With their strong leadership in the agri-food industry, and their long-term commitment to sustainability, ADM is a great partner to help us realize the vision behind FFAA. We have received a warm welcome from the various stakeholders – and entrepreneurs in particular – we have approached so far in several countries. We believe that FFAA can bring a significant contribution to the development of the essential ecosystem for agriculture and food technologies to flourish in the region."