22 July, 2018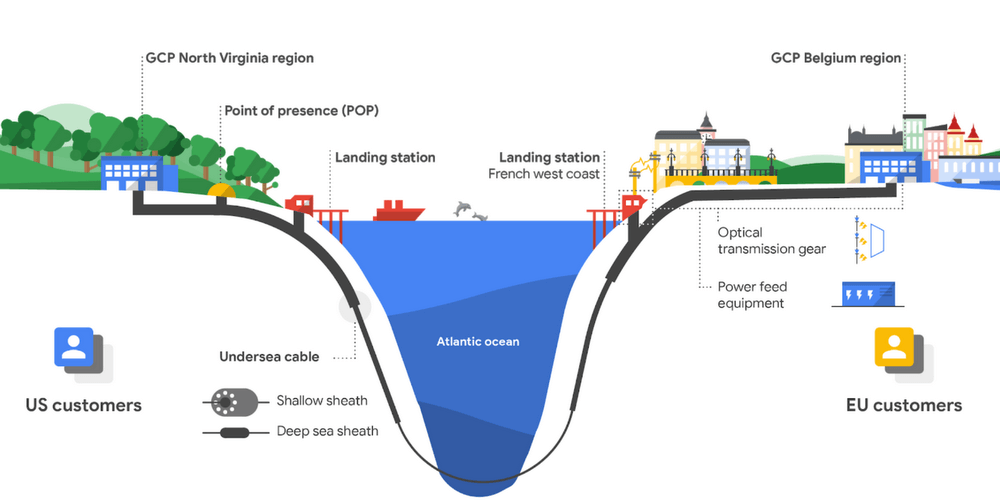 Google has announced it is constructing another private subsea cable. Set to enter service in 2020, it will cross the Atlantic Ocean from Virginia Beach in the US and stretch almost 4000 miles to the French coast.
While the Dunant cable, which is named after the founder of the Red Cross and first recipient of the Nobel Prize, Henri Dunant, will land in France, it connects Google's North Virginia region directly to its Belgium region.
"Dunant adds network capacity across the Atlantic, supplementing one of the busiest routes on the internet, and supporting the growth of Google Cloud," wrote Google's strategic negotiator of global infrastructure, Jayne Stowell.
As Google owns Dunant, which will be the first trans-Atlantic cable solely owned by a non-telecom company, it can be connected directly to the firm's data centers and means Google doesn't have to share bandwidth with any consortium partners. This gives it an advantage over the likes of Microsoft and Amazon, who use consortium cables to transfer data across the Atlantic.
Dunant, which is expected to have a lifespan of 15 to 25 years, is the fourth privately-owned Google cable. The first two run over relatively short distances, while the third, Curie, connects Los Angeles and Chile and will go into operation next year.
(Image:- techspot.com) 
Comments
comments