17 July, 2018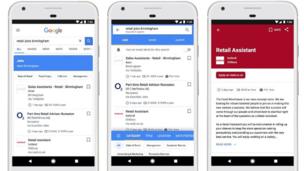 Google for job services are now available for UK too. Reed, Guardian Jobs, Haymarket and Totaljobs.com are among those providing listings, in addition to global sites such as LinkedIn and Glassdoor. 
For now, the US tech giant is not charging employment sites to feature their listings nor using the service to place any extra adverts beyond those that normally appear within its results.
"Google is a behemoth of search, it controls the gateway to the internet – so I can understand why others feel they have to be part of its jobs service," commented Robert Jeffrey, editor of People Management magazine.
"But undoubtedly it will start charging for placement and other premium services.
"And for third-party sites that represents a risk."
The Google For Jobs service already exists in the US, Spain and parts of Africa, where the firm claims to have already connected millions of people to new job opportunities.
"What job seekers get is the ability to find jobs from all over the internet," product manager Joy Xi explained.
"What the employers get is easier discoverability."
"At this time, Indeed has decided not to partner because we feel that's the best decision for jobseekers," its marketing chief Paul D'Arcy told the BBC.
"Moving forward, we will continue to evaluate this and other partnerships."
(Image:- bbc.co.uk)