The largest technology company in Indonesia, PT Goto Gojek Tokopedia (GOTO.JK), revealed more layoffs on Friday in an attempt to streamline the company and boost revenue.
With the termination of 1,300 positions in late 2017, the firm announced in a release that 600 positions will be impacted.
"One such change is the consolidation of certain businesses and teams across the ecosystem, to create a more streamlined organization that is better equipped to respond to market demands," GoTo said, adding GoTo's Financial merchant business would be redesigned.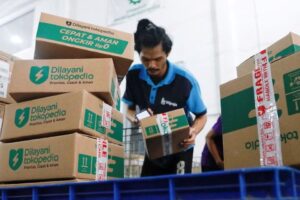 The corporation has stated previously that the reductions are aimed at improving the company's "agileness" and sustaining expansion amid difficult global economic conditions.
GoTo stated last month that its budget control initiatives are anticipated to cause adjusted EBITDA to go profitable in the final quarter of 2023.
Earlier in March CNET also declared layoffs after it was discovered that the tech website CNET used AI algorithms to generate articles for the site. Several long-time workers at the site are going to be impacted by this layoff. According to media reports, this termination will result in a reduction of around 10% of the entire workforce.
"To prepare ourselves for a strong future, we will need to focus on how we simplify our operations and our tech stack, and also on how we invest our time and energy," wrote Carlos Angrisano, president of financial services and the CNET Group at Red Ventures.
Due to widespread job losses throughout all sectors, Citigroup Inc. is also expected to lay off hundreds of positions within the company, resulting in a negative impact on, among many other things, its investment banking division.
Less than 1 per cent of Citigroup's 240,000 employees were laid off, according to a report article by the news site Bloomberg. Employees in the US mortgage-underwriting sector as well as the tech and operations department are impacted.
Waymo, the self-driving tech firm of Alphabet Inc., informed Reuters on Wednesday that it had laid off 137 individuals, bringing the year's total layoffs to 8 per cent of its workforce.
Several technical roles have been removed as part of the reductions, according to a release from Waymo, in favour of "concentrate on commercial success". The company has fired 209 workers so far this year.
The job cuts at Waymo are part of a bigger industry-wide restructuring that also affected Meta Platforms Inc., Rivian Automotive Inc., and General Motors Inc.
In general, companies have discovered that developing fully autonomous vehicles (AVs) that really can go anywhere has been more difficult and costly than expected, and the potential of a profitable robotaxi service is still several years away.
Comments
comments