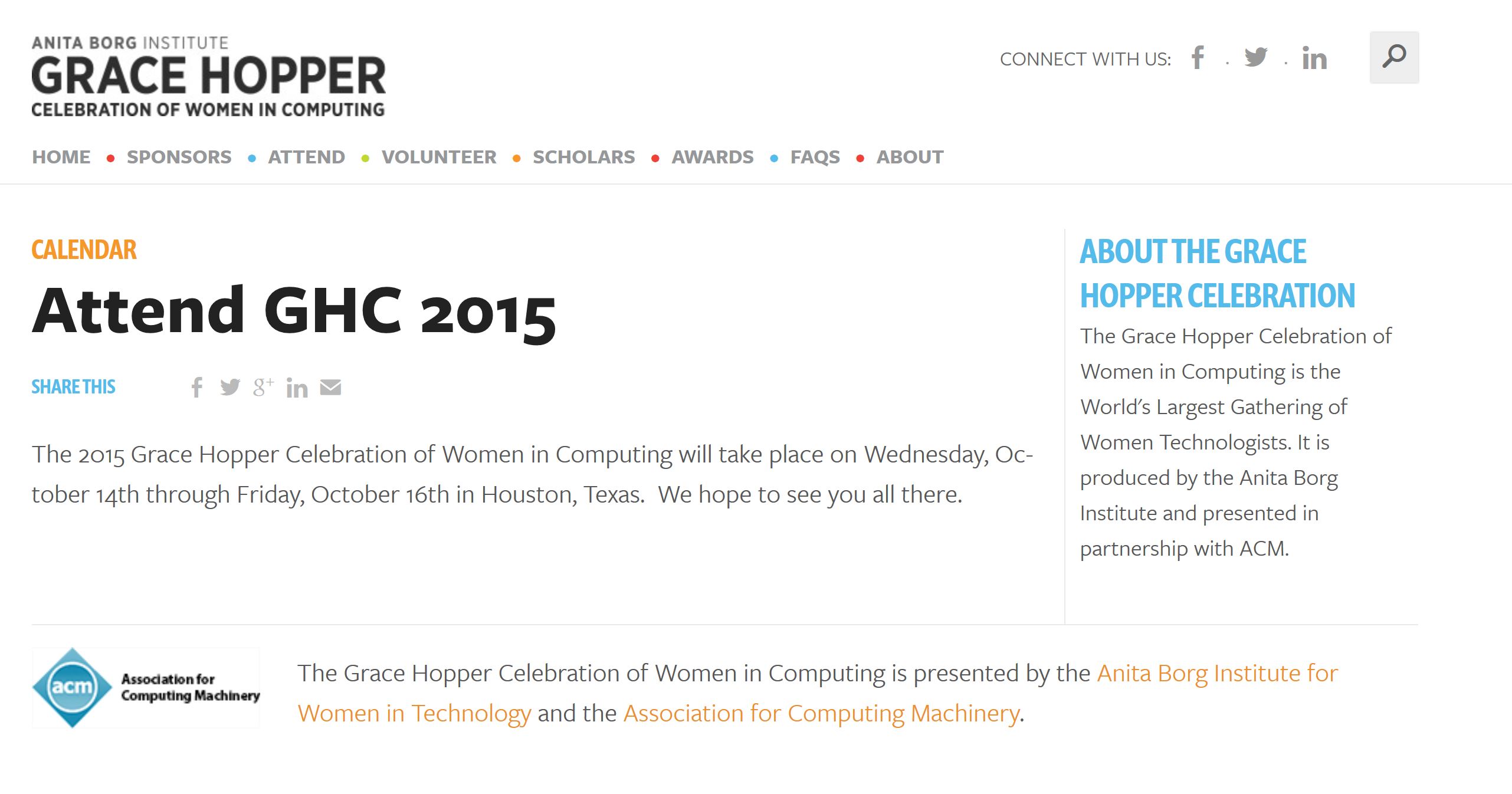 India's Largest Conference for Women in Technology, Now Accepting Submissions for Technical and Professional Sessions
Bangalore, 15 June, 2015: The Anita Borg Institute (ABI), a non-profit organization focused on the advancement of women in computer science and engineering, today announced the Call for Submissions for its flagship conference in India, the Grace Hopper Celebration of Women in Computing India (GHCI) 2015. The conference will take place from 2- 4 December, 2015 at Bangalore, India. GHCI 2015 is produced by the Anita Borg Institute and presented in partnership with ACM India.
ABI India is looking for submissions for technical and professional sessions at the Grace Hopper Celebration India that reflect the conference theme for 2015 – 'Our Time to Lead', across the following Tracks:
Technology – Sessions on the most current topics and trends in areas such as technology products Made in India, Emerging Technologies, Systems Engineering ( Software and Hardware), Data Science and Machine Learning.
Professional – Career development sessions for women technologist across all levels in Management, Entrepreneurship, Soft Skills for Success, Posters, Back To Work and Early Career.
For more details on each Track and to submit proposals for GHCI 2015 please visit http://gracehopper.org.in/ghci-2015-call-for-submissions/. The deadline for submissions is 18 August, 2015.
ABI India invites all thought leaders among women professionals in technology across any level (entry to senior leaders) from industry, government and academia; students and entrepreneurs, to come forward and make a submission for GHCI 2015. Submissions from technical men, corporate recruiters, consultants and others who have the capability and experience to present at GHCI are also welcome.
"During 2014, we witnessed unprecedented growth in the number of conference speakers, attendees and sponsors, representing the growing awareness and importance of diversity in technology at an organizational and individual level. We expect to see this continue in 2015," said Geetha Kannan, Managing Director – Anita Borg Institute, India. "GHCI is the largest technical conference for women in India, bringing together women technologists and the organizations who employ them. It has become 'the must-attend' event for women technologists at various phases of their technology careers, to connect, inspire, and guide one another."
GHCI attracts high levels of participation from professionals, entrepreneurs, students, corporations, government and academia each year.
The Grace Hopper Celebration India (GHCI) is the largest gathering of women technologists in the country. ABI India has been successfully organizing this annual conference since 2010. GHCI focuses on the career, research and entrepreneur interests of women in computing and technology. Presenters at the conference are leaders in their respective fields from industry, academia and government. GHCI 2014 drew 1600 attendees (33% growth over 2013) from 10 countries, had over 250 volunteers and received an 82% overall quality rating of excellent and good. The key highlights of the conference are various Tracks covering topics such as Technology, Leadership, Entrepreneurship, Management, Back to Work, Early Career and more. Event participants can also look forward to the Hands on Lab, Student Career Fair, Poster Session and the Women Entrepreneur Quest.
The Anita Borg Institute (ABI) connects, inspires, and guides women in computing and organizations that view technology innovation as a strategic imperative. Founded in 1997 by computer scientist Anita Borg, our reach extends to more than 65 countries. We believe technology innovation powers the global economy, and that women are crucial to building technology the world needs. As a social enterprise, we recognize women making positive contributions, and advise organizations on how to improve performance by building more inclusive teams. ABI partners include: Cisco, Google, HP, Microsoft, Thomson Reuters, Amazon, CA Technologies, Dell, eBay, Facebook, First Republic Bank, IBM, Intel, Intuit, Juniper Networks, Lockheed Martin, National Science Foundation, National Security Agency, NetApp, SAP, Symantec, Wilson Sonsini Goodrich & Rosati, Broadcom, EMC, Neustar, Raytheon, Salesforce.com, VentureLoop, Xerox, and Yahoo! The Anita Borg Institute is a not-for-profit 501(c) 3 charitable organization in the US and a non-profit organization registered as a section-8 Company under the Companies Act, 2013 in India.