The E-Commerce market in India is booming. And although this booming E-Commerce market has been successful in putting the consumer on a pedestal and making him the king, the same E-Commerce industry is posing a huge threat to local retailers. Local retailers have no choice but to revamp their business models and provide better facilities to their consumers. And this is exactly what Grofers, a hyper local delivery service is helping them achieve.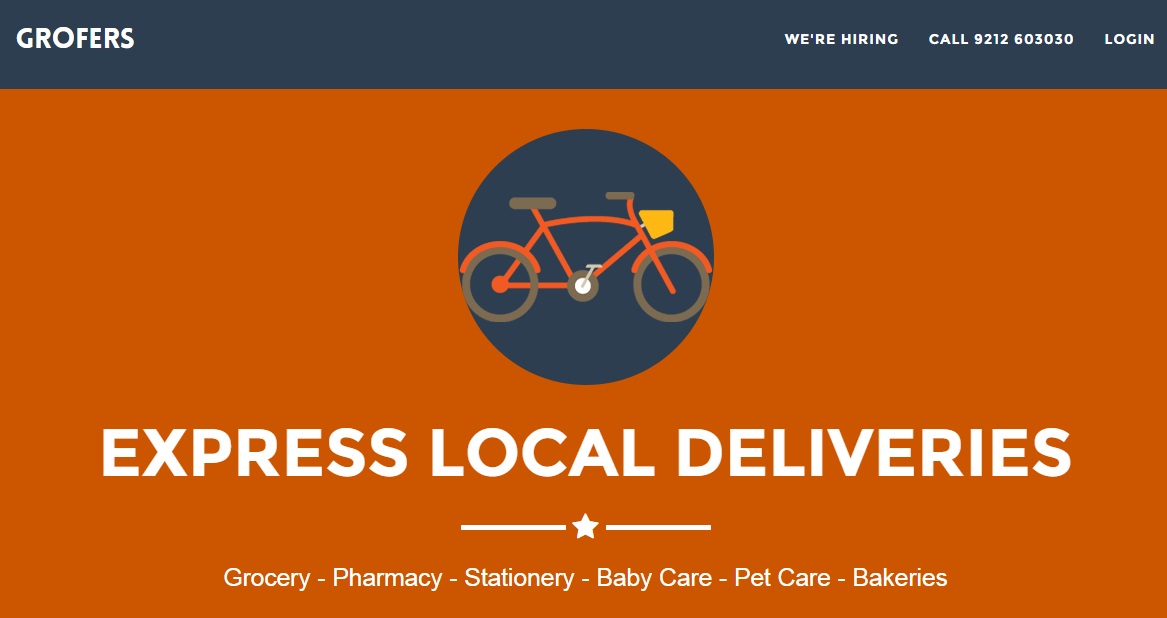 Grofers is a hyper-local delivery service connecting consumers with their local merchants. Grofers partners with local merchants such as chemists, bakeries, grocery shops, organic food retailers and laundry services to help them deliver their goods at the required destination. The company partners with a variety of merchants such as Quikr, Le Marche, Needs, HealthKart, Sucre and Dhobi Express etc.
The company aims to make people's shopping experience from local merchants easy and pleasant. They recently launched an Android based app, Grofers, which lets consumers buy various products ranging from grocery, bakery products to flowers and get everything delivered within 90 minutes. The application is currently available for users in Delhi NCR." says Sharad Harjai, Marketing Head at Grofers.
The logistics industry has gained a lot of importance in recent years with the advent of the E-Commerce era. However, still makes a very small percent of the whole retail industry with very few players focusing on the local deliveries logistics segment. Local retailers still remain highly unorganized and untapped with a very few players operating in this space, Grofers being one of them.
Grofers was started in January 2014 from Gurgaon by Albinder Dhindsa, Saurabh Kumar. Albinder is an Engineer from IIT Delhi and an MBA from Columbia Business School.  Prior to starting Grofers, Albinder was the Head of International Operations at Zomato. Saurabh is an Enginner from IIT  Bombay and has a Master degree in Transportation from The University of  Texas at Austin. Prior to starting Grofers, Saurabh was the COO of Rasilant Technologies.
Within a year the company has grown to a size of 180. A massive scale for any company to achieve in such short time! Grofers today processes over 1200 to 1500 orders in a day and has more than 200 merchants registered with them. Right execution with tech based solutions is the core reason for the massive success of Grofers. "We believe there are two main reasons why we have grown and will continue to grow. One, local merchants have not been a focus for any business in India. These businesses still work like they were working 20 years ago. At the same time the Walmarts and the Reliances are killing business for the local retailers. Local retailers have to remain competitive to survive. This is therefore a huge untapped market waiting to be revived. Two, Online shopping has taken off and there is a huge buzz around building good logistics. Logistics is needed for survival of any business today. The logistics industry will only keep growing for the next few years." explains Sharad.
On December 8 2014, the company announced that it had raised Seed funding from Sequoia Capital. The company plans to use this funding to scale up their technology platform and the merchant network. The presence of a robust delivery network allows the company to control the customer experience and make sure their deliveries are fulfilled quickly and seamlessly. Grofers will also use the funds to expand in other parts of the country like Mumbai and Bangalore.