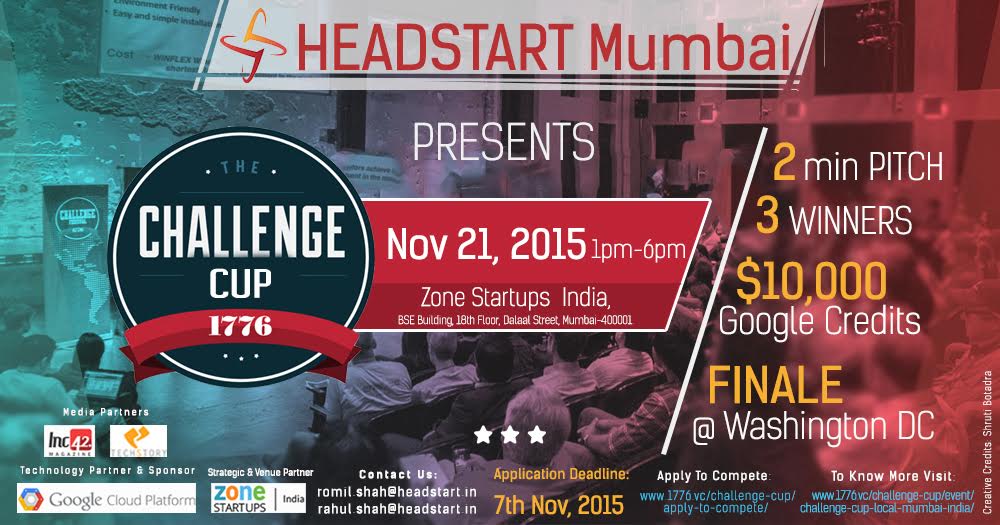 Headstart Network Foundation has partnered with 1776 – a global incubator, to organize the Challenge Cup 2016 in Mumbai. The 1776 Challenge Cup is a worldwide tournament for the most promising, world-changing startups to win cash prizes, make international connections and share their vision on a global stage.
Apply to Compete:**
** Please select Mumbai, India
Event date: 21st November 2015
Event Venue: Zone Startups, BSE Building, 18th Floor, Dalal Street, Mumbai 400001
Application Deadline: 7th November 2015
Opportunity to win:
– $ 10,000 USD Google Credits for Top 3 Local Winners from our Technology Partner & Sponsor – Google Cloud Program
– $175,000 USD in cash and over $1,000,000 USD in potential investment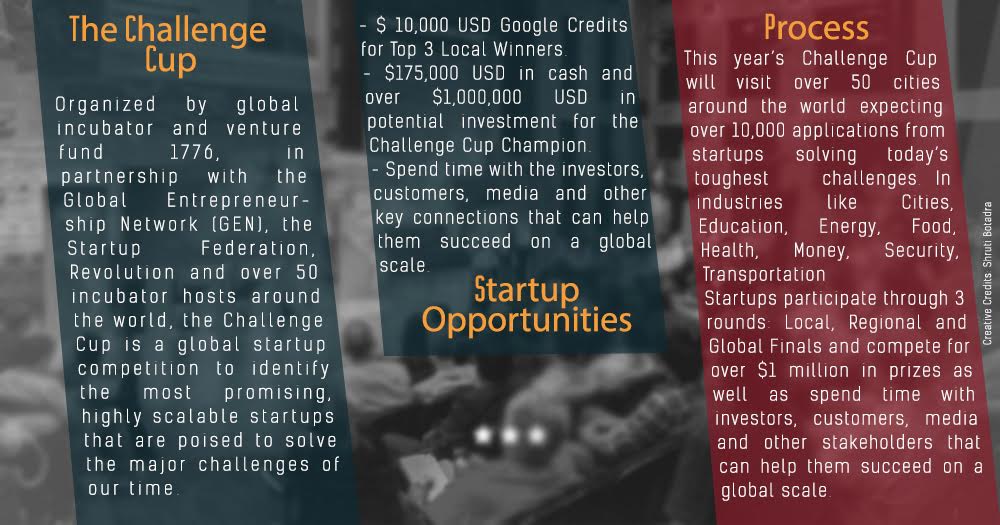 What is the Challenge Cup?
Each year 1776, a global incubator and venture fund, hosts a worldwide tournament called the Challenge Cup. Together, with their Startup Federation partners, Revolution, the Global Entrepreneurship Network (GEN) and over 50 incubator hosts around the world, 1776 aims to discover the most promising, highly scalable startups that are poised to solve the major challenges of our time.
Startups advance through three rounds: Local, Regional and Global Finals. All of the regional winners and a host of wild cards will be invited to participate in the Challenge Cup Global Finals next June in Washington, D.C. There, they will compete for over $1 million in prizes, as well as spend time with the investors, customers, media and other key connections that can help them succeed on a global scale.
Headstart Network Foundation is a Sec 25 company, established in the year 2008 with the vision to 'Change the World through Entrepreneurship'. It has been among the first few, to have driven informal and formal meets of aspiring and inspiring entrepreneurs in India – as early as 2005 -06. Today, Headstart Network Foundation is the largest network of early stage startups in India. It facilitates entrepreneurial learning, hiring, marketing insights and peer mentoring amongst the Startups and addresses their issues through initiatives such as:
1. Headstart Startup Saturdays
2. Headstart Higher
3. Headstart Cofounder Search Program
4. Headstart Hackerspace
5. Headstart Club
You can reach out to us at mumbai@headstart.in for more information.