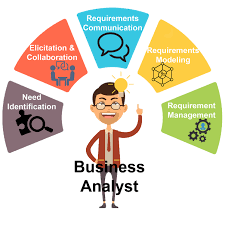 Looking forward to getting into the position of a business analyst? If you are a fresher or you are migrating from some other career options, the best thing that you can do is to get into an entry level business analyst profile first and then climb up the stairs slowly. Thinking about how can that be done smoothly? Well, there are a number of steps involved that can actually help you out in becoming an entry level business analyst. Here are some of the steps that can actually help you in pursuing the required field or area. 
Transferable Skills
If you are coming from some other job position, the first thing that you need to know or consider is about the transferable skills that you do have. These are the skills that can be gained by an individual by working in different positions and areas. To be in a position of the business analyst, it is highly important to have such skills such as critical thinking, creativity, and communications. If you do possess these skills or even two from the required skills, you can consider getting into the position of business analyst for sure. Just it is that you need to follow the next few steps that can help you grow up to become an entry level business analyst.
Technical Skills
There can be so many candidates who are skilled in the transferable skills and hence the competition is simply huge among the individuals. If you wish to win the race, it is important that you do have something extra in you so that you can stand different from the others. You can have some of the technical skills such as data analysis, software implementation, business process mapping, business case, change management, and many others. If you are determined to get into a particular position or a particular firm, you can select the skills accordingly, otherwise, there is a huge list of such skills and courses that can be taken. These technical skills are highly helpful for you in gaining knowledge in the respective technical fields and also enhance your chances of getting selected in the desired field or firm by adding value to your business analyst  resume. 
The Certification
Apart from having the skills, it is also important to have a proper certification that helps in making your resume stronger and also is a great point to impress the interviewers. Today, a maximum number of organizations prefer hiring candidates who are certified in a particular area. Experience of course counts but today having a certification has also become one of the major criteria that help the candidates in gaining the job profile that they have dreamt of. There were companies that used to take care of the training of the employees but in order to save expenditure, there are a number of firms that do not train up their employees, rather look for candidates who are already certified and trained with business analysis course options. In order to get into the entry level business analyst profile, the candidate needs to get enrolled in a proper training center to get the certification in Entry Level Business Analyst. It is the most basic and the initial level in varying levels of business analyst certification. 
The main motto of this certification is to make the candidates proficient in the concepts and terms of business analysis. Candidates who are freshers or wish to join as a business analyst, leaving out some other job profile, can start their levels of business analysis from this certification.  
If you wish to join the certification course for Entry Level Business Analyst, you need to make sure that you fulfill some of the requirements of it. In order to pursue the certification course, the candidates need to have
Experience in the business field and knowledge about the area,

A training of 21 hours in professional development in the last 4 years. 
If you have these two qualifications you can join in the course and can start pursuing it. After the course is completed, there is a test that the candidates need to pass in order to get the certification. If you have gone through the modules well and have understood the concept of business analyst well, it is not a difficult task to pass through the exam. But in case if you are not able to pass the exam in the first go, there is an option of 2 trials each year for the candidates to pass the exam and get the certification.
Once you have achieved the certification, you do not have to renew it like the other certifications. This is a life-time certification that will benefit you throughout your life in your career goals and ambitions ahead, and that too globally. 
Networking is the Key
Now when you have got your certification, you will be on the hunt for a great job option. So, do you think that you can get it easily without putting much effort? The Business certification will help in keeping you above the other average candidates. But the rest of the work such as looking for it has to be done by you itself. One of the best ways is to network with other people on sites such as LinkedIn and others. When you are networking with people, talking to them, you can know a number of things such as how different people have shifted from some other job profiles to become a business analyst. Apart from this, there are other things to network with such as networking with the HRs of big companies can be helpful in knowing about a vacancy and applying for it. 
Having good networking done with different HRs can also help in knowing different new HR policies and other important details that can be helpful for you in your career in the long run. 
A Mentor
You have got all the skills required to become an entry level business analyst, you have even pursued the certification necessary in it, but still, you need to wait as the requirements are not completed. Even when you are certified and skilled, you are still new to the field and here you need extra support or a mentor to guide you through the path. Such a mentor is not just helpful in the current situation but also can be helpful in the long run. In order to get the best results, it is highly appreciated to get a mentor that is approved by The International Institute of Business Analysis or someone who is certified in the higher levels and also do have proper experience in the said field. These mentors can help you in suggesting different paths that you can take up in order to move forward. 
Getting certified in business analysis is the best thing that one can do in order to get a dream job in business analysis in various organizations globally. If you are a fresher or wish to switch your job profile to business analysis, one of the best things is to start by the entry level business analyst profile. Following the above-mentioned steps can surely help you in becoming an entry level business analyst in much lesser time.