In the thrilling world of Lies of P, players encounter the formidable Corrupted Parade Master early in their journey, blocking their path to Hotel Krat. While this puppet might be the initial boss, don't let that fool you – it's no pushover. Defeating the Corrupted Parade Master is a crucial milestone, granting players access to Hotel Krat and allowing them to embark on their adventure in earnest. In this guide, we'll break down the strategies for taking down this challenging foe and claiming the rewards that await.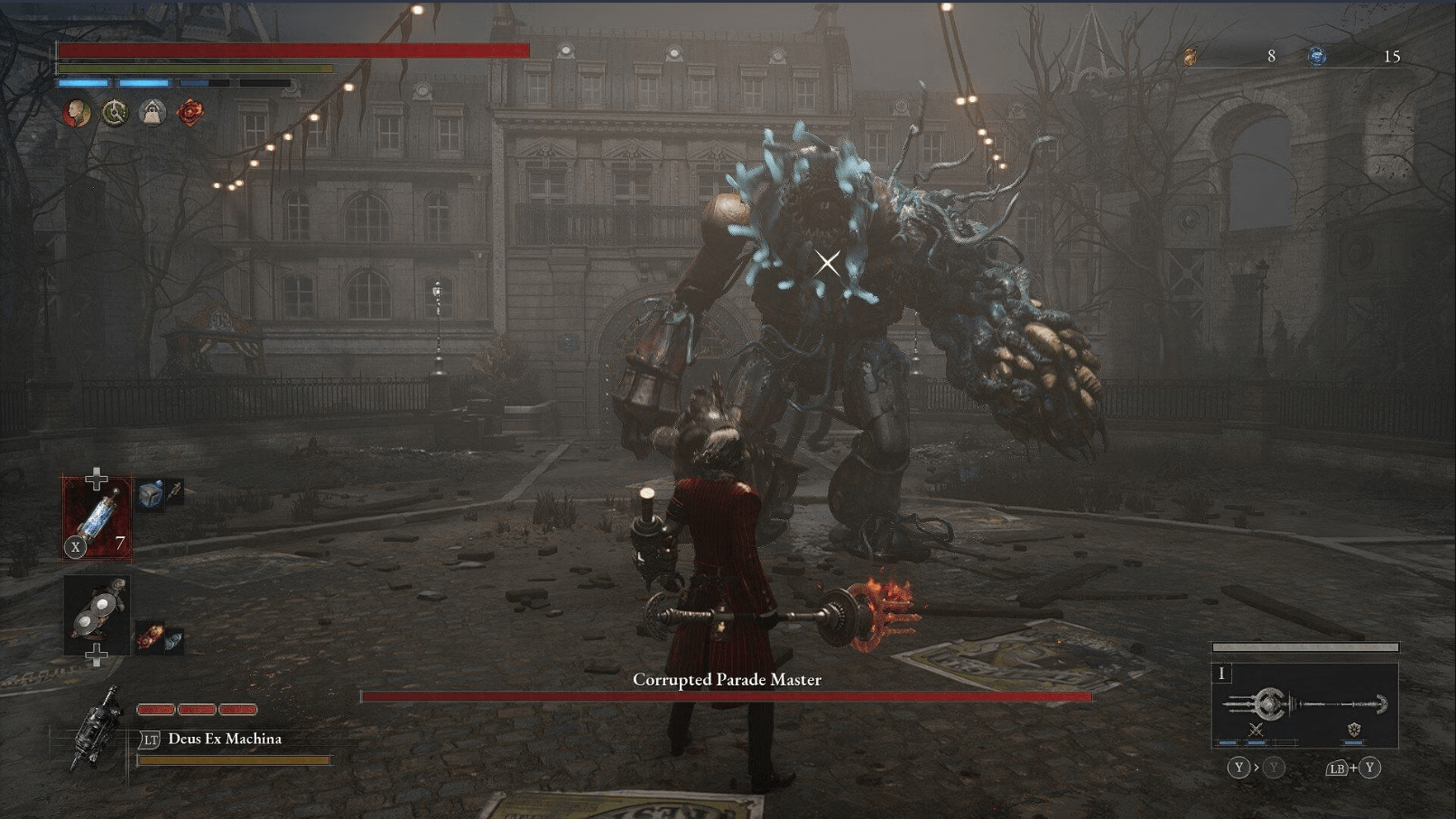 How to Defeat the Corrupted Parade Master
As the story unfolds in Krat, things take a turn for the worse, affecting everything, including the puppets that roam the city. After players pass through Krat Central Station and its surroundings for the second time, they'll receive an urgent transmission that Hotel Krat is under siege. To their dismay, they'll discover that the Corrupted Parade Master has returned, more sinister than before. It's been tainted by corruption, and Lies of P players must face this menacing adversary once again.
Facing the Corrupted Parade Master may feel like déjà vu, as its moves are almost identical to the first encounter. However, preparation for this battle differs slightly. Before triggering the fight, players should ensure they've taken the following steps:
Equip the Flame Grindstone: This will enhance your weapon's damage-dealing capabilities.

Fire Abrasives: Use these to increase your overall damage output.

Add Thermites and Special Purification Ampoules to Your Belt: These items will prove invaluable during the battle.

Upgrade Your Weapon: Maximize your weapon's potential to deal more damage.
During the fight with the Corrupted Parade Master, players will notice that it can summon minions. Fortunately, these minions have low health, making them easy to dispatch. However, one significant difference between this encounter and the first is that the Corrupted Parade Master's left arm can inflict the Decay status.
If players sustain too many hits from the Corrupted Parade Master, the Decay status bar will fill up, causing them to gradually lose health over time. In such situations, the Attribute Purification Ampoule will become a lifesaver, curing the status ailment and relieving players of one less worry.
Corrupted Parade Master's attack patterns:
Fury Attack: The Corrupted Parade Master lunges its left arm directly at players. Beware of this attack.

Jump and Slam: The boss will leap into the air and crash down. Avoid approaching it head-on, as it will unleash a flurry of arm flails. Instead, keep your distance and strike from behind.

Club Swing: When the Corrupted Parade Master raises its club, it charges towards players, attempting a sweeping attack. Dodge this move and seize the opportunity to land your own hits.

Twisting Swing: The Corrupted Parade Master twists its upper body, shifting its arm positions. It charges forward, executing a swing that may be followed by two additional moves, culminating in a devastating Fury Attack.

Grab Attack: If players get too close to the Corrupted Parade Master, it can grab and inflict heavy damage. Maintain a safe distance to avoid falling victim to this attack.
Learning these patterns will take some time, so don't be discouraged by initial failures. When an opening arises, rush in, deliver a few blows, and then retreat to safety. The Flame Grindstone is highly recommended, as it significantly boosts your damage output. If there's enough distance between you and the enemy, consider using a throwing item like Thermite to chip away at the Corrupted Parade Master's health.
The Rewards:
Full Moonstone: A valuable item that can aid you in your journey.

Quartz: Another valuable resource that will prove useful as you progress in Lies of P.
Conclusion
The Corrupted Parade Master may pose a formidable challenge, but armed with the right strategy and preparation, players can emerge victorious. Remember to equip the Flame Grindstone, use Fire Abrasives, carry Thermites and Special Purification Ampoules, and maximize your weapon's potential before the battle. Learning the boss's attack patterns and striking at opportune moments will be key to defeating him.