In the world of Lies of P, an epic battle awaits players as they confront the formidable King of Puppets. This menacing foe must be vanquished to save the land of Krat from the puppet rampage. The King of Puppets is no pushover; he's a powerful adversary with two challenging phases. But fear not, we've got a simple guide to help you conquer this daunting boss and secure victory.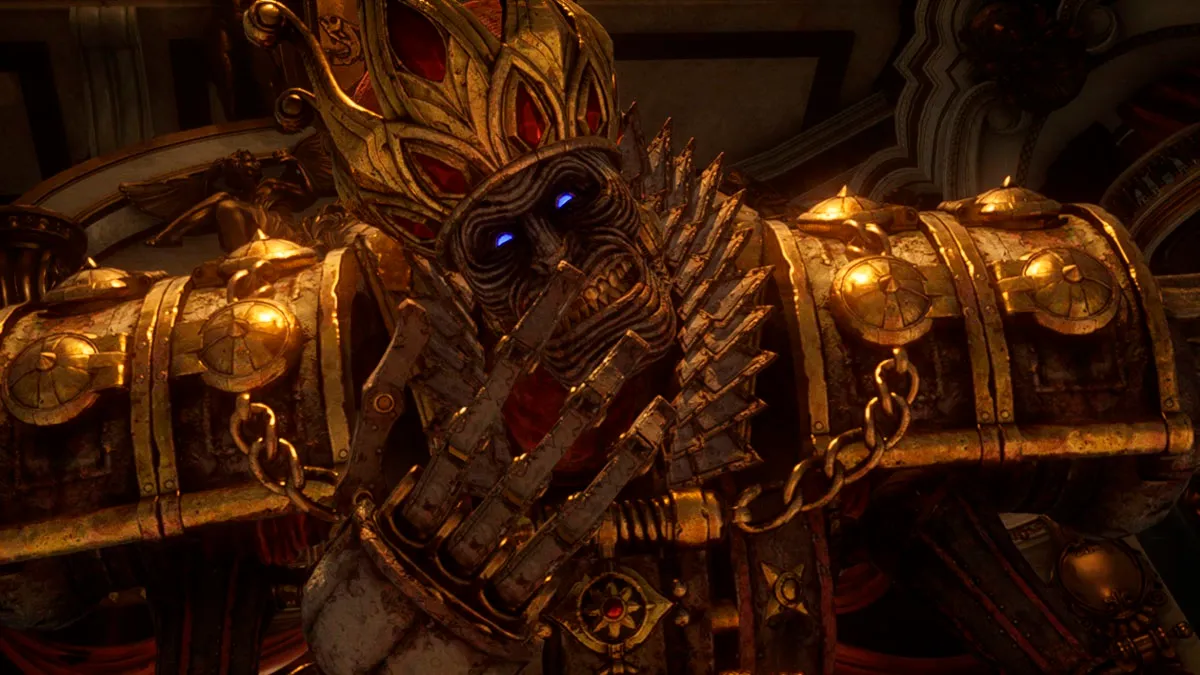 Getting to the King of Puppets
Before we dive into the strategies to defeat the King of Puppets, let's talk about how to reach him. To access this epic showdown, players must explore the vast Opera House in Lies of P. After navigating the labyrinthine halls, you'll find yourself on a narrow beam with a swinging chandelier overhead. It's on this perilous path that you'll face the King of Puppets. To aid you in this battle, consider summoning specters, powerful allies that will prove invaluable in your quest.
Preparing for Battle
Before you engage in combat with the King of Puppets, it's essential to prepare yourself adequately. Here are some simple steps you should follow:
Upgrade Your Weapon: Ensure your weapon is at its best. A strong weapon will be your best friend in this battle.
Buy the Friendship Wishing Stone: This magical stone can come to your aid during critical moments. Don't forget to purchase it.
Increase Pulse Cells: Having more Pulse Cells at your disposal will provide you with additional resources during the fight, making your life easier.
Craft Aegis (Optional): If you have the means, crafting an Aegis can provide you with an extra layer of defense, which can be incredibly useful in this battle.
Buy Abrasives: These items can be used to enhance your weapon and increase your damage output, so stock up on them.
The First Phase – Gigantic Robot Puppet
In the first phase of the battle, you'll face a massive robot puppet that wields devastating attacks over a wide area. This colossal foe primarily relies on swinging its arms and occasionally unleashes different attacks. Most notably, it executes a two-three-hit combo, culminating in a powerful fist slam onto the ground.
Beware of the Fury Attack, where the puppet stands upright and then crashes down, causing substantial damage. Additionally, it launches projectiles in all directions, which explode after a brief delay.
To overcome this phase, consider summoning a specter. The specter will draw the attention of the King of Puppets, allowing you to attack from a safe distance. Utilize a Special Grindstone and abrasives to chip away at the puppet's health. If the specter's health begins to dwindle, don't hesitate to retreat and use the Friendship Wishing Stone. With this combination of tactics, you'll swiftly progress through the first phase of the battle.
The Second Phase –  Agile Romeo Puppet
As the massive robot puppet is defeated, a smaller puppet emerges – Romeo, the true form of the King of Puppets. Unlike its predecessor, Romeo is nimble and agile, making direct attacks challenging. If your specter from the first phase is still alive, it will help by distracting Romeo, allowing you to land hits and lower his HP.
However, once the specter fades away, maintaining distance is crucial. Watch out for Romeo's Fury Attack when he kicks the ground; evade it by running around and then counter with a couple of strikes. When Romeo's health drops below a certain threshold, he will ignite his weapon, increasing his damage output. Additionally, Romeo leaves a trail of flames in his wake, which can damage you if you step on it. If you've crafted an Aegis, use it to block incoming strikes and seize opportunities to strike Romeo. Equipping Legion Magazines can also be beneficial.
Keep an eye out for the moment when the King of Puppets is stunned and places his hand on his face. This is the perfect time to unleash powerful Fable Attacks or Charge Attacks to maximize your damage output.
The Rewards
After successfully defeating the King of Puppets, your efforts will be rewarded with valuable items. Here's what you can expect to receive:
Burnt-White King's Ergo: An item that can be consumed to obtain 10,000 Ergo.
Someone's Necklace: An accessory once worn by the King of Puppets.
Puppet Prince's Formal Dress: A piece of attire that will establish you as a formidable puppet slayer.
Conclusion
Defeating the King of Puppets in Lies of P may seem like a daunting task, but with the right preparation and strategies, you can be victorious. Remember to upgrade your weapon, purchase essential items like the Friendship Wishing Stone and Abrasives, and utilize specters to your advantage. By following these straightforward steps and adapting to each phase of the battle, you'll be well on your way to saving Krat from the puppet rampage and claiming your hard-earned rewards. Good luck, brave puppet slayer!